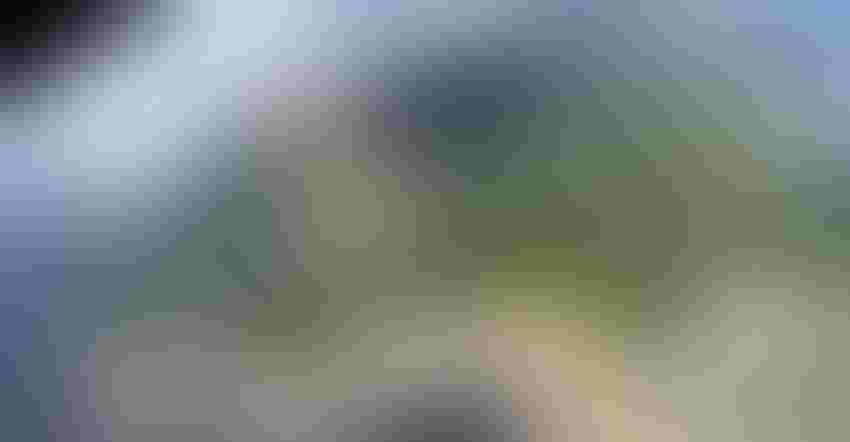 THROUGH THE CLOUDS: BASF Digital Farming and VanderSat are partnering to put VanderSat's cloud-free daily satellite imagery to work for more precise crop management.
Courtesy of BASF
Satellite imagery is gaining more traction as farmers get access to crop pictures daily, but there's a problem – clouds. "At any given moment, the earth is covered 70% by clouds," says Jeff Spencer, xarvio global technology and data lead, BASF Digital Farming. "And it never fails that when a grower wants to make a critical decision that the clouds are over their field."
In 2018, BASF started working with VanderSat, a satellite imagery startup that had developed a way to capture imagery using active and passive microwave sensing technology. With that technology, VanderSat took clouds out of the picture. Adds Spencer: "Every single day we can deliver a clear image and that's really unheard of in the digital farming space."
VanderSat imagery can be used to measure soil moisture availability to the crop. The company has also developed an advanced tool for measuring biomass that will be exclusively offered through BASF's xarvio Field Manager product in 2021.
"What VanderSat delivers is what we call a biomass proxy that comes into xarvio Field Manager where we translate that into LAI (leaf area index)," says Spencer. "Every day a farmer on our platform would receive an LAI image, and they can make an absolute measurement of biomass."
Spencer explains that with that image, a farmer can more easily target crop protection activities. A core use, for example, would be fungicide application. With the precision map, the grower can produce application zones to optimize product use. "They're making sure they're optimizing application and we're giving them data behind that decision to ensure they can do that," Spencer says.
Biomass maps and NDVI
The traditional normalized difference vegetative index map is a tool that's increasingly used to measure crop health and productivity. Yet that NDVI map only measures spectral greenness. Cloud-free Biomass also measures biophysical parameters and water content in vegetation to calculate all stages of crop growth during the entire season.
Spencer explains that this approach will give farmers using the xarvio Field Manager digital farming solution quicker access to quality biomass images that provide insight and help reduce risk by ensuring any required action can be taken almost immediately.
The xarvio Field Manager platform has been building out since 2017 with weed and disease identification tools, and advanced digital farming information. Spencer explains that farmers can try out the service at no cost.
"A grower can go into this system and try it out on two fields at no cost and see how it works," Spencer says. "We'll provide the full features available (on the xarvio platform) at no cost. You can try it out on those two fields and if it makes sense for your operation you can extend the service on your farm."
Subscription pricing has not been released; however, Spencer anticipates it will be based on a growing season model. He adds that in 2021, more features are being added to xarvio Field Manager including seeding and crop nutrition. "In the last couple of years, we had a real strong focus on the ability to optimize fungicide applications, but in 2021 we're bringing along these additional features."
You can learn more about the service at xarvio.com.
Subscribe to receive top agriculture news
Be informed daily with these free e-newsletters
You May Also Like
---