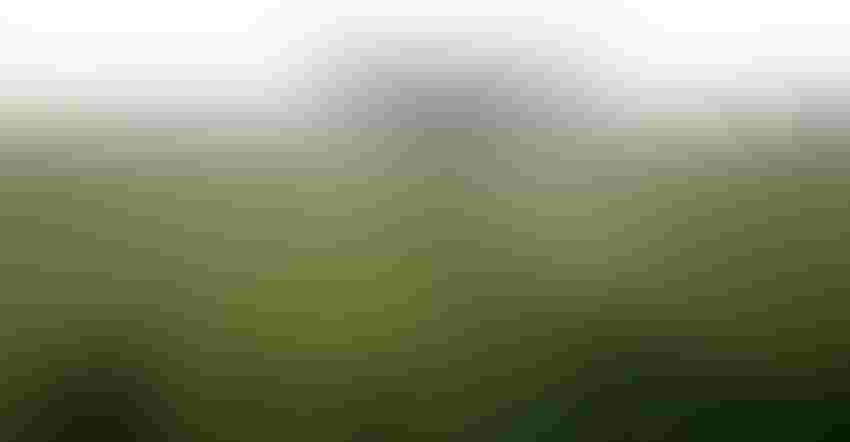 LOW CAPACITY: One of the gaps to applying pesticide with a UAS is the lower capacity when working with drones.
baranozdemir/Getty Images
The potential uses for drones or unmanned aircraft systems in agriculture have been discussed extensively in the past 10 years. One of the potential uses that hasn't been fully fleshed out in the U.S. is pesticide applications.
However, Greg Kruger, University of Nebraska-Lincoln Extension weed science and application technology specialist, notes that there's a lot of research and a lot of applications being made globally.
"It's estimated there are approximately 55,000 drones in China that are making applications," he says. "That number may be as much as 200,000 or more today. Globally, there may be as many as 10,000 to 15,000 other drones making applications. In the U.S., we're certainly less than 50 today."
"We can reach areas that may not be accessible by traditional application methods," Kruger says. "What really makes this a benefit is it's fully autonomous. We have the technology that the drone could land on a refueling tank, and the only thing the operator would be doing in terms of the actual operation would be changing the batteries out."
Still, Kruger says UAS can't be compared directly with aerial and ground rig applications — they are completely different in a number of ways. For example, in the U.S., an operator license through the Federal Aviation Administration (FAA) is required to operate a UAS, as well as a special permit.
Hurdles ahead
Meanwhile, there are a lot of hurdles to overcome before this technology can be used for pesticide applications. Kruger outlines three key limitations to consider:
Speed. "A typical Air Tractor 502 [airplane] is going to have a working speed of 120 to 160 mph," Kruger says. "It's an absolutely high-speed environment. We've got a high-sheer environment, we've got liquid coming out of that nozzle, and it's quite a different environment. When we think about a drone, typical working speeds are 9 to 18 mph. Eighteen is probably pushing what that drone can do, and 9 may be a little bit high even."
Capacity. "An Air Tractor 502 has a 500-gallon capacity," Kruger says. "Air Tractors range anywhere from 300 or 400 gallons on up to 800 gallons. The high-end capacity of an unmanned aircraft that we would be using to make a drone application today would be 5 gallons. Most of them are smaller than that."
Scale. "If we go back to that Air Tractor 502, we're looking at a 4,500-pound aircraft, a 52-foot wingspan, and a working range of 620 miles round-trip," Kruger says. "We look at that compared to that drone, we're going to be about 40 pounds without batteries. FAA is going to restrict us to a 55-pound gross weight takeoff. We could have an 8-rotor wingspan that may be a few feet across, and a range of anywhere from eight to 15 minutes loaded. So, we're really not going to go much farther than line of sight, even if we're allowed to. However, FAA restricts us to flying at the line of sight."
Data gaps
However, it isn't just the gaps between how the aircraft operates that applicators need to consider. Kruger notes that a big issue is the gap in data available for applicators, the FAA, and especially the EPA, to make policy and regulatory decisions:
Application release height. "If we think about a ground application, where the ideal boom height is anywhere from 15 to 30 inches, or an Air Tractor 502 or another airplane where we're looking at an ideal boom height of 10 to 12 feet, drones are probably going to be somewhere between those two," Kruger says. "Exactly where that falls, we don't know."
Flight speed effects. "We don't know exactly what flight speed effects are going to have on the distribution, the deposition of that pesticide application, and the efficacy of that application," Kruger says. "There's a big gap there."
Nozzle and boom placement impacts. "The droplet size coming out of a drone is going to be similar to a ground rig if we're using the same nozzles, because we don't have that sheer," Kruger says. "But if we use the same application parameters, we have that boom height higher than what we have for ground applications, we have airflow effects coming off of the aircraft, we have multirotor wash effects. The boom placement, nozzle spacing and nozzle placement on the boom become very, very different in terms of how we're going to try to set that up."
Effective swath width versus uniformity and rate. "For a ground application we might be looking at anywhere from 5 to 25 gallons per acre for row crops," Kruger says. "For an unmanned drone application, we're going to be looking at somewhere from a quart up to a gallon per acre at most. It's very, very different in terms of volumes. That's going to affect droplet size and distribution pattern. Today, with the knowledge we have, with the equipment we have, this is a very imprecise science compared to what a ground or aerial application might be."
It's also worth noting that every UAS is built and set up differently, and there are a number of different combinations for things such as nozzles, booms, number of rotors and application speeds.
"As we start to think about the future with our program, we're going to be doing a lot of work looking at field efficacy comparing different nozzles and product combinations, continue to do work on deposition and swath width," Kruger says. "We're nowhere close to what a ground or aerial application would be, so the question becomes, what can we do to start to make it look more like that? We definitely need to work on getting standard application parameters, including heights and application speeds."
Subscribe to receive top agriculture news
Be informed daily with these free e-newsletters
You May Also Like
---