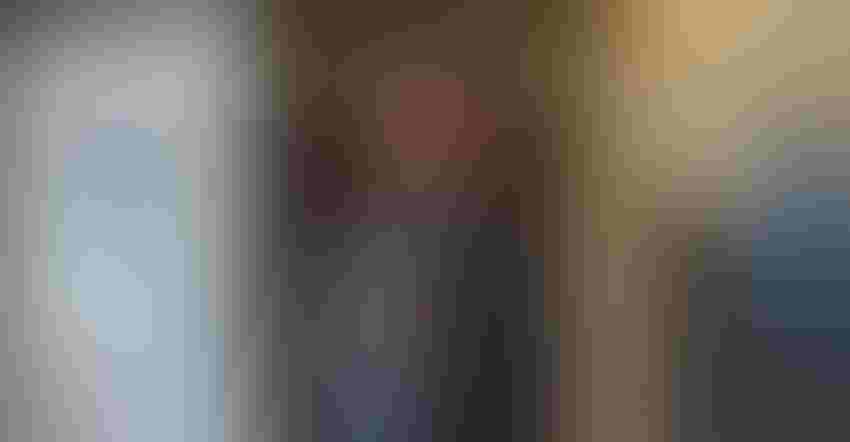 TECH-SAVVY GENERATION: Nick Brozovic, with the Daugherty Water for Food Global Institute, looks forward to a new generation of tech-savvy producers.
When it comes to adopting irrigation technology, there are several key questions: Who's making the investment? Who's making the irrigation decisions? Who's facing the risk involved in those decisions? Of course, in the case of the U.S., it's almost always the grower.
When it comes to adoption of irrigation technology, that's one of the primary factors to consider. That's a point raised by Nick Brozovic, director of policy at the Daugherty Water for Food Global Institute, at the recent Ag Tech Summit hosted by Valmont.
There isn't much data available on ag tech adoption in the U.S., but one of the best sources is USDA's Farm and Ranch Irrigation Survey, conducted every five years. While the 2018 data hasn't been released yet, data from 2013 provides a picture of tech adoption in the U.S.
One of the most telling surveys asked how growers make irrigation decisions. Of the 229,327 farms responding, 90,361 said, "the feel of the soil." Only 22,656 used a soil moisture sensor — less than 10%. Less than 1%, or 1,915, were using computer simulation programs.
"My favorite is 'when neighbors irrigate.' Almost 10 times more [than those using computer simulation], people look over and see when their neighbor is irrigating to decide when they're going to irrigate," Brozovic said. "I actually view this as very optimistic in a sense. This tells me there's a lot of potential for helping people make better decisions that will presumably put more money in their pockets while conserving resources."
Challenges ahead
How can ag tech companies help bridge this gap? Brozovic outlined three challenges and opportunities facing tech adoption based on interviews the Water for Food Institute conducted with growers and ag tech companies over the last several years:
• There is a lack of channel marketing strategies and viable value propositions for new technology.
"It's important to understand that agricultural technology is not consumer technology. When we look at channel marketing strategies, when we look at design strategies, a sensor is not an iPhone. I'm not going to look at it 50 times a day," he said. "I'm not going to pay for extra design. It just needs to work. It's closer in spirit to industrial technology."
"Many startups are selling a product that helps manage inputs better. If it's used well, that's going to raise your mean income, but it often also raises the risk," he said. "The risk is entirely on the grower. And that's something that, in general, is problematic for many growers, particularly in an era where you have $3 corn and you're cash-constrained."
• Many startups use data plans as an additional revenue stream — and currently, data connectivity is a problem for many growers on the High Plains. "A lot of advanced technology relies on telemetry or taking data in real-time from the field to the cloud to some kind of decisions system and back to the grower," Brozovic said. "If you have poor connectivity, you can fix that, but it's really expensive."
• The other challenge is confusion between public and private value propositions and risks that come with data collection. Some growers are afraid their data will ultimately be used against them. "There are data that need to be collected for regulatory purposes and data that are collected for private operations," he said. "Many technology startups don't understand which space they're operating in, or the regulatory constraints under which the growers they're servicing are operating in."
Opportunity knocks
However, Brozovic  said there are also opportunities ahead:
• U.S. agriculture is in a time of rapid land transition, which Brozovic hopes will enable a new generation of tech-savvy producers. "Right now, most farmers in the U.S. are over 60," he said. "So we are moving into a period where we have a new generation of tech-savvy, tech-enabled farmers taking control of their family farming operations."
That said, at the moment some of the most technologically sophisticated farmers in Nebraska have been in business for many years. "Technology adoption is not just for younger people," Brozovic said. "There has to be a clear value for technology to be adopted by anyone."
• Benchmarking anonymized data can provide a learning opportunity for growers, and in some cases, can be a mechanism for behavioral change. Brozovic noted the Water for Food Institute is working with the University of Nebraska-Lincoln's Raikes School of Computer Science and Management, and Department of Agronomy and Horticulture to collect field-level data for this very reason.
"It's the largest such data set that we know of in the world – we have field-level data on production practices, application of fertilizer, yields, irrigation and so on," he said. "Essentially, we can come up with a confidential and anonymous scorecard for farmers, based on their soil type, and then we provide a dashboard which shows how you did relative to other people with a likely similar soil type, and similar operation."
• The price of sensors and data alike will continue to decline, and Brozovic says, it will eventually fall to zero. "I actually think this is a very positive and encouraging thing," he said, "because it will force us all to innovate on the business model, and understand how to provide value for the services provided rather than trying to make money off of the sensor or off of the data."
Subscribe to receive top agriculture news
Be informed daily with these free e-newsletters
You May Also Like
---