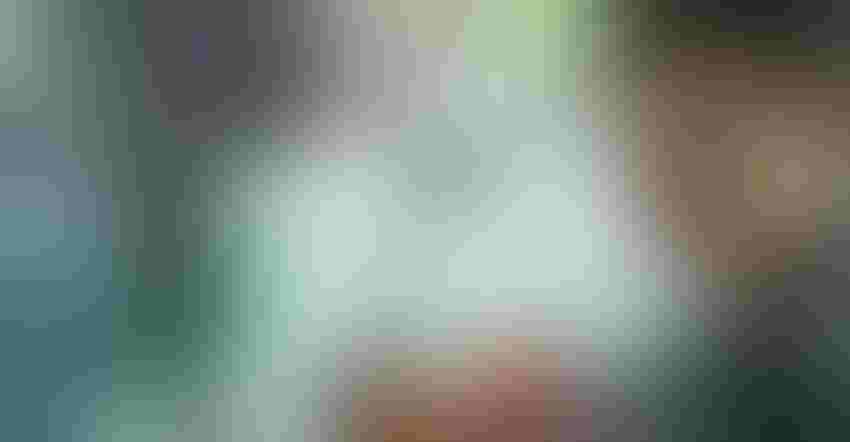 Missouri farmer Blake Seba uses a FarMobile PUC system (small orange box in the combine) to record yield, equipment operations and other data needed for a complete field analysis of the crop and the conditions under which it was raised.
Farm data systems are collecting everything from seed population to rainfall amounts to the location of equipment in faraway fields. While that data has value to the farmer, at least one technology company believes it has value to ag companies who will buy it.
While the ease of use of these systems is constantly improving, the profitability aspect is still being developed and may be a year or two away.
Technology startup FarMobile has created the Data Store that when operational will allow participating farmers to sell or license their electronic field records (EFR) to qualified buyers who want it. This could be genetic companies, research firms or grain merchandisers — anyone who could use the information to better understand how the seeds or products perform in real-world conditions.
"We are getting interest from a lot of research firms," Jason Tatge, FarMobile's CEO and co-founder, says of potential data buyers. "The companies are willing to pay the farmer for access to full digital field data that they never had before."
FarMobile is currently paying its farmer-customers $2 an acre for their electronic field records that stretch from planting to harvest. Those records are then stored. When enough data has been compiled, it will license it to private companies.
"Our goal is at the end of three years, we will have many buyers for the data, and we will allow the market to determine the value to be paid to farmers," Tatge says. "The $2 an acre is to give the farmers the incentive to get the data right."
Tatge emphasizes that only the farmer will decide what data to sell and who to sell it to. Also, the data will always be in the "store" so that it can be sold several times.
Yield guarantees
The second vision FarMobile has is that once enough data has been collected, the seed companies and others will then guarantee performance characteristics of their products, such as yield guarantees for seeds.
"We are starting to see some of the genetic companies entertaining the idea of yield guarantees if the product is applied correctly. That is really where this data is going," says Tatge. "Some of these larger companies may begin to share in the risk because they will have the confidence that their products will perform when applied at the right time on the right seeds. Digital data collection can verify these field activities."
Companies participating in yield guarantees will evolve in the next few years, says Tatge. "It is going to be a really big thing for the farmer because companies will move marketing dollars from traditional marketing venues to pay for data that validates performance."
FarMobile has been selling its after-market data units for tractors, combines, sprayers and other equipment since 2013. The units, called PUCs, interact with any make or model of equipment and will automatically collect equipment and crop data that can later be viewed on an iPad, smartphone or computer. The PUCs are portable and can be moved from one piece of farm equipment to another.
"It is a passive system. When you plug that into your tractor, you can forget about it. You do not have to change anything you are doing to have the data recorded," says Tatge.
While the Data Store is a new part of the company's operation, the other part is the system's ability to collect data on equipment operations and agronomics from several models of equipment. A John Deere tractor can pull data from an attached Kinze planter; the same unit can later be plugged into a CaseIH combine or an Agco sprayer.
'Worth investment'
The Seba Bros. farming operation in west-central Missouri has used FarMobile's systems for about three years. Its six units have been placed in tractors, combines and sprayers.
"You can mix and match them with machines. What is amazing about FarMobile is it is the same platform of information whether it is a green tractor, blue tractor or red tractor," says David Seba. "With the size of our operation, we may be planting and harvesting at the same time, so we felt it was worth the investment to have a PUC in each machine."
Agco is partnering with FarMobile in a pilot program with select North American dealers, whereby customers have the option to install FarMobile technology on their machines.
"We think the market can come up with better solutions than any individual company, so our strategy has been how to make sure our customers have full access to the innovations," says Chris Rhodes, Agco's director of development for Fuse. "With partners like FarMobile, we are executing that."
Farmers are investing more in precision farming technologies, including newer guidance systems, software analytics and satellite imagery. Agco's Fuse system enables machines to "talk" to each other, ensuring the equipment is where it needs to be no matter the color.
"We are seeing a market shift to more services. It has been focused on machinery, but we are seeing more services on the agronomic side. We are not providing that, but we are seeing that," concludes Rhodes.
About the Author(s)
Subscribe to receive top agriculture news
Be informed daily with these free e-newsletters
You May Also Like
---