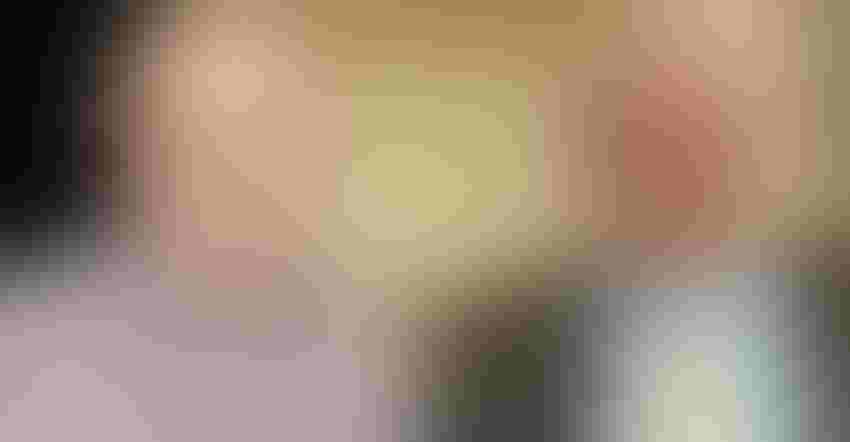 Ron Lacewell, Texas A&M, greets Jay Lehr, Heartland Institute, before Lehr's keynote address at the annual Texas Plant Protection Association annual meeting in Bryan, Texas.
Two hours a month, considering all the other things farm folks find time to do, should not be too much of a burden to devote to promoting agriculture.
"The biggest problem facing agriculture today," says Jay Lehr, "is the misconception consumers have about what we do."
Lehr, Science Director of the Heartland Institute, challenged the audience during his keynote address at the 30th annual Texas Plant Protection Association Conference in Bryan, Texas, to spend time talking about what they do.
"With just two hours a month, we can make great strides," he said.
Lehr says agriculture has a lot to discuss — some challenges and some "amazing technology" and opportunities.
Passing a new farm bill offers a current talking point, he says.
"I don't think Congress will pass it," he says. "We will probably get an extension of the current bill."
He says the Supplemental Nutrition Assistance Program (SNAP) is the sticking point. The House of Representatives wrote a bill that included increased work requirements and funding for vocational education, he says. The Senate bill did not follow suit.
"SNAP is the majority of the farm bill," Lehr says. "The public has no idea that a supplemental nutrition program, what we know as food stamps, has more money in the farm bill.
"I wish they would separate it," Lehr adds, "but they don't because they want to win the city folks."
Farm bill funding, he says, is "a story you need to tell."
Trade War
Agriculture also needs to talk about trade. "We are entering a trade war with China. I think the president can win it. It's a game of chicken.
"China is in trouble; they have become a monarchy of one-man rule. They have isolated themselves. They're going backwards. They invade the privacy of every one of their citizens who get a score on how they conduct themselves, and what kind of freedoms they're allowed to have is based on that score.
"Their banking is in serious trouble. I think we can win a trade war with China, but I'm not sure of it."
He says the new agreement with Mexico and Canada is good for the U.S. "We are going to have a new and better NAFTA, I think, starting next year, if the House signs it."
Ag Income Down
Lehr says agriculture has been hurting for several years with low commodity prices. "Prices for grains are incredibly low and there's not much hope near term, I'd say, for two years of that changing."
The USDA Market Facilitation Program (MFP), Lehr says, provides $12 billion to help agriculture ride out the trade war, part of it as supplemental income and part to buy crops. "The biggest part is improving exports."
Lehr says the U.S. is set up better than other countries to take on a trade war. "We need imports," he says, "but we can go it alone."
He also believes the world is set up for a declining economy, as is the U.S., but at a lesser rate.
He contends that the country's ability to produce and move food across the nation makes us more self-sustainable than other countries. The abundance of rivers (14,650 miles of river system), ports and barrier islands create huge advantages for moving agricultural products.
"We have 333 million acres of contiguous farmland, which we use so very, very well.
"We don't want to be isolated, but the chasm between our economy and the rest of the world is great and will become greater. Some people along the way would be hurt, but you need to take pride in what we have in this country."
Herbicide Issues
Lehr touched on the dicamba and glyphosate issues and the misconception consumers have about crop protection products.
"Estimates show about 40 million dicamba-resistant seeds planted this year; next year there'll be as many as 60 million."
He says some say instructions on how to apply dicamba "are virtually impossible to obey. But perhaps we can come close."
Glyphosate has been badly maligned with recent court findings, he adds. "We have a hundred studies showing glyphosate does not cause cancer. Anti-ag people want to kill it."
Counter the Arguments
Farm interests, he says, need to counter those arguments. "You should be telling people that we've done the studies and there is no problem. That should be part of your story."
He sees a similar issue with GMO products, which he says were banned in Europe to keep U.S. ag exports out.
"The reason we continue to see negative reports on GMO is that you're not talking about it."
He says new technology offers opportunity to talk about agriculture.
CRISPR (Clustered Regularly Interspaced Short Palindromic Repeat) technology, he says, is a gene editing process that allows scientists to knock out a gene and move another in its place to change the plant. Gene editing may improve the plant's nutrition, disease tolerance, or drought resistance, among other things.
"The process does not use matter from foreign sources," Lehr says, "although there is nothing wrong with that."
Fake Food
He says the industry needs to talk about manufactured meat, which he labels "a disgusting idea."
Other "fake food" items, such as lettuce grown hydroponically in an urban warehouse, does little to produce wholesome food for most consumers. "Only the most expensive restaurants buy lettuce produced that way because it's incredibly expensive."
Other ag technology worth talking about include: 3-D printed food, edible food wraps, robotic crop harvesters, and edible bar codes.
Lehr says facial recognition software will allow livestock producers to manage herds by viewing camera imagery that show how much cattle drink and eat and how healthy they appear.
Drones will change agriculture, he says. "Agriculture is using drones more than any other industry, except maybe real estate."
He says regulations likely will change and make it easier for farmers and ranchers to use drone technology to improve efficiency.
"Our record of what we're doing in agriculture now, technologically, is just amazing," Lehr says. "No industry is more advanced than we are."
But we are not telling that story, Lehr says. "We have 2 million people in production agriculture. If I could get all of them to spend two hours a month promoting what we do for people, we'd make real strides. I hope at the very least I have convinced you of that."
Subscribe to receive top agriculture news
Be informed daily with these free e-newsletters
You May Also Like
---