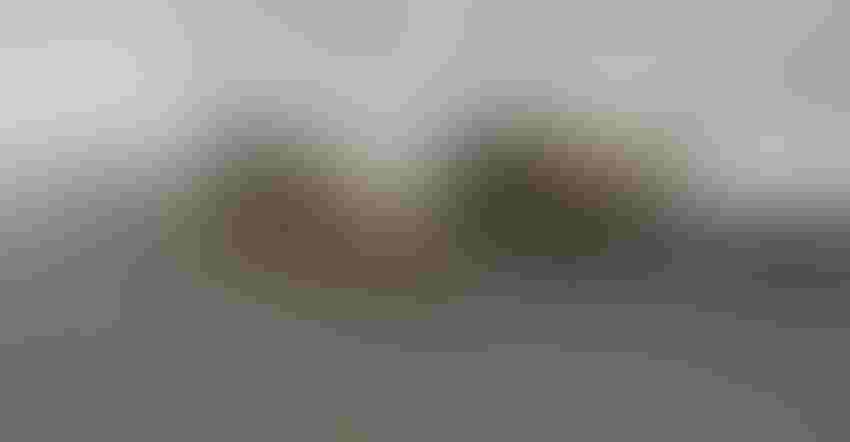 UP CLOSE: Youth Sugarbeet Project participants get an up-close view of a Ropa Maus (left) and Ropa Tiger self-propelled harvester during the 2017 program.
About 100 participants in Michigan Sugar Co.'s Youth Sugarbeet Project recently got a comprehensive lesson on all aspects of sugarbeet farming and processing. It was part of the company's annual Youth Project Field Day at the Saginaw Valley Research & Extension Center July 13.
"Agriculture, especially sugarbeet farming and processing, is an integral part of our local communities, and this effort is one way Michigan Sugar can help educate local residents about the sugar production process, from the field to supermarket shelves," says Becky Wark, shareholder engagement coordinator for Michigan Sugar. "The Youth Project is a great platform to educate the next generation on current farming and processing practices, while also exposing community members, who may not live on a farm, to agriculture and the sugarbeet industry."
In recent years, the Youth Sugarbeet Project has evolved alongside Michigan Sugar's effort to reach out to communities throughout the growing region. The Youth Project is open to all regional students in grades 3 to12 who have an interest in learning more about sugarbeets and agriculture.
The July field day included learning about harvest from Mark Reif of Reif Farms and Keith Kalso, ag operations manager at Michigan Sugar, by viewing a self-propelled harvester and Maus (courtesy of Reif Farms and DHT). Participants also examined sugarbeet leaves with Linda Hanson from Michigan State University and David Pratt, a Michigan Sugar agronomist. The students learned about processing from David Noble, Michigan Sugar's vice president of operations, and heard from Jay Roszatycki, director of packaging and warehousing.
Michigan Sugar's Corey Guza, director of agronomy, and Tanya Richard, senior network technician,  talked to the participants about careers in agriculture. The afternoon sessions included an interview and test, plot tours at the Saginaw Valley Research and Extension Center, and various team-building games.
Youth Sugarbeet Project participants complete a research report, participate in a field day, and present a sugarbeet project at local fairs — all earning points toward completing the program. Points are earned in five categories, and the participants who have the highest point totals have the opportunity to qualify for scholarships, win prizes, and be recognized with Premier, Prestige and High Honor awards. Participants are also invited to attend an annual trip. Past events have included Detroit Tigers games, the Henry Ford Museum and the Detroit Zoo. This year, more than 130 people attended the trip to Cedar Point.
"Agriculture is one of our greatest assets in the Thumb and Saginaw Valley areas," says Wark. "We are fortunate to have the opportunity to demonstrate the importance of modern agriculture to the next generation, whether their parents are involved in sugarbeet farming or not."
The Field Day event was co-sponsored by ACH Seeds.
Source: Michigan Sugar Co.
Subscribe to receive top agriculture news
Be informed daily with these free e-newsletters
You May Also Like
---