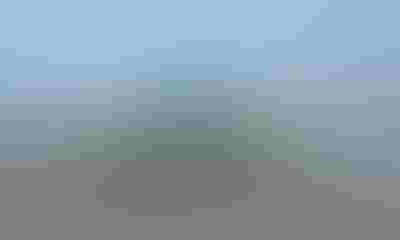 Once fields were dry enough, farmers wasted no time getting into the fields to plant corn and soybeans last week. After an early start in mid-April, rain, and in some cases in western Nebraska, snow kept farmers out of the fields in the latter part of the month.
"Before the rain started on April 18 people got from 20% to 25% of their corn planted," says Nathan Mueller, Nebraska Extension cropping systems educator in Dodge and Washington counties. "After last year with the wet season and late planting we had, people were a little more aggressively planting in mid-April than they would be otherwise since those events were in recent memory."

PLANTERS ROLLING: Kevin Medow plants corn on his ridge-till acres in mid-April. For Medow, it was a good time to get started, with six inches of rainfall from the middle of April to early May.
While corn is emerging in parts of southeast Nebraska – in some counties like Nemaha as much as 75% to 80% is planted and emerging – some growers weren't able to get in the fields to spray soon enough with April's windy weather, although the windy weather in May was welcome to help dry out the soil. After being kept out of the fields with heavy rainfall in the last few weeks, growers were eager to hit the fields again this week in eastern Nebraska.
"I think we had 6.57 inches of rain in the last 12 days of April. That was the third wettest April on record in 123 years in Fremont," Mueller adds. "There is a lot of water sitting and running out of fields up here, but the drier more well-drained parts of the fields are ready. A lot of people were in the field May 5-8 cherry-picking fields that were dry enough."
Despite continuous rainfall in late April, some rain was welcome after one of the driest Marches on record. "I talked to some people who were having issues with down pressure because it was so dry. It's been warm since the middle of February, and the top of the ground was just hard. A lot of no-till fields needed moisture to get the seed down into the ground," says Tyler Williams Extension educator in Lancaster County. "In south central Nebraska there were some people that had to stop and wait for rain because the ground was too hard to plant."
Although temperatures were ideal in early April, the calendar was a challenge for some growers in southeast Nebraska, notes Keith Glewen, Extension educator and Nebraska On-Farm Research Network coordinator. "I don't know of any situation where it didn't allow growers to get out to the field prior to this rain event on Monday (April 18). Prior to that, you could do it if you wanted to overlook the calendar," Glewen says. "For a lot of people planting corn the first 15 days of April isn't part of their chemistry. They sit and wait, and it rained and now they have to wait some more."
Kevin Medow, who farms near Seward, got a good head start on planting the week of Monday, April 11. "Conditions were pretty ideal in our cropping situation. On our no-till acres we had moisture to plant into. The ground was warming and we had warm weather coming, so I went hard, and finished planting commercial corn Saturday night (April 16) around at 10:30 p.m.," Medow says.
Medow, who is finished planting commercial corn, around half finished planting soybeans, recently started planting seed corn, received around six inches of rain from mid-April to early May. "I'm glad at this point I got commercial corn planted early because right now those areas are so wet I don't know when I'd get back in there again," he says. "Those lower areas are going to be wet for a while. It probably won't dry up until we get our next rain, which might be Saturday or Sunday."
Subscribe to receive top agriculture news
Be informed daily with these free e-newsletters
You May Also Like
---