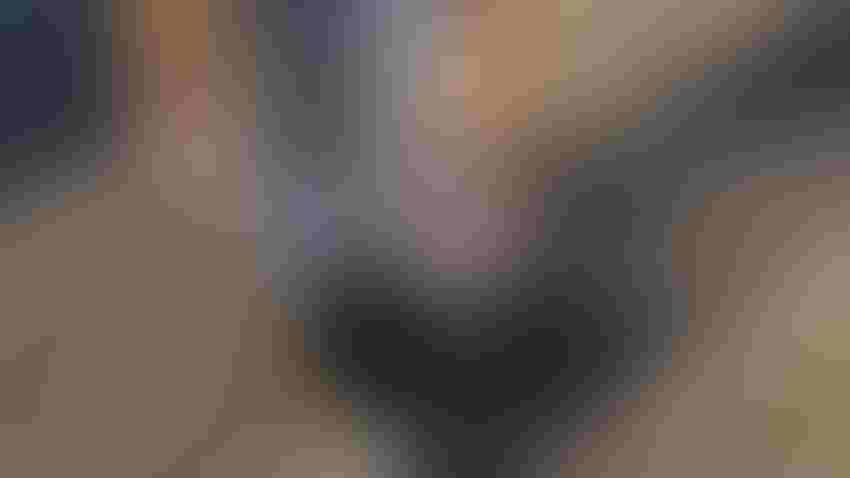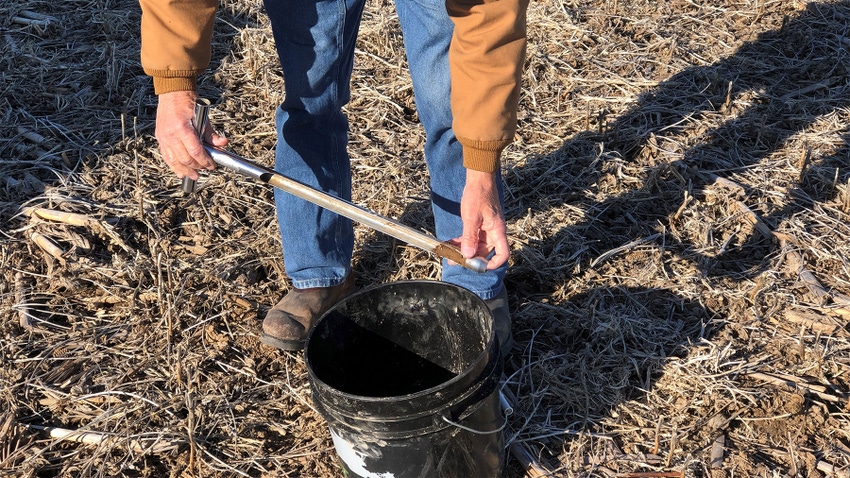 THE NEMATODE SEARCH: You could have significant numbers of nematodes even without seeing symptoms. Managing SCN begins with sampling soils to determine existing levels.
Tom J. Bechman
You can't manage what you don't know. So, the starting point for managing soybean cyst nematodes is sampling soils to determine if SCN are present, and if so, at what levels.
"The best time to sample for soybean cyst nematode is outside the growing season," says Nick Tinsley, technical field rep for BASF, based near Champaign, Ill. He works exclusively with the BASF portfolio of seed treatment products.
"We encourage growers to pull soil samples to test for soybean cyst nematode," he says. "It's especially important if a field hasn't been sampled in three years or more. You need a baseline for SCN."
Just because you haven't seen symptoms doesn't mean there aren't nematodes in your soils, he adds. Even where there are no visible symptoms, nematodes working below the soil can steal several bushels per acre annually.
BASF summarized two years of nematode sampling by farmers and BASF personnel across the Midwest. About 780 samples were pulled — some from fields where nematode problems were suspected, and some from fields where no symptoms were visible, Tinsley says. The average number of cysts per 100 cubic centimeters of soil was 2,600, which is considerably higher than the 500 per 100-cc threshold where soybeans are at risk by nematodes.
"SCN also drives sudden death syndrome, although the two aren't directly related," Tinsley says. "We know that when nematodes attack soybean roots, plants are more vulnerable to SDS."
Sampling soils
Pulling soil samples to send for analysis for SCN after harvest is straightforward, Tinsley notes. Use a regular soil sampling probe and collect samples from across the field. Just as in soil sampling, walk in a random pattern across the field, collecting a dozen or more cores that you can combine into one sample representing the field.
Tinsley advises against drying samples. Instead, package and send them as soon as possible to the lab of your choice. Allowing samples to sit for an extended period could skew results.
Managing cyst nematodes
Soybean seed treatments are just one tool for managing SCN, but they are an important one, Tinsley says. BASF offers Ilevo, with efficacy against SDS and SCN.
Now, BASF also offers Poncho Votivo Precise for soybeans. Poncho provides an active chemical ingredient targeting insects, while Votivo is a unique biological agent targeting nematodes. Initially a seed treatment for corn, Poncho Votivo was labeled for soybeans over a decade ago.
"Poncho Votivo Precise offers a unique active ingredient, which is more geared to combating cyst nematode in soybeans," Tinsley explains. "We believe it will be another important tool for growers."
Seed companies continue working on resistance to cyst nematodes, but at the same time, nematodes develop resistance of their own. That makes some varieties that once offered strong resistance less effective. Soybean varieties carrying the Peking gene tend to be more effective against today's races, but only a small percentage of varieties on the market have that resistance gene.
Resistance to SCN through a Bt gene is under development, but it's a few years away, Tinsley says. Meanwhile, he urges growers to know their SCN levels and use seed treatments and other tools to manage the pest.
Subscribe to receive top agriculture news
Be informed daily with these free e-newsletters
You May Also Like
---