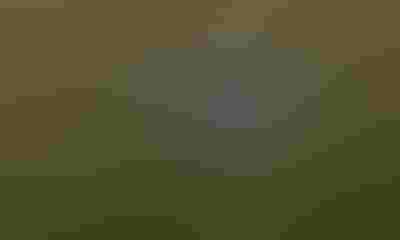 Individual farmers seeking eyes in the skies think the Federal Aviation Administration approval for working drones down on the farm to be bureaucratically slow.
"Progress is being made," says Bill Wiebold, University of Missouri Extension agronomist, who very early saw potential for Unmanned Aerial Vehicles, called UAVs or drones. Service companies operating drones are receiving waivers to work at the farm level.
For now, legal use of drones by farmers remains limited to personal enjoyment.

FLY SAFE: Farmers should avoid foolish flying in order to safeguard the future use of drones in farming. MU Extension agronomist Bill Wiebold warns that when it comes to agriculture one abuser could make us all losers of this technology.
"Any use that helps the farm's bottom line is commercial. That's prohibited except with the waiver," Wiebold says. There are other FAA rules. All drones must be registered so that the user gets an identification number to put on each drone.
Also, don't fly higher than 400 feet and keep drones within line of sight.
"For a small drone, that's not very far," Wiebold adds.
Farmers find new uses
At every Extension presentation, farmers who see his slides think of uses for their own farm.
Wiebold's main advice: "Follow the rules and use drones responsibly."
In talks to farmers, he says, "One abuser can make all users look bad. Some people do stupid things with new technology. Who'd think some nut would point a high-intensity laser beam at a low-flying airplane about to land? That can blind a pilot."
"Farming potential for drones remains too valuable to lose because of foolish flying," he warns
Famers are responsible and know to read and follow labels for herbicides. That's for the greater good, Wiebold says. "They know not to spray 2, 4-D next to a vineyard. That would give a black eye to other users."
Wiebold says the potential in scouting crops is great. He was amazed with how much more he saw when checking his soybean research plots. From a few hundred feet in the air, his flying camera transmits images back to his laptop computer by a cellphone inserted in the drone. However, cattle producers quickly see ways to check the cows or fences and water gaps.
Insurance adjusters see ease in checking a cornfield damaged by cows.
Farmers gripe about FAA blocking wider use by farmers. However, Wiebold points out that the FAA must assure safety of all airplanes. That includes forbidding drone use within five miles of an airport.
"For a big bureaucracy, FAA moves fast," Wiebold says. Numerous farm-use waivers have been made. It requires filling out forms and getting approval from Washington. That takes time; but companies are being approved to fly over farm fields for scouting and many other uses.
~~~PAGE_BREAK_HERE~~~
Drones find hot spots
The eye in the sky offers myriad aids. It's called directed scouting. That allows more detailed and efficient seeing than walking the fields. With a flying camera, scouts can go find spots needing extra attention.
Most cameras on drones record visible light, what the eye sees. In the next level, near-infrared light is recorded by changing a filter on the camera. That shows what the human eye can't see.
At infrared, plants leaf area is recorded. That pinpoints areas in a field where slow growth indicates a problem. Then on-foot scouting can find the problem, such as compaction or damaged roots.
At higher ranges of the light spectrum, and there are hundreds of them, one band can reveal protein level in plants. That allows telling the difference between a soybean and water hemp or velvetleaf weeds.
That could lead to prescription use of herbicides. Already, analyzing corn plant color, green to yellow, aids in applying supplemental nitrogen.
Sophistication on its way
Advanced uses require more sophisticated flying machines in the air and more powerful software in the computer. Quickly, you deal with lots of data sorting and analyzing.
As investment costs go up that's best handled by farm service companies offering drone service. For now, that is where FAA waivers to fly are being made.
"They're moving faster," Wiebold says. "We'll be seeing more companies getting waivers to offer on-farm service."
Meanwhile back on the farm, drones not much more than toys could help get the lay of the land.
"It doesn't take long for farmers to see a use on their own farm," Wiebold says. It takes skills to operate the flying machines. The four-rotor helicopter takes some practice, Wiebold says. He admits crashing his first model. "Start inexpensively," he notes.
In an early talk in Missouri's Bootheel, while Wiebold was still at the podium, a grower ordered a drone from Amazon "He saw how a drone could help him check irrigation pipes without driving by them."
The potential grows. "It's up to users not to abuse 'em," Wiebold says. "If you don't like the rules that doesn't mean you can ignore them."
Dailey is a retired MU extension professor. He writes from his home in Columbia.
Subscribe to receive top agriculture news
Be informed daily with these free e-newsletters
You May Also Like
---