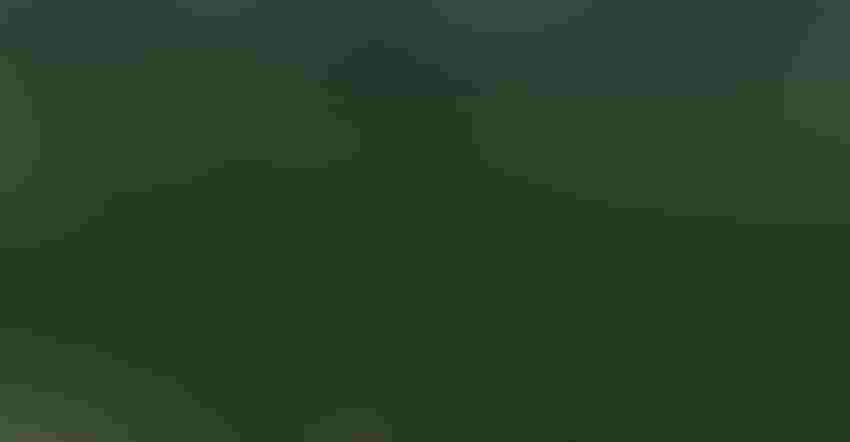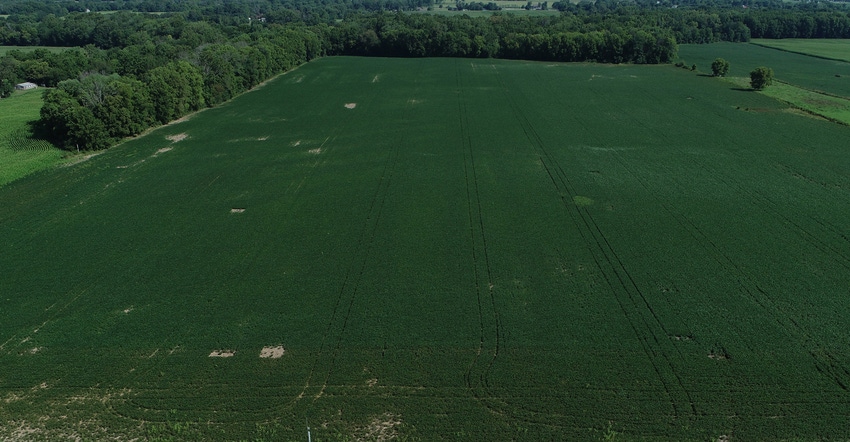 LIGHT GREEN SPOT: Notice the light green spot in the middle of the photo, just to the right of sprayer track lines. A drone spotted this area in mid-August.
Steve Gauck
Harvest may be over, but there are still things you can learn from reviewing this past season. If you flew an unmanned aerial vehicle over your fields during the growing season, or if a consultant did for you, now is the time to pull out those images and study them carefully. You may pick up on potential problems that you missed earlier that could guide you in fine-tuning management for 2020.
"It's amazing what you can see from the air in a drone image that you can't see from ground level," says Steve Gauck, a Greensburg, Ind., sales agronomist for Beck's. Gauck monitored this year's Soybean Watch field several times during the growing season. Beck's sponsors Soybean Watch '19.
Gauck flew his DJI Phantom 4 UAV over the field in mid-August. He saw several things that he didn't see from walking through the field, including a few spots where the stand was thin because it had been too wet in the spring. He also noticed areas on one end where the operator picked up the drill too soon or let it down too slowly when turning. Sprayer tracks from spraying weeds postemergence were also obvious.
Weed scout
UAVs are proving to be good scouts for weeds, especially if the weeds are in patches, Gauck says. While flying the Soybean Watch field, he noticed one rather small but obvious spot in the center of the field that was lighter green than surrounding areas.
Related:A few lost bushels here and there add up
The zoom features on the typical camera used on a DJI Phantom 4 drone are limited, Gauck says. However, if you notice a spot like the lighter green area while you're flying, you can fly lower to investigate further.
"I suspected it was a weed patch but wasn't sure what type of weed it might be," he recalls. "I was flying near the 400-foot ceiling when I noticed the patch. By flying much lower and flying over the spot, I could confirm it was a patch of weeds."
In fact, Gauck could do better than that. He was able to fly low enough to get enough definition in the shot to show that it was a patch of Canada thistles. They were sticking out above the soybean canopy, providing the lighter green color to that small spot in the field. Their distinctive leaf shape gave them away as Canada thistles.

THISTLES GALORE! Now it's clear why the spot is lighter green. It is dominated by Canada thistles, shading out the soybeans. Fortunately, it's a relatively small, isolated patch of thistles.
Gauck says it's worth noting where patches of weeds are so you can address them later. In this case, the farmer could opt to spot-spray them in the spring with herbicides geared toward thistle control. The ideal time to control them is in the fall before a hard freeze, while thistles are small but actively growing, but the grower missed the window in 2019.    
If you didn't notice a spot such as this one until perusing images during the off-season, you might not know for sure what it was, but you could make a note to investigate that spot further, he concludes.  
About the Author(s)
Subscribe to receive top agriculture news
Be informed daily with these free e-newsletters
You May Also Like
---