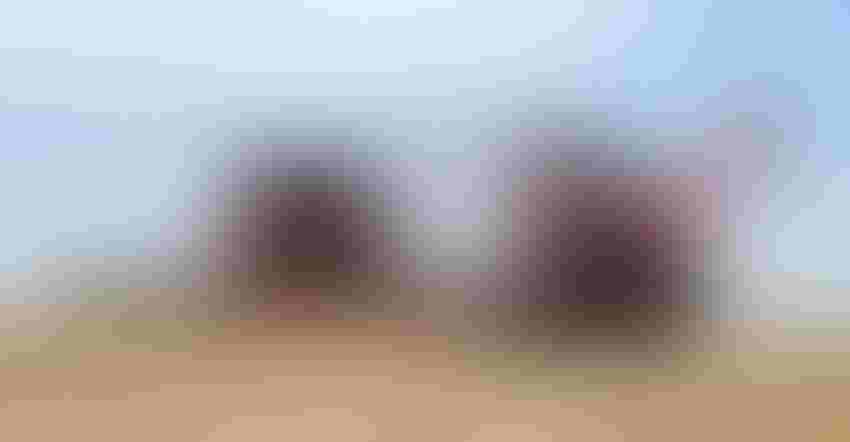 BUYING SPREE: Even though China has been buying more corn from the U.S. in 2020, it's also buying more soybeans.
Rod Swoboda
Soybeans will once again top the list of U.S. agricultural exports to China, even as China exceeds its tariff rate quota for corn for the first time since implementing a tariff rate quota system in 1996. That's how China's purchases of U.S. ag products are shaping up for 2020.
"In November, the USDA's World Agricultural Supply and Demand Estimates report forecasts U.S. soybean production at 4.17 billion bushels in 2020, down 98 million bushels due to lower yields in several major producing states including Illinois, Iowa, Indiana, Ohio and Nebraska," says Wendong Zhang, assistant professor of economics at the Center for Agricultural and Rural Development at Iowa State University.
Some of that loss of production was due to a derecho that tore through the Midwest in August. Wind gusts reached 140 mph and flattened crops across the middle section of Iowa and into Illinois, the two largest soybean-producing states.
Even with U.S. corn and soybean production falling short of earlier estimates, soybeans are still topping the list of China's imports of U.S. ag products. "In the first nine months of this year, soybeans accounted for 31.3% of China's total agricultural imports from the U.S., so they will remain the single largest export commodity," Zhang says.
More U.S. beans, corn
Zhang and his ISU colleagues Dermot Hayes and Xi He are authors of a new report titled, "China's Agricultural Imports Under the Phase One Deal: Is Success Possible?" The three ISU economists first wrote the report in May and recently updated their estimate of China's total U.S. ag imports under the Phase 1 trade deal. Using the most recent data, they estimate China will import just over $31 billion worth of agricultural and related products from the U.S. in the first year of the deal.
"In August and September, China's agricultural purchases from the U.S. significantly accelerated, reaching $5.28 billion," Hayes says. About $2.8 billion worth of those purchases were soybeans. Soybeans topping China's U.S. imports isn't surprising. As recently as 2016, China was purchasing 25% of the total annual U.S. soybean crop. However, factors other than the Phase 1 trade deal have led to China accelerating purchases of U.S. corn, as well.
China imported 74% of its corn from Ukraine in the first three quarters of 2020, but those purchases may be slowing as Ukraine faces production difficulties. "Ukraine's corn production is forecast lower this year due to its unfavorable weather conditions and continued poor harvest results," Hayes says. "USDA's November WASDE report projects a lower corn yield in Ukraine, which could be that nation's lowest yield since the 2012-13 marketing year. So, it's reasonable to infer that China would shift away from buying Ukraine corn."
China rebuilds swine herd
Furthermore, since 2018, China has struggled with an outbreak of African swine fever in its hog production industry. Keeping the infection under control required culling millions of pigs, which led to China increasing both U.S. pork imports to cover the loss in domestic production and U.S. feed grains as it rebuilds its hog industry. "In 2019, animal feed accounted for 70% of China's corn consumption, with the remaining 30% used for food, seed and industrial use," Hayes says.
China's increased corn needs are reflected in recent data released by China's General Administration of Customs on Nov. 23, which shows that China imported 7.82 million metric tons of corn from all sources in the first 10 months of 2020, exceeding its corn tariff rate quota of 7.2 million metric tons. Furthermore, China has huge U.S. corn orders booked for delivery in November and December. The ISU researchers also note that, given China's growing corn needs and export sales commitments, China will greatly exceed its corn tariff rate quota in 2021.
Welcome news for U.S.
The good news for U.S. farmers is China's increased need for corn was manifested as $358 million worth of purchases in August and September alone, Zhang says.
Hayes says this was the first time China had exceeded its corn tariff rate quota since the tariff rate quota system first came into use in 1996. This is one of the factors leading to optimism that China may be able to fully meet its $36 billion agricultural obligation under the first year of the Phase 1 trade deal with the United States. When the U.S.-China trade deal was signed in January 2020, China pledged to buy $36.5 billion worth of U.S. ag products in the current calendar year.
"The bottom line," Hayes says, "is China's buying pace has picked up significantly in recent months amid tighter-than-expected world grain and oilseed supplies and the need to feed a massive number of hogs as its herd recovers from African swine fever."
On Jan. 15, 2020, President Donald Trump and China's Vice Premier Liu He signed a Phase 1 trade agreement. It forms part of an effort to resolve trade tensions that have been ongoing between the two countries since March 2018.
For more information, visit the Center for Agricultural and Rural Development. For over 60 years CARD has conducted innovative public policy and economic research on local, regional and global ag issues, combining academic excellence with engagement and anticipatory thinking to inform and benefit society.
Subscribe to receive top agriculture news
Be informed daily with these free e-newsletters
You May Also Like
---