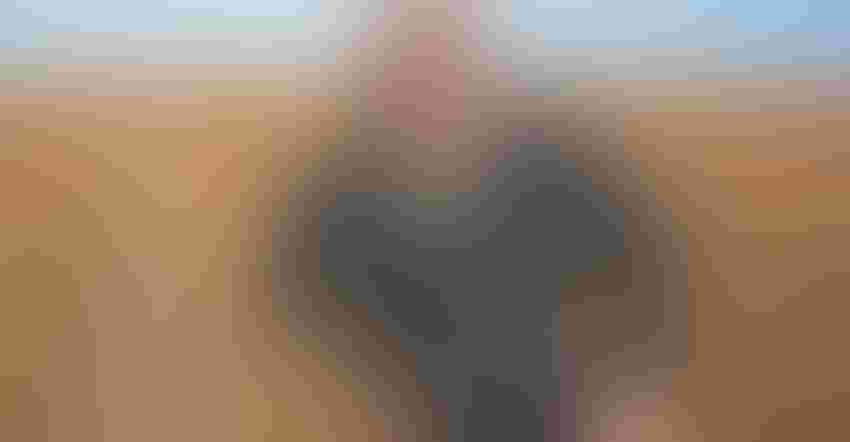 TRY AGAIN: Although Scott Anderson fell well short of breaking a soybean yield record, he says he learned some valuable lessons by participating in the South Dakota Soybean Yield Contest.
Editor's note: This is the first in an occasional series about farm failures — projects that don't work out the way farmers and ranchers hope. But, never-the-less, they contain valuable lessons. "I try to fail at something every year," Gabe Brown, Bismarck, N.D., often tells audiences. He's a pioneer in the use of cover crops, no-till and intensive grazing to boost soil health and reduce input costs. "If I don't fail at something, it means I am not trying enough new things."
Scott Anderson, Andover, S.D., hoped he'd break South Dakota's soybean yield record this year. He identified the most productive 10 acres on his farm, selected the highest-yielding variety adapted to central South Dakota and then loaded the field up with inputs. He spared expense when it came to fertilizer, herbicide and fungicide.
The high-yield attempt was a bust — sort of.
The field only got 5 inches of rain during the whole growing season. The soybeans yielded about 58 bushel per acre, about half of what he needed to break the yield record, and only about 8 bushel per acre more than the soybeans in the rest of the quarter section averaged.
Anderson had hoped to prove to himself that it was possible to make a profit by investing in inputs to maximize yields on his most productive soils. But the soybeans he grew with his usual practices made $35 per acre. He lost $62 on the high-yielding trial.
It was, he said, pretty disappointing.
Lessons learned
However, Anderson, 32, said he learned several lessons from his failed attempt. He was reminded again of what his father had taught him about farming, including:
1. It's a gamble to invest in extra inputs that require perfect weather to pay off. The additional fertilizer increased yield in the contest test plot, but not enough to pay for itself. Fungicide was a complete bust. As part of a fungicide promotion program with his supplier and the chemical company, he applied fungicide on all his soybeans and not just his high yield tract. He left an untreated test strip in each field and — according to his as-applied and yield maps that he matched up after harvest — there wasn't any difference in yield between treated and untreated areas. Fortunately, he didn't have to pay for the fungicide if it didn't increase yields. "Counting on the weather is really a roll of the dice," he says.
2. Injecting fertilizer is the best way to get a consistent return from fertilizer. He spread extra urea on the soil surface for the yield trial plot, but didn't get rain to activate it by the time the plants needed it.
Anderson had been thinking of spreading urea on the whole farm rather than injecting anhydrous ammonia, because spreading is faster and takes less equipment and labor than injecting.
He figures two people — one operating the applicator and the other moving fertilizer from town to field — can spread urea over 1,000 acres a day. They only need a $70,000 piece of equipment.
To inject anhydrous ammonia, it takes $500,000 of equipment and three people, and they can only cover 300 acres per day.
"It's more work, but there's a more consistent response," he says. "We will keep using anhydrous ammonia and my dad's Horsch Anderson air seeder."
3. Planting soybeans in narrower rows is a good idea. The soybeans started to lodge in the areas where he was pushing yields. He plans to plant soybeans in 20-inch rows in the future, so that in years when there is more rainfall, the higher yield parts of his fields won't lodge as much.
4. Small trials are best when trying something new. "I'm glad I only experimented with 10 acres," he says.
"I lost about $600. If it had been a quarter section, I would have lost about $9,600."
Knowing your costs per field — or even parts of a field — is important. He developed a software program called Cash Cow Farming to track fixed and variable costs field by field in real time so he knows his breakeven to the penny per acre.
"It shows me in real numbers what works, and in this case what didn't. Numbers don't lie. You'll find the truth in the results." he says.
Subscribe to receive top agriculture news
Be informed daily with these free e-newsletters
You May Also Like
---