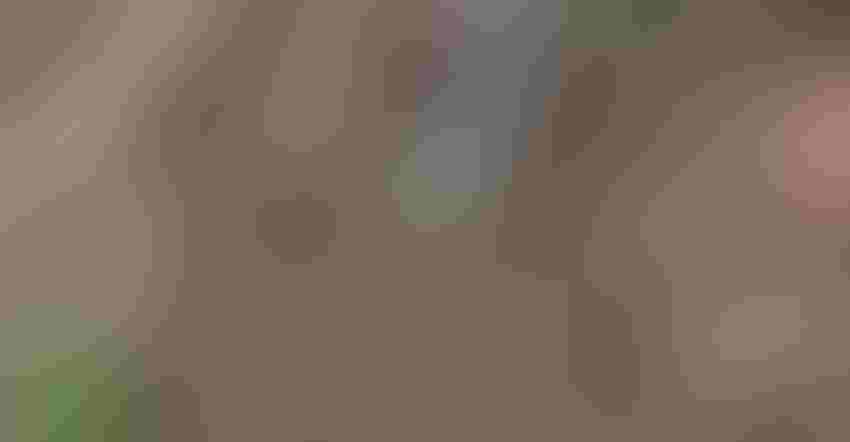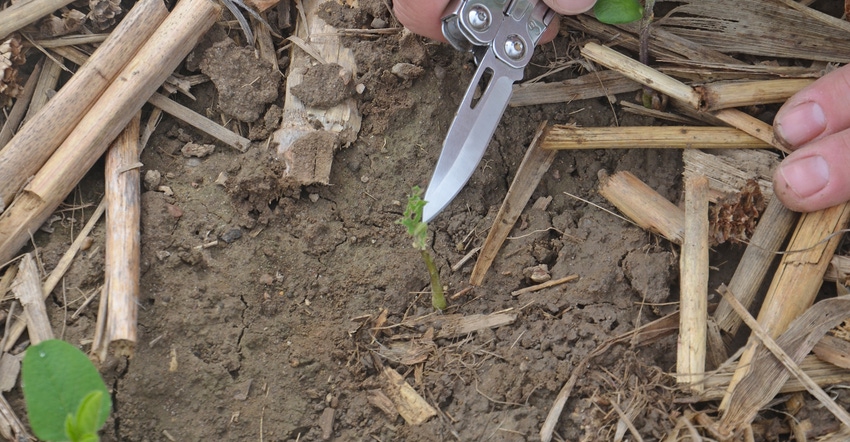 STRIVING TO SURVIVE: Agronomist Steve Gauck found this tiny soybean with damaged cotyledons striving to survive. Based on past observations, he says most seedlings like this one become productive plants.
Tom J. Bechman
When Steve Gauck says some soybean fields got off to a sluggish start this season, he means what he says. It is a pun intended all the way, because slugs did affect final stands in multiple fields, especially in southern and central counties in Indiana.
"We don't see slugs every year, but they tend to show up more when it's cool and wet early," says Gauck, a regional agronomy manager for Beck's, based near Greensburg, Ind. Beck's sponsors Soybean Watch '21.
Related: Proof that early weed competition hurts soybean yield
Slugs are technically a mollusk, not an insect, so insecticides don't control them, he notes. There are baits labeled for use, but they're expensive, and control can vary. Part of the problem is you don't know when or where slugs will show up, Gauck says. If slugs thin the stand beyond levels you can live with, the only remedy is adding more seed or replanting the entire field.
"The best remedy for slugs is warm weather and tillage," Gauck says. "They normally move deeper in the soil once soils heat up. Tillage before replanting may help if you know there is a slug problem."
Seedlings fight hard
Slugs weren't the only thing Gauck found when checking the Soybean Watch '21 field or responding to concerns about soybean emergence problems in 2021. The timing of rains after planting and the presence of crusting on lighter, lower organic matter soils caused problems with emergence in some areas.
In the Soybean Watch '21 field, emergence varies from row to row, depending on where soybeans were planted into residue and where there was less residue. In some instances, soybeans had a tougher time emerging through residue. Seed depth placement may have been an issue in those cases, but slugs also tend to hide under the residue because it is cooler beneath it.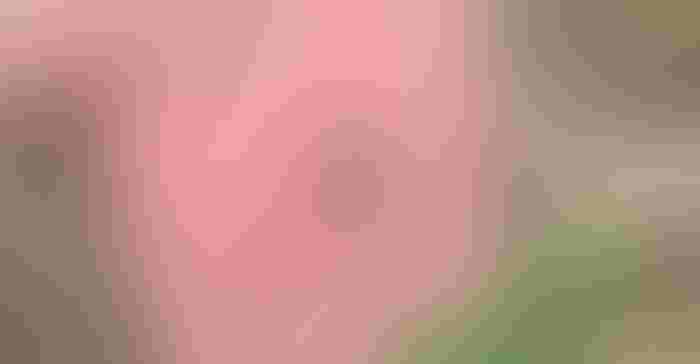 "We found some great examples of soybeans doing their best to emerge, even after their neighbors were already up," Gauck says. "In some cases, cotyledons were ripped off as soybeans emerged though crusting. In other cases, the cotyledons, or first leaves, showed significant feeding by slugs and/or insects. In many cases, those seedlings, while they didn't look good, were going to make it. Past work with flagging individual seedlings like that and checking back later tells us that most of them will become productive plants."
Gauck believes the ability to continue pushing through tough soil conditions is a testament to the vigor bred into most modern soybean varieties. There are three varieties within the Soybean Watch '21 field from two different companies. Gauck found instances where seedlings were beating the odds and emerging in all three varieties.
Stands in the Soybean Watch '21 field likely will wind up around 70,000 to 130,000 plants per acre, with most being in the 85,000 to 105,000 range.
"Our experience tells us that there should be plenty of plants in this case," he says. "The only 70,000 spots are on very light, crusted soils in a few places. The stand was fairly uniform, with few big gaps or holes. Final stand shouldn't be a problem for this field."
About the Author(s)
Subscribe to receive top agriculture news
Be informed daily with these free e-newsletters
You May Also Like
---