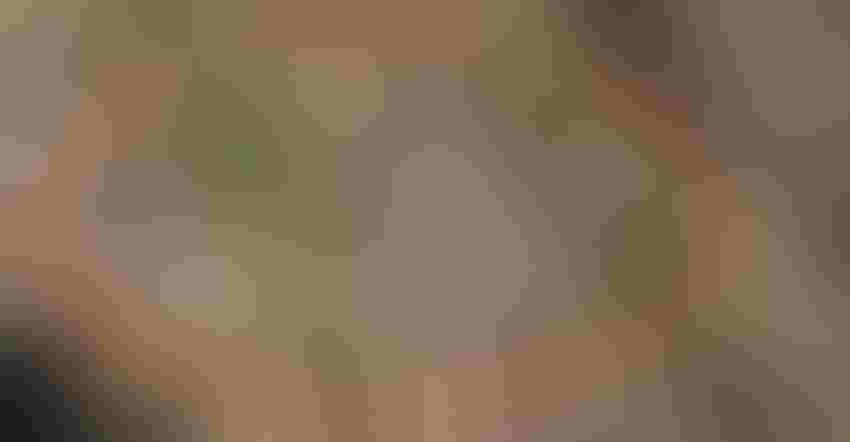 OFF AND RUNNING: Random population checks in the Soybean Watch '20 field indicate stands of 90,000 to 130,000 plants per acre, with an average around 115,000.
Tom J. Bechman
The Soybean Watch '20 field, planted June 5, cleared the first hurdle toward good yields. Emergence was uniform and the stand was more than adequate when checked in late June. Soybeans were at the first trifoliate stage, green and healthy.
This field on rolling soils in central Indiana was no-tilled into cornstalks in 15-inch rows with a no-till planter. Seeding rate was around 145,000 beans per acre. Although soil types range from silty clay loams to a loam soil, irrigation is available in the field. A minor percentage of this field is underlain with gravel at 3 feet.
When it turned dry after planting, the operator noted some beans were lying in dry soil. He took advantage of his ability to irrigate and ran the rig across the field. The result was uniform germination and emergence across most of the field. If he had been forced to wait for rain, which came about a week later, there likely would have been a difference in emergence between areas where beans were placed in moisture at planting and where they didn't make it into moisture.
"Irrigation is a good tool to have for a situation like this one," says Steve Gauck, regional agronomy manager for Beck's, based near Greensburg, Ind. Beck's sponsors Soybean Watch '20.
Not everyone can justify irrigation, of course, but an adjoining field to this one, covered by the center pivot, has much more land underlain by gravel, making the irrigation a good investment over time.
Related:How to know when beans hit critical stage
Soybean stand
To determine stand count, a hula hoop with a 30-inch inside diameter was tossed at random a half dozen times. The Purdue University Extension Corn & Soybean Field Guide contains a table that makes it easy to estimate population from hula hoop counts.
To use the table, you need to know the inside diameter of the hoop. The table is calibrated to use with inside hoop diameters ranging from 30 to 38 inches. If you don't have an actual hula hoop, you can construct your own hoop out of No. 9 wire or a similar material. Just make sure it matches one of the diameters in the table, Gauck notes.
Actual counts ranged from eight plants within the hoop to 16, with 13 being average. According to the table, with 13 plants within the hoop, the expected population would be 115,000 plants per acre.
Even at the lowest count, one toss that captured eight plants inside the hoop, the population would still be between 70,000 and 80,000 plants per acre. That was the exception, rather than the rule, in this field.
You're more likely to pick up a few lower counts using a hula hoop on 15-inch rows versus drilled rows.
The alternative method for making stand counts is to count plants per foot of row. That procedure is also explained in the Purdue guide.
"My experience says we're in good shape if we have 80,000 plants per acre and the stand is uniform," Gauck says. "The grower reported it's a uniform stand by and large, with few gaps, so at an average of 115,000 plants per acre, there should be more than enough plants to produce good yield if the season cooperates."
How close is 115,000 to what you would expect planting 145,000 seeds per acre? Experts often assume 90% germination and 90% emergence of those that germinate, allowing for slippage due to field conditions. That means you should expect about 80% of the seed you plant to become part of the stand.
In this case, 80% of 145,000 equals 116,000 plants per acre. "I would say the grower is right on target," Gauck concludes.
About the Author(s)
Subscribe to receive top agriculture news
Be informed daily with these free e-newsletters
You May Also Like
---