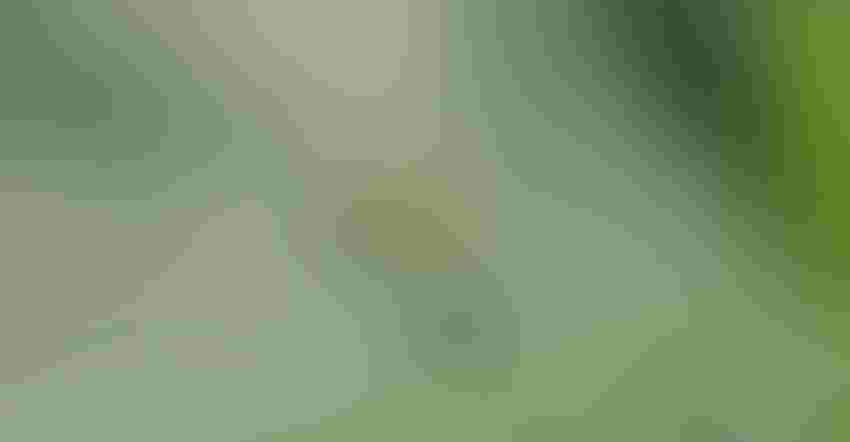 CAPTURED: This grasshopper posed nicely for a picture, resting on this soybean leaf. He likely caused the ragged damage on the upper leaf edge, not the hole.
Tom J. Bechman
You may not be old enough to remember the TV show "Candid Camera." Yet if you're that young, you may be into watching old reruns and still know about the once-popular series. Show hosts and crew captured unsuspecting people with their camera, sometimes in the strangest situations. Then they would surprise them by saying, "Smile, you're on 'Candid Camera'!"
This young grasshopper may not be smiling, but he seems content and posed for this picture on this soybean leaf. Ironically, he's positioned near a round hole on the leaf, but he likely didn't cause that hole. Instead, evidence of grasshopper feeding appears on the ragged, upper margin of the leaflet.
Related: Will pale soybeans rebound?  
"Grasshopper feeding is usually characterized by uneven feeding on the margins of leaflets," explains Steve Gauck, a regional manager for Beck's. The company sponsors Soybean Watch '21.
"Grasshoppers aren't usually a big problem in soybeans; this one certainly wasn't," Gauck says. "These soybeans were at the R2 stage, on the edge of where defoliation becomes more important since pod set and pod fill are coming soon. However, it takes lots of defoliation to make up 25% to 30% leaf loss on a total plant. That is when we might get more concerned."
In certain situations, grasshoppers can be numerous enough to warrant considering an insecticide application, although it's rare in this area, Gauck says. The Purdue University Corn & Soybean Field Guide contains information about treatment thresholds for grasshoppers and other major soybean pests.
The thing about grasshoppers is that they can feed on pods if they're still around near harvest, Gauck says. That's why it's worth noting that they are present, and then continuing to scout regularly.
Other pests
You may find bean leaf beetles or Mexican bean leaf beetles in the field at this time of year, Gauck says. The Purdue guide offers good pictures for identification of these pests. Again, they rarely are present in large enough numbers to warrant spraying with an insecticide.
One pest that has shown up with some frequency over the past few years is the stinkbug, Gauck says. Often, you will find more green stinkbugs, but you can find the brown marmorated stinkbug as well.
"Even if you included an insecticide with a fungicide at the R3 stage on beans, the insecticide may wear down later on, allowing stinkbugs to come in late," Gauck says. "This is one that is definitely worth scouting far up until harvest."
The problem with stinkbugs, Gauck says, is they use their mouth parts to penetrate pods. Not only do they destroy the individual soybean that they sting, but they may open up the pod for infection from other diseases.
Although they don't appear in high numbers consistently every year, stinkbugs were widespread in 2018, causing damage on their own and also opening up pods for diseases. Several issues with seed quality occurred that year, Gauck recalls.
Subscribe to receive top agriculture news
Be informed daily with these free e-newsletters
You May Also Like
---