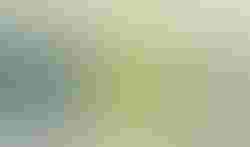 Soybeans are dying in some areas of Louisiana because the amount of salts in the irrigation water is too high.
Glen Daniels, LSU AgCenter county agent in Concordia Parish, said he's been seeing an increase in the salt levels in irrigation water over the past 20 years.
"It was rare to hear about a salt problem in beans back then, but there were a few," Daniels said. "But the number of wells that have been drilled since then is causing the increase in salts in the water."
He said salts are heavier than water, so growers may be pumping so much water that the levels have become low enough to start pulling up more salts.
Wendell Walker, general manager of Angelina Plantation near Monterey, said he has been seeing the problem get worse every year.
"Last year we irrigated beans down in the Red River area, I guess three times, and each time we watered them, they would turn real yellow. We thought we'd scalded them, but about this time of the year, they just died," he said.
Walker suspected some disease was killing the soybeans.
Daniels was called in to test. "He found that it had over 2,600 parts per million salts when it should have been less than 400 parts per million," Walker said.
Another possibility for the salt problem could be from abandoned oil wells in the area, Walker said. Companies would pump salt water out, and they were suppose to separate the water from the oil then pump the salt water back.
"There are some places where the water is just running out on the ground, and I suspect that is causing some of the problem, too," Walker said.
Salt levels need to be as low as possible in the fields in order to maintain average yields, J. Stevens, LSU AgCenter soil specialist said.
"There are four analyses that I would look at when determining the quality of irrigation water. These are salts, sodium, chloride and alkalinity," Stevens said. "If any of these are high to very high, the water has quality problems for irrigation."
Daniels said soybeans need irrigation water, but when the water is contaminated with salts, growers are in a no-win situation.
"We are looking for salt-tolerant varieties of beans in order to make a decent crop with this situation," Daniels said.
Another option growers may have, though more expensive, is the use of surface water.
Walker said he's close enough to the Mississippi River to pump water from there, but the cost is very high.
"It's also a time-consuming ordeal to get all of the paperwork done to get the Corps of Engineers permit. Then you have the expense," Walker said. "Where we now use 12-inch pipe for the groundwater pumps, we'll have to increase to 24-inch pipe to pump water from the river."
He said his cost would go from $4.10 per foot of pipe to around $50 per foot, plus another $10 for installation to pump river water up to three miles to irrigate his fields.
"But we just don't have much choice," Walker said. "We can't keep pumping salt water on the fields. So until we have salt-tolerant varieties, we'll be moving forward with surface water."
Daniels said his variety trials are showing promise and he hopes to soon have salt-tolerant varieties available that will yield comparable to current varieties.
He said even some salt-tolerant soybean varieties are not surviving in fields with high salt concentrations.
In addition to soybeans, corn and rice production also are affected by the salt water. Daniels said the increase in rice production in the area is suspected as one of the causes of the problem.
"Rice requires a lot of water during the growing season, and the increased groundwater use may be depleting the fresh water in the wells," Daniels said.
Even in fields where the moisture levels are good, soybeans can't survive because the clay soils in the area won't allow salts to drain out of the root zone.
"So what happens is the salts don't allow the plants to take up moisture as they should, and they just die," Stevens said.
Daniels said varieties like MorSoy 5429 and several others in his variety trials are showing good salt-tolerant potential.
Stevens advises growers when they see a problem they don't recognize, pull a routine soil sample, plus a water sample.
"Salts are becoming a problem all over the state, but you first need to identify the problem before you can fix it," he said.
Daniels said growers can't irrigate with salt water, and because salts are already in the soil, anytime it rains, more salt is activated and the plants roots are like a sponges, soaking it up.
Subscribe to receive top agriculture news
Be informed daily with these free e-newsletters
You May Also Like
---