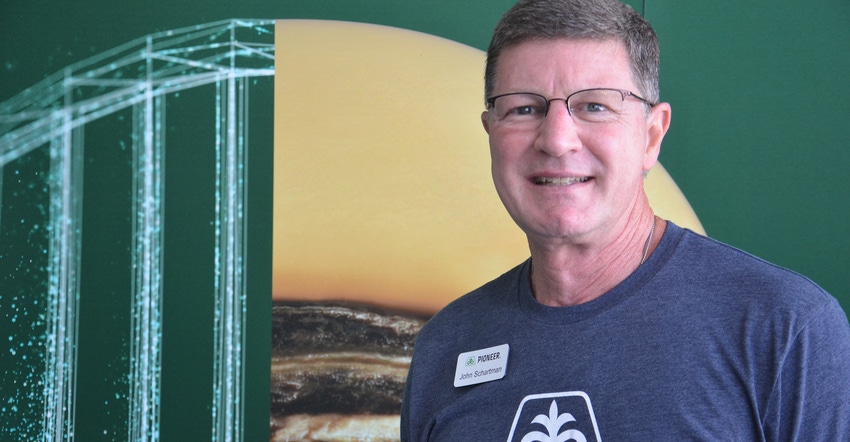 ADVANCEMENTS FOR BEANS: John Schartman with Pioneer says new soybean technologies are here now both for better weed control and improved genetics, with more developments coming soon.
Tom J. Bechman
Armed with full approvals for soybeans in the Enlist E3 weed control system, Corteva Agriscience expects full launch of this long-awaited technology in 2020. It's just one new technology that's either here now or coming soon that Corteva/Pioneer spokespeople are excited about.
Farm Progress interviewed John Schartman, soybean market lead for the Pioneer brand in the U.S., to learn about these technologies for soybeans.
What is the newest technology that growers can access for 2020? The Enlist herbicide-tolerant system is the newest technology in weed control. It provides growers a new tool to control tough weeds, and also provides a high level of crop protection. There are two new herbicides which can be applied on Enlist E3 soybeans: Enlist One with Colex-D technology, which is the 2,4-D choline formulation by itself; and Enlist Duo with Colex-D technology, which is 2,4-D choline plus glyphosate. No other formulations of 2,4-D are approved to apply on Enlist E3 soybeans.
What does the E3 signify? Enlist E3 soybeans are tolerant to three different herbicides: 2,4-D choline, glyphosate and Liberty, or glufosinate.
What can you tank-mix with these two new Enlist herbicides? Visit this website to find approved tankmixes for each product: www.enlist.com/en/approved-tank-mixes. It is updated regularly. Note that currently, Liberty is listed as a tankmix partner for Enlist One, but it is not on the approved list as a tankmix for Enlist Duo. You can spray Enlist E3 soybeans with Liberty, but it would require a separate application.
Do you expect yield drag for Enlist E3 varieties? No. This technology has been under development for a long time, and we have high-yielding varieties in the lineup. Pioneer will offer 19 Enlist E3 varieties for 2020 in a broad maturity range, from Group 0.1 to Group 4.9.
What other new technologies for soybeans are in the Pioneer pipeline? We continue to add varieties to our A-Series lineup through genetic improvement. Pioneer reserves the A-Series designation for varieties with the best yield potential and top agronomic and defensive trait packages. You can visit pioneer.com/soybeans and see how various varieties compare on traits which may be especially important in your area, such as disease tolerance.
What system does your company use to rate disease resistance? We use a 1 to 10 scale, where 10 is most resistant or tolerant. For a disease such as phytophthora root rot, for example, most varieties will likely have a rating between a 4 to a 7. This rating system allows you to determine which varieties have the best chance for success in fields where you might have problems with a disease.
What technologies are coming if you look farther down the road? We are preparing our product offerings to support XtendFlex soybeans in the future for the U.S. This will add Liberty tolerance to Roundup Ready 2 Xtend soybeans, already tolerant to dicamba and glyphosate. We're waiting for the official launch of this technology from Bayer prior to any commercial introduction. When launched, this will give us yet another tool to make genetic improvements and add varieties to our A-Series lineup of the highest-yielding varieties we've ever introduced.     
Subscribe to receive top agriculture news
Be informed daily with these free e-newsletters
You May Also Like
---