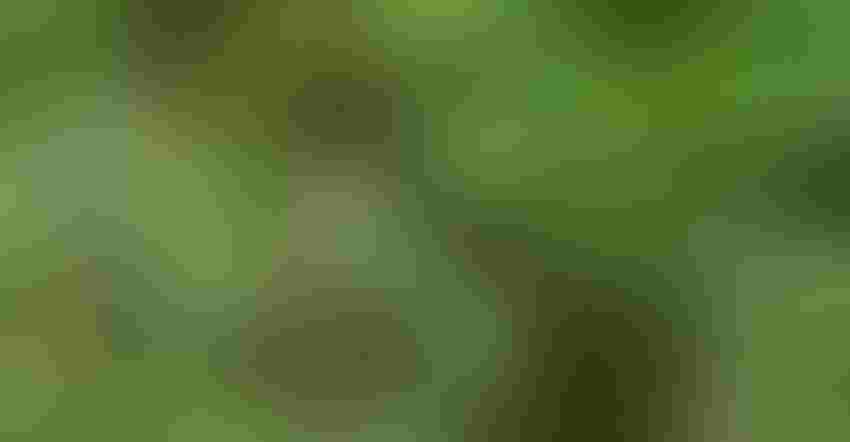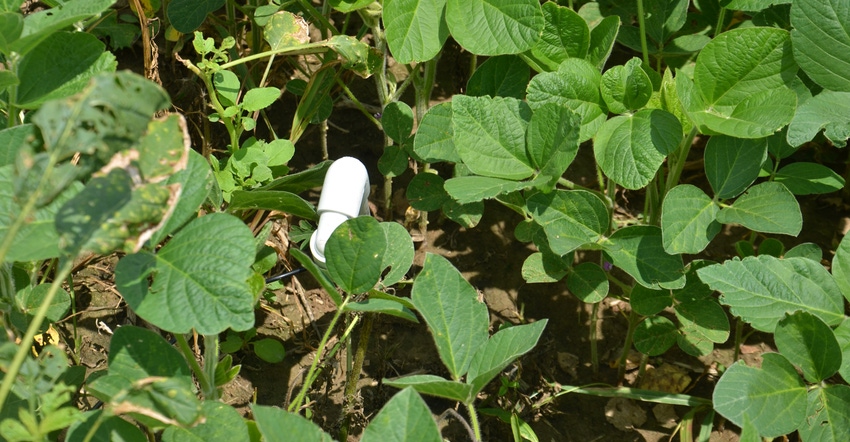 SEASON-LONG COMPARISON: This tube protects the cable leading to a soil moisture sensor installed 6 inches below the row in this conventional soybean field. An identical sensor was installed in the neighboring no-till field.
Tom J. Bechman
How important is soil moisture to final yield? Is the answer as obvious as it seems? Those are questions that Steve Gauck should be able to track and follow throughout the rest of the season in the Soybean Watch '21 field in central Indiana.
Gauck is a regional agronomy manager with Beck's, sponsor of Soybean Watch '21. He knows that soil moisture is important, but he also knows that in most cases, growers guess at soil moisture levels, and can't quantify exactly how wet or dry it is 6 inches below the surface where soybean roots operate. A new weather station installed just as beans were beginning to flower should provide that information in this field.
Related: Soybean fields get 'sluggish' start 
Mike Thurow, president of Spectrum Technologies, Aurora, Ill., is providing the weather station for this season because he wants to learn more about how soil moisture patterns change after rains. This WatchDog weather station also records other parameters, including rainfall, temperature and relative humidity. It sends data to the cloud. With an app from Spectrum Technologies on a smartphone, you can access information from the station from anywhere at any time. You can also access a graph that shows soil moisture levels over time during and after a rain event.
Tillage comparison
As it turns out, the Soybean Watch '21 field, which is no-till, lies next to the field of a neighboring farmer who uses conventional tillage. By chance, both fields include the same soybean variety from the same seed company. This particular weather station can accept data from two soil moisture sensors. The grower for Soybean Watch '21 and his neighbor installed the new weather station, placing one soil moisture meter about 10 feet into the Soybean Watch '21 field, and the other about 10 feet into the conventional field. The soil moisture meters, placed 6 inches deep, are connected to the weather station by small cables.
Because the conventional field was planted just one day earlier than the no-till field, soybeans are at nearly the same stage of growth in both fields. In each case, the soil moisture meter was installed so the tip at 6 inches below the surface is very near or in a row.
The app reports what is called the volumetric water content, or VWC. "It's a measure of how much water is in the pore spaces between soil particles," Thurow explains. "If a soil is saturated, it will be 40% or higher. When soils get very dry, it will be well under 20%."
On June 30, just after a shower of less than a tenth of an inch, the VWC for the no-till soil was at almost 29% vs. about 25% for the soil in the conventionally tilled field. The typical pattern is for soil moisture content to spike upward after a substantial rain, then drop back and level off at a percentage higher than it was before the rain.
"Depending on how weather conditions go the rest of the season, it should be interesting to follow soil moisture levels in both fields," Gauck says. "The information may give us clues as to how yields turn out this season."
Subscribe to receive top agriculture news
Be informed daily with these free e-newsletters
You May Also Like
---