Kudzu bugs continue to spread
Kudzu bugs continue to spread
• Though these tiny sucking bugs can do significant damage to soybeans, sometimes it's the threat of damage, combined with the large numbers of these pests found in a field that can cost growers the most money.• North Carolina State University Entomologist Dominic Reisig says, in general this year, many acres in North Carolina were treated for kudzu bugs that didn't need to be treated.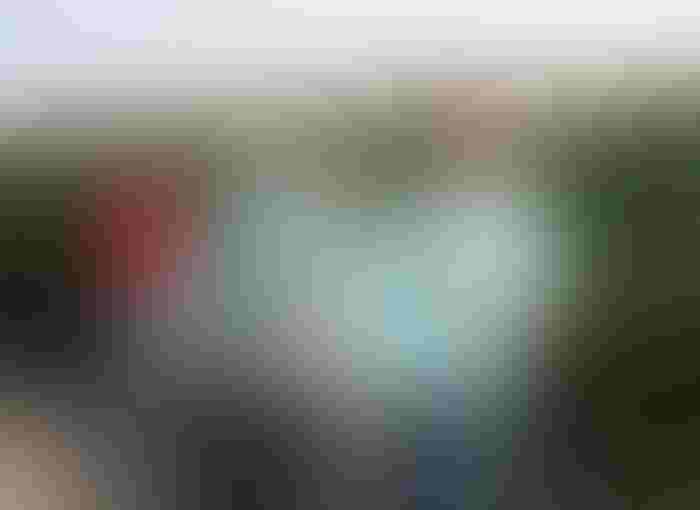 <p> NORTH CAROLINA State University Entomologist Dominic Reisig explains kudzu bug treatment at a recent field day.</p>
Kudzu bugs, those tenacious little imports from Asia, continue to spread across the Southeast and continue to plague soybean growers, especially in the Carolinas.
Though these tiny sucking bugs can do significant damage to soybeans, sometimes it's the threat of damage, combined with the large numbers of these pests found in a field that can cost growers the most money.
North Carolina State University Entomologist Dominic Reisig says, in general this year, many acres in North Carolina were treated for kudzu bugs that didn't need to be treated.
"For sure, kudzu bugs can damage soybeans. In untreated tests we've seen up to 50 percent yield loss, but averaged nearly 20 percent across untreated soybeans," he says.
In South Carolina, Clemson Entomologist Jeremy Greene says soybean yield losses of up to 20 percent in untreated fields were seen last year. This year farmers seem to be keeping a careful watch out for these pests and monitoring various information sources to stay ahead of these bugs, he adds.
There is a website dedicated to kudzu bug monitoring and management (www.kudzubug.org) that has an easy to use population threshold that can be used to determine when to spray.
It also has timely updates on movement of kudzu bugs, insecticide control, identification photos and other tips for managing this new pest.
"Kudzu bug is so new and so potentially damaging to crops that growers just don't know what to do. I had one agent tell me one of his growers found one adult kudzu bug in a field, and he sprayed the field. That's one end of the extreme and the other is waiting too late to manage populations of these bugs," Reisig says.
It's hard to know how much economic damage these new bugs will cause, because the game keeps changing.
This spring entomologists from Georgia to Virginia found kudzu bugs in commercial soybeans in the spring for the first time. However, the total history with these bugs is only two or three years and this springtime appearance in commercial soybean fields created a whole new set of criteria to consider.
Damage difficult to determine
How much economic damage kudzu bugs may cause in future years is difficult to determine, Reisig says.
"First, we saw the behavioral pattern changed this year. The open question is how much damage can these bugs do, if they appear again in field crops in the spring. This spring occurrence is totally different than what we've seen in the past, so we really don't know what the potential is for crop damage, he adds.
Second, University of Georgia Entomologist Phillip Rogers reported lower populations of kudzu bug in Georgia this year. Does this signal that kudzu bugs, which are migrating rapidly from south to north, have reached their peak in the southern end of their habitat and will continue to taper off as the migration moves northward?
"We don't know whether this was just a lower kudzu bug year? Or, is this insect like the cereal leaf beetle, in that it moves in and it's trouble for a while. Then, natural enemies begin to take a toll and researchers and growers learn how to better manage the problem, so it becomes less of a problem.
"We simply don't have the history with kudzu bugs in our country to fully answer these questions," the North Carolina State entomologist says.
"We don't really know what its geographic boundaries will be. For the first couple of years, kudzu bug seemed to move almost exclusively from south to north. Now, it is reported in Alabama and as far west as Vicksburg, Miss.
"This movement indicates kudzu bugs are excellent hitch hikers. What will this mean?"
 Reisig says this is another unknown that makes predicting occurrence and management strategy so difficult for this insect.
"We know it can build up numbers very quickly and can stay in one location for at least a year. In 2010, Phillip Rogers found two bugs at one location in Georgia. The next year, at the same location, on untreated soybean plots, researchers recorded a 50 percent yield loss.
Wide area of adaptation
"A recent USDA climatological model indicates kudzu bugs are best adapted to the entire South and lower Midwest. "We thought it needed kudzu as a host plant to undergo a first generation. After this season, we now know, it can produce two generations without kudzu," Reisig says.
Exactly how far north, kudzu bugs can over-winter is not clear. Reisig says these bugs easily over-wintered throughout North Carolina. These bugs are fairly easy to find behind bark on pine trees and in commercial structures. Or, digging around in kudzu in the winter months, it's easier to find, he adds.
Kudzu bugs range from green to a brown so dark it's almost black and are about the size of a mature soybean. They look a bit like ticks and a bit like dark ladybugs, and if observed under a microscope, have a definite 'wobble' when they walk.
University of Georgia Entomologist Wayne Gardner was one of the first to study kudzu bugs after they were first found in that state in 2009.
"If a kudzu bug was on you and sitting still, you might say, 'Gosh is that a tick?' If they were moving you might say, 'What kind of lady beetle is that?'" Gardner says."
Kudzu bugs are distantly related to commonly occurring green and brown stink bugs, and like their distant relatives, these Asian imports do emit a protective odor. The kudzu bug odor is most prevalent along roadsides during or immediately after highway crews mow these roadways.
Gardner says kudzu bugs emit a fruitier smell than stinkbug — a stench that has been mistaken for other things. In one strange case, he says a woman called 911 to report a gas leak.
"There was no gas leak, but there were kudzu bugs all over her screens and doors and windows and porch," Gardner says.
For the remainder of this year, veteran North Carolina State University Entomologist Jack Bacheler says indications are good as of early August that kudzu bugs haden't targeted late-planted, double-crop beans, planted behind wheat.
In a test in Scotland County, N.C., and checked in early August, kudzu bug nymph levels were close to the 15 nymphs per 15 sweep threshold in untreated plots and on several maturity groups in the April and May plantings.
Levels in beans planted later and behind wheat, were far lower at both the Scotland County and the Sandhills, N.C. locations, he says.
The first kudzu bugs in commercial soybeans in Tennessee were reported in the last week of July, by UT Extension IPM Specialist Scott Stewart. The find in extreme southeast Tennessee in Polk County should not cause growers in Tennessee or Kentucky too much concern this year.
However, Stewart says, kudzu bugs are definitely moving northward and growers in eastern Tennessee and Kentucky should pay attention to what is going on in states to the south and east, because 2013 could be a whole different story with kudzu bugs.
There are many unknowns about this unwanted pest from China, but entomologists agree it is still on the move and capable of doing a lot of damage on a multitude of crops in a fairly short period of time.
Subscribe to receive top agriculture news
Be informed daily with these free e-newsletters
You May Also Like
---