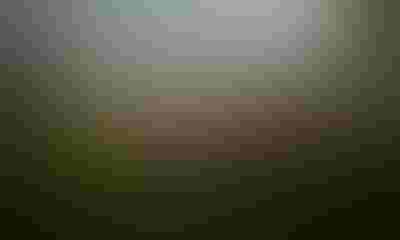 Despite threatening weather, the second-annual Illinois Harvest Dinner went off without a hitch last week, where nearly 100 people gathered at Thomas and Breann Titus's rural Elkhart farm for a farm-to-plate meal.
"We are thrilled again," said Katie Pratt, Dixon farmer and co-organizer of the event. "Maybe more so that Mother Nature let us finish the evening versus shutting it down."

"We had almost 100 folks hailing from all aspects of the food chain there, to eat, talk, learn and listen more about food - the ins, outs, the policies, the challenges, the variety of choices we have on grocery store shelves," says event coordinator Katie Pratt.
Set atop a hill, long banquet tables extended across the Titus family's lawn, flanked by farm equipment and white lights, and overlooked hundreds of acres of Illinois corn and soybeans. A pending storm moved in from the north and brought cooler breezes and distant lightning, but held off on delivering rain until virtually all guests had gone home.
Pratt, who organized the event with Mary Faber, Pontiac, says their guests represented the beginning, middle and ends of the food chain.
"We were really pleased with our guest list, with the number of legislators who came, and with the university and collegiate staff who attended. Truly, I think most of the links in the food chain were present," Pratt said.
More political influencers were in attendance this year as well. Pratt says it made sense to reach out to more legislators, given the event's proximity to Springfield.
The event was sponsored by a variety of Illinois farm organizations, companies and individuals.
For a visual trip through the 2016 Illinois Harvest Dinner, take a look through these photos, all courtesy of Erin (Ehnle) Brown at Grand Vale Creative.
Jars filled with M&Ms to represent hormones in various foods – and popular medicines – were once again a hit at the 2016 Illinois Harvest Dinner. Guests were able to partake in appetizers as they mingled throughout the farm, often paired with a farmer to answer questions and share information.
~~~PAGE_BREAK_HERE~~~
Jacksonville farmer Dale Hadden talked crops and equipment with a group of non-farm influencers at the Illinois Harvest Dinner. Influencers came from organizations like HyVee, County Market, various school districts, hospitals, community colleges, newspapers and more.
~~~PAGE_BREAK_HERE~~~
Chef Vince Swanson from Cracked Pepper, Peoria, prepared dinner and shared a few thoughts with the crowd. "I think it's easy for people to look down on central Illinois. But it's great to see people come together like this and make this happen."
~~~PAGE_BREAK_HERE~~~
Dinner was made up of all manner of Illinois food products, including appetizers like horseradish-infused deviled eggs, strawberry bruschetta with balsamic reduction and bacon jam and brie crostinis. A fresh vegetable salad started dinner, followed by bone-in bourbon-glazed pork chops with cheesy polenty and green beans. And dessert? Pumpkin bars and tiny apple pies, of course.
~~~PAGE_BREAK_HERE~~~
Michele Aavang, Woodstock farmer, talked food and farming with a group of non-farm influencers.
~~~PAGE_BREAK_HERE~~~
It was a beautiful night on Thomas and Breann Titus's farm, where Thomas had worked feverishly to finish landscaping projects, and guests could walk throughout the farmstead to study planters of Illinois products and check out hogs in finishing building.
~~~PAGE_BREAK_HERE~~~
Jesse Faber, Pontiac ag teacher, spoke with guests at the 2016 Illinois Harvest Dinner. Faber's wife, Mary, co-organized the event, and his students built the planters and tended the plants in them.
~~~PAGE_BREAK_HERE~~~
The women behind the scenes, Mary Faber and Katie Pratt worked feverishly to make the event happen. They were inspired by similar events in North Dakota and in other states, and wanted to do the same in Illinois. Katie says they're already thinking about next year.
"In the adrenaline rush of the night, it would seem logical to plan for another, but we are seeing an increase in these types of events, which is great!" Pratt says. "They're more focused on a county or specific region. So, we have to weigh how effective the event can be, the support we receive or will continue to receive, help in identifying guests, etc., as we see other groups put effort into similar events."
~~~PAGE_BREAK_HERE~~~
Illinois agriculture knows theirs is a small and tight-knit community, but so, too, is the Illinois political community. Here, several members of that community reconnected, right on the farm.
~~~PAGE_BREAK_HERE~~~
At stations all throughout the farm, FFA members were on hand to share more information about Illinois crops and where they show up in food products people would recognize. Each stand was complete with a wooden planter box of different crops, including sweet corn, peas, green beans, horseradish, pumpkins, soybeans and more.
Subscribe to receive top agriculture news
Be informed daily with these free e-newsletters
You May Also Like
---