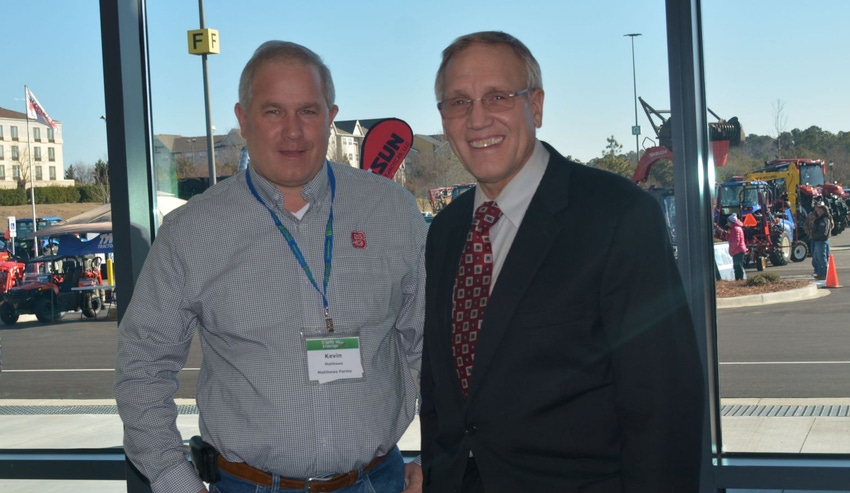 Davie County, N.C. Kevin Matthews, left, reached the 100 bushel per acre soybean North Carolina yield milestone in 2017 and shared his keys to success at the SC AgriBiz & Farm Expo in Florence, S.C. North Carolina State University Extension cropping systems specialist Dr. Ron Heiniger, right, joined Matthews in the tag team presentation on achieving top soybean yields.
For some time now, the North Carolina soybean industry has set a goal of having farmers achieve a yield of 100 bushels per acre. In 2017, the milestone was finally reached with two Tar Heel State growers breaking the 100 bushel barrier.
Matthews Family Farms in Davie County won the 2017 North Carolina Soybean Yield Contest with a yield of 107.4 bushels per acre. For the winning entry, Kevin Matthews and his family planted the variety Pioneer P46A93X at rate of 140,000 sees per acre on 20-inch rows under sub-surface drip irrigation. Planting date was May 17.
Mercer Farms in Pasquotank County also broke the 100 bushel barrier with a yield of 100.2 bushels per acre. Doug and Billy Mercer planted the variety P38T42 at a rate of 137,000 seeds per acre on 15-inch rows. Planting date was May 17.
At this year's SC AgriBiz & Farm Expo in Florence, S.C., Matthews shared the steps he took to break the 100 bushel barrier. Dr.  Ron Heiniger, North Carolina State University Extension cropping systems specialist, joined Matthews in the tag-team presentation where both emphasized the importance of choosing the right variety and choosing the right planting date to achieve top yields.
Matthews says he likes to plant Group III indeterminate varieties in his area of north-central North Carolina. He treats all of his seed and uses tissue sampling. "The tissue sampling does not help me for this year. I'm building a road map for my next crop," he explains.
For Matthews, planting date is vital. He aims for early growth and for his soybean plants to take in as much light as possible The June 21 solstice is critically important with nodes set by that time and the leaf area needed to sustain pod growth.
"Your yield benefit is going to be so much greater by that earlier planting date. That early planting date is not going to cost you a thing unless you plant way early and lose your crop to a freeze," Matthews said.
Matthews plants his soybeans in 20-inch rows in part because the planter needed for 15-inch rows is more expensive. "It certainly has been proven that 15-inch row spacing is your optimum row spacing, but that is the most expensive planter you can buy," he said.
Matthews likes a population of 120,000 to 140,000 plants per acre. He treats his seeds with Dyna Start, Cruiser-Max, Riz Note "High Yield Area" and Pixy Dust. The goal is to maintain healthy pods all the way to harvest.
His fertility program includes applications of boron, molybdenum, sulfur and variable rate potash as needed. For his high-yield environment of 85 bushels per acre or higher, the use of poultry litter is important.
"We saw a eight bushel jump in our poultry litter controlled test plots versus no poultry litter controlled test plots, and we are building organic matter which is a win-win for corn coming next," he said.
Matthews says he would never plant soybeans without fungicides. "If you grow soybeans in the South, I am adamant that regardless what group you are planting that you use fungicides because you are protecting that pod," he said.
In his comments at the Expo, Heiniger emphasized the importance of setting early growth and establishing as many pods as possible. Heiniger also emphasized the importance of planting date and the June 21 solstice for establishing nodes.
"The faster we can get those beans to move and mature, the better off we are"  Heiniger said. "The idea is to get a plant with more nodes and more pods. How do we get early growth? Plant early."
Of course there are challenges of planting early such as the difficulty of getting early growth because you are planting during the cold period of the season. Heiniger said planting date needs to be balanced between your varieties and the growing conditions that you have.
"We can use indeterminate varieties. It gives us the opportunity to get nodes quicker and to keep the plant growing longer and setting flowers throughout the season rather than one period at a time," he said.
For both North Carolina and South Carolina, late group IIIs all the way to early group Vs are most likely to give the best yields. In the Piedmont, planting group IIIs the first week of May works well while in the Coastal Plains, where the weather is a bit warmer, Heiniger says farmers should plant Group IIIs from the middle to the end of April. Group IV and Group V soybeans can be planted with a May 24 target date.
As for plant population, Heiniger said he is hard pressed to give a precise recommendation. The goal that Jim Dunphy, the N.C. State Extension soybean specialist who is retiring this year, has set is a 3-foot-tall canopy that is lapped as quickly as possible. This allows more light to reach the bottom of the canopy. Heiniger said that is best achieved with less than 140,000 plants per acre.
"The more plants you put in the field, the less likely you are to accomplish that goal," Heiniger said. "I wish I could tell you what is the best plant population to get 100-bushel beans in eastern North Carolina or eastern South Carolina, but I can't. I think that 140,000 is reaching the point where the plants are starting to get too big. On the other hand, I tried planted populations as low as 40,000 to 60,000 and that is too few."
The goal is to get more pods per node. Heiniger said the typical soybean plant has two to three pods per node while Missouri farmer Kip Cullers who has continually achieved yields of 100 bushels per acre has plants with 10 to 12 pods per node.
"Early growth sets the stage for more nodes and pods," Heiniger said.
Finally, Matthews encourages farmers to try new things and experiment to achieve higher yields. "A test plot is the best money you can spend," he said. "Thinking outside the box can open a lot of doors. You need your shadow in the field. You have to manage your crop, but you have to have positive ROI."
About the Author(s)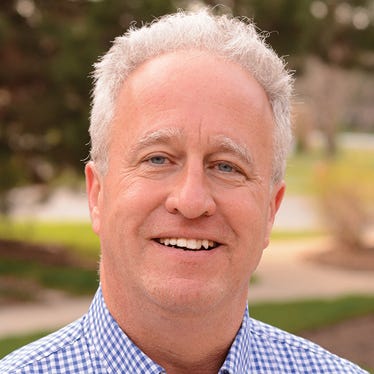 Associate Editor, Southeast Farm Press
John Hart is associate editor of Southeast Farm Press, responsible for coverage in the Carolinas and Virginia. He is based in Raleigh, N.C.
Prior to joining Southeast Farm Press, John was director of news services for the American Farm Bureau Federation in Washington, D.C. He also has experience as an energy journalist. For nine years, John was the owner, editor and publisher of The Rice World, a monthly publication serving the U.S. rice industry.  John also worked in public relations for the USA Rice Council in Houston, Texas and the Cotton Board in Memphis, Tenn. He also has experience as a farm and general assignments reporter for the Monroe, La. News-Star.
John is a native of Lake Charles, La. and is a  graduate of the LSU School of Journalism in Baton Rouge.  At LSU, he served on the staff of The Daily Reveille.
Subscribe to receive top agriculture news
Be informed daily with these free e-newsletters
You May Also Like
---