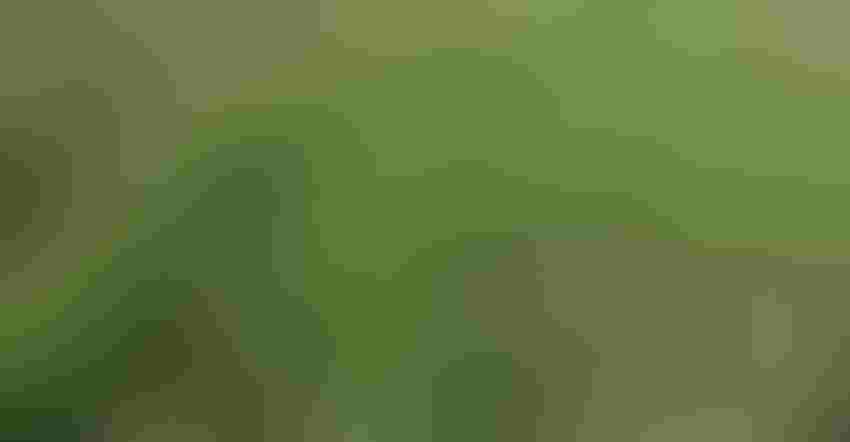 UNIFORMITY MATTERS: There may be enough soybean plants here for a good stand, but they're not spread out uniformly.
Shaun Casteel recommends 100,000 to 120,000 plants per acre as the optimum goal for soybeans. He is the Purdue University Extension soybean specialist. Beck's shows data that says 100,000 seeds per acre is the best economic seeding rate.
But you insist that you live in the real world with weeds and insects. You are in 15-inch rows and want to cut back from 160,000 seeds per acre to save on seed costs. How far can you really cut without affecting yield potential?
Three Indiana Certified Crop Advisers tackle that question. This month's panel includes: Jesse Grogan, agronomist, LG Seeds, Lafayette; Greg Kneubuhler, G&K Concepts Inc., Harlan; and Tom Stein, manager, Templeton and Boswell branches of Ceres Solutions LLC.
Kneubuhler: This is an often-asked question and a very good one. Our work has shown that higher seeding rates for corn or soybeans don't usually prevail. The important thing to remember is uniformity of stand. There is a lot of data out there that shows a soybean stand of 100,000 will yield 100% of expected yield, assuming plants are uniformly spaced. You plant higher populations to compensate for reduced germination, weather and disease and so forth, so you don't fall short of this.
I would suggest that 160,000 seeds per acre is still plenty of "insurance," and our data supports that lower planted populations will perform very well. You do need to understand your own soils to some degree to determine what can be safely cut back on populations.
Grogan: Planting at 140,000 to 150,000 seeds per acre in 15-inch rows is a comfortable rate for most varieties at 90% germination and emergence rate. Soybean stands are usually more uniform with seed treatment fungicides. Higher seeding rates are required when planting in poorer soils, or when planting in late May or early June. Seed should be planted at 0.75 to 1.5 inches deep. Plant soybeans shallower in heavy soils and deeper in lighter soils for best results at lower seeding rates.
Stein: A final uniform stand of 100,000 plants per acre at harvest is sufficient for maximum yields in most scenarios. It certainly is possible to achieve higher yields with higher harvest populations, but the incremental increase in yield over and above 100,000 plants per acre is relatively insignificant. Sure, we want to raise as many bushels as we can, but we want to do it profitably to maximize our return on investment.
To achieve a final harvest population of 100,000 plants per acre, you need to take into consideration the germination rate of the seed, percent of pure seed in the bag and percent live seed that will emerge. For example, if the germination rate is 90%, there is 98% pure seed in the bag, and you expect 90% live seed emergence, multiply those factors together. The math is: 0.90 times 0.98 times 0.90 equals 0.79. Divide the desired harvest population, which is 100,000, by 0.79. That gives you a seeding rate in this example of 126,582 seeds per acre. 
Subscribe to receive top agriculture news
Be informed daily with these free e-newsletters
You May Also Like
---