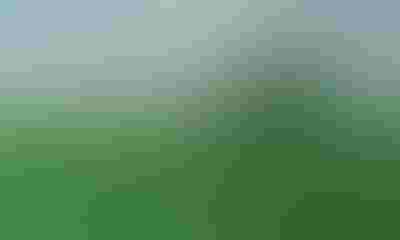 After seeing failures of foliar insecticide applications to control soybean aphid in 2015 in growers' fields and at University of Minnesota experiment stations, researchers are asking farmers to contact U-M with reports of their experiences this growing season.
Last summer, some pyrethroid insecticides, such as bifenthrin and lambda-cyhalothrin, failed to provide adequate control of soybean aphids in some southern Minnesota fields. Researchers were able to document resistance in lab assays.
"Most of the issues this year are in southwest Minnesota," says Robert Koch, U-M Extension entomologist. As of early August, researchers received a resistance report from northwest Minnesota, too.

INSECTICIDE FAILURE? Researchers at the University of Minnesota are asking farmers to report their soybean growing experiences this season with the soybean aphid's resistance to insecticide.
To help determine how serious and widespread resistance may be, Koch and his colleagues are asking farmers to report insecticide failures and suspected resistance by completing a simple online survey.
Data gathered from the survey will be reported at Extension fall and winter meetings, and in future articles.
U-M researchers note that historically, bifenthrin and lambda-cyhalothrin insecticides have been among the top-performing pyrethroid insecticides for soybean aphid management. However, last year's follow-up laboratory bioassays confirmed a 10- to 44-fold resistance to these insecticides in a soybean aphid population collected near Lamberton.
The majority of 2015's performance issues appeared centered in and near Brown, Redwood and Renville counties, they said. Otherwise, in most other areas, pyrethroid insecticides preformed as expected and effectively suppressed aphid populations.
Koch says insecticides can fail under several conditions. Before you assume that your insecticide failure is resistance, he suggested that you rule out these common factors:
Misapplication of insecticide. This can include choosing the wrong insecticide, applying the wrong rate and/or having poor application coverage.
Unfavorable weather. Wind, rain and temperature can have an impact on insecticide effectiveness. For example, some pyrethroids can be less effective at high temperatures.
Recolonization of the pest. In the case of soybean aphid, winged individuals from other fields may recolonize a field that had been treated.
If you can rule out these factors as potential causes for the insecticide failure, insecticide resistance might be the cause.
"We need to be wiser in our decision-making when it comes to pesticide applications," Koch adds. "Look at the problems with herbicide-resistant weeds."
Subscribe to receive top agriculture news
Be informed daily with these free e-newsletters
You May Also Like
---