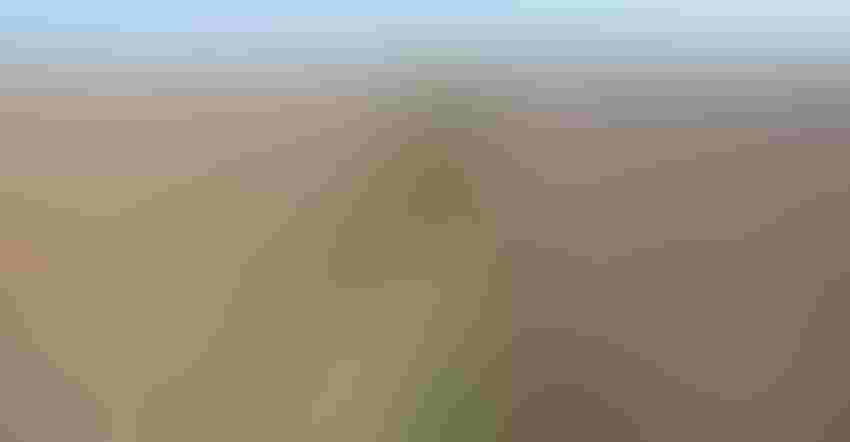 FAILURE TO BRANCH: Agronomist Steve Gauck expected to see extensive branching on soybean plants along an accidental gap in this field. However, plants didn't branch, likely because they were planted late, in early June.
Tom J. Bechman
The grower who tended the Soybean Watch '22 field once planted soybeans at a much higher seeding rate than he does today. For 2022, his standard rate was 140,000 seeds per acre. Even if germination was only 90% and he achieved 90% emergence of viable seeds, the stand would push 115,000 plants per acre.
"We've seen that is more than enough plants to achieve full yield potential," says Steve Gauck, a regional agronomy manager for Beck's, based near Greensburg, Ind. Beck's sponsors Soybean Watch '22.
Related: Let the soybean plant talk
"In fact, my observations indicate that as long as you achieve 80,000 plants per acre, the stand is fairly evenly distributed and weeds are controlled, it's still enough to obtain full yield potential," Gauck continues. "Results from Beck's Practical Farm Research studies indicate you may even be able to go as low as 70,000 before you begin losing yield potential."
Game-changer
However, Gauck adds a big caveat. "Once you start talking about delayed planting, then it's a different ballgame, especially as you go into June to plant," he explains. "As the planting date moves later into the season, experience and research indicate you're justified in upping the seeding rate."
Why would planting date play a role in choosing seeding dates? "The goal is producing as many nodes per acre and pods per node as possible," Gauck says. "The later you plant, the less vegetative growth you can expect. That means shorter plants and perhaps less branching of individual plants. So, increasing the number of seeds planted and plants per acre is one way to minimize the decrease in total nodes per acre."
That's why the grower farming the Soybean Watch '22 field made a change as he pulled the planter into the field to begin planting on June 3, after a 10-day rain delay, The planter was set to drop 140,000 seeds per acre in 15-inch rows. He upped the seeding rate to 150,000 seeds.
Right call
Gauck believes that increasing the population at the later planting date was the correct decision. He also believes what he saw in the field confirms it was the right choice.
"When I inspected the field just before harvest, I looked at a couple spots where two side-by-side rows were missing due to a planter error, and the gap between rows was 45 inches, not 15 inches," he says. "I expected to see a fair amount of branching since these plants had more room. Instead, I saw primarily plants with single stalks without branches.
"Since plants didn't branch to create more pods, having more plants to add extra pods was the right call. It added to yield," he concludes.
About the Author(s)
Subscribe to receive top agriculture news
Be informed daily with these free e-newsletters
You May Also Like
---