Genetic diversity offers new take on the old bean
Genetic diversity offers new take on the old bean
Think different"Two big mysteries in soybeans have captured my attention," says USDA-ARS soybean researcher Tommy Carter. "One is how Asians, as many as 5,000 years ago, domesticated soybeans without benefit of technology, pre-Mendel. We still don't understand how they did it."The other one is how soybeans in Sweden became resistant to a wide range of stresses like drought and ozone, salt and cold, unlike anything we've seen. No one plant has all these stacked resistances and no other genetic line of soybeans has this. Why?"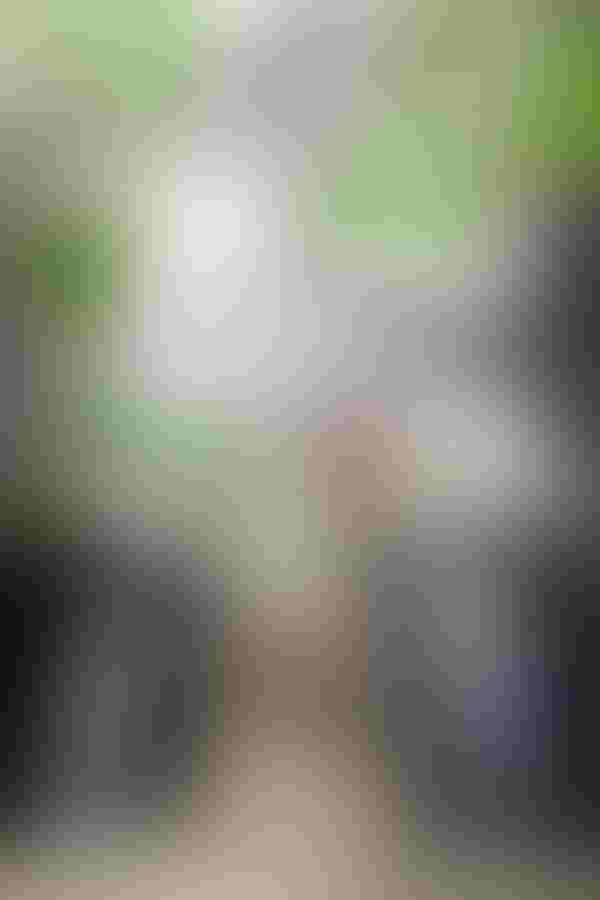 Tommy Carter knows soybeans like Steve Jobs knew computer design. The more he knows, however, the more Carter marvels at the soybean's complexity. It makes him wonder how all that mysterious and even undiscovered genetic potential can be put to work in fields across the world.
"Two big mysteries in soybeans have captured my attention," Carter says. "One is how Asians, up to 5,000 years ago, domesticated soybeans without benefit of technology, pre-Mendel. The other is how soybeans in Sweden became resistant to a wide range of stresses like drought and ozone, salt and cold; unlike anything we've seen. No one soybean plant should have all these stacked resistances, and certainly no U.S. farm variety has this. Why?"
Carter, soybean breeder at USDA-ARS' Soybean and Nitrogen Fixation Unit at Raleigh, N.C., where he's worked his entire 32-year career, spends a good deal of time pondering these things. His track record shows such pondering can pay big dividends.
With Kent Burkey, a USDA-ARS plant physiologist, Carter screened soybean lines for tolerance to stresses like salt, ozone and drought. Soybeans from the small Swedish village Fiskeby in northern Sweden, of all places, kept ranking highest in tests.
The Fiskeby soybeans yielded poorly but could withstand many stresses. Carter and Burkey suspected they were onto something good. Carter, Burkey and Jim Orf, University of Minnesota geneticist, crossed a Fiskeby line with the ozone-susceptible Mandarin Ottawa soybean and are studying the offspring for clues.
Commercial stress-tolerant varieties could result from this detective work, which would cap Carter's already-successful career in which he has released eight soybean cultivars and risen to head the ARS unit in Raleigh.
Over the past three decades, his work focused on broadening the genetic base for the U.S. soybean industry, which, he says, is far too narrow for comfort.
After studying thousands of North American soybean types, he found that only 30 common ancestors account for 92 percent of the genetic material in farmers' fields. That's potentially disastrous, he says, because that breeding base is too small to assure future pest and disease resistance.
"We can think we have all the problems solved today, and then tomorrow brings a host of new issues. Soybean aphids moved in only six or seven years ago; soybean rust maybe 10 years ago. In the South, kudzu bug has been here only three years, and we're already screening varieties for it. All kinds of things can come along and threaten the crop, and the solution requires more genetics than are currently on the farm," he says.
Chinese farmers domesticated soybeans from 30 to 50 centuries ago. If we could understand how those ancient Chinese farmers did it, we could use similar techniques to get better research results from wild Asian varieties. Over the millennia, breeders looking for better yields funneled those genetics down to the relatively few U.S. and Canadian lines.
"There is a lot of genetic variation in the world, developed by farmers and preserved by USDA. We can use drought-tolerant varieties from the edge of the Gobi Desert, for one example," Carter says.
He searched China several times to find new genetics. The stress-tolerant varieties from Fiskeby, Sweden, however, rocked his scientific world like nothing else. Few North American soybean lines are related to the Fiskeby soybeans. That means inserting that genetic material into commercial varieties might result in characteristics that could result in better yields.
"Canadians were looking at these soybeans because they're more cold-tolerant. We started screening them and realized they're stress-tolerant to a whole range of things: drought, salt, iron deficiency and toxic soil aluminum, in addition to cold," he says.
"Is it one super gene that makes them stress-tolerant, or is it a lot of different genes? We're very close to finding out. Those resistant genes will guide us to get these tolerances into farmers' fields. We are pulling things out right now that are useful."
The Fiskeby soybean project, begun seven years ago, has been funded for three years, in part, by a roughly $120,000 annual grant from the United Soybean Board.
"I grew up in agriculture. I do want to make a difference. At the end, there's something that makes a difference to the people I grew up with. That makes it worthwhile for me," Carter says.
About the Author(s)
Subscribe to receive top agriculture news
Be informed daily with these free e-newsletters
You May Also Like
---