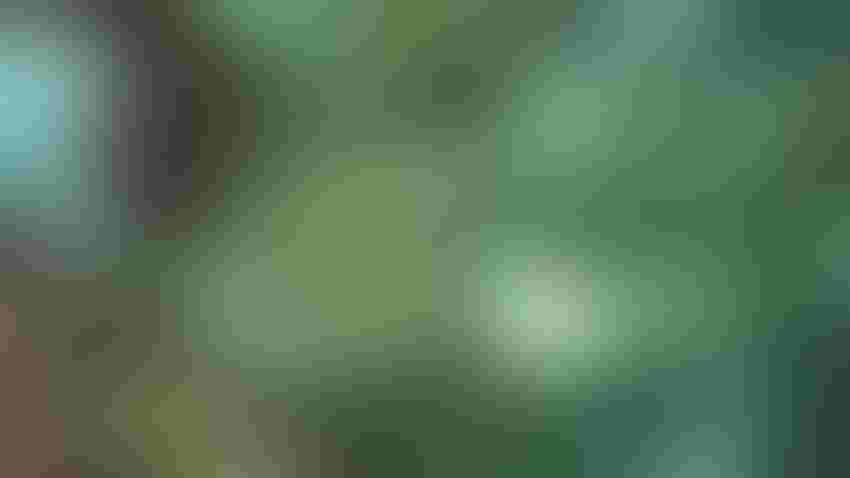 POD POWER: Pulling back the upper canopy and looking underneath in the Soybean Watch '23 field reveals nodes loaded with pods in the middle part of the plants.
Tom J. Bechman
What does a high-yield soybean plant look like near the end of the season? Steve Gauck believes it brims with pods at every node. The first place he looks is in the midsection of a plant.
"The entire plant is important, and all pods matter," Gauck says. "However, we typically find about 60% of final yield comes from the middle part of the plant. That's where you hope to find nodes spaced close together, with multiple pods per node."
Gauck is a regional agronomy manager for Beck's, based near Greensburg, Ind. Beck's sponsors Soybean Watch '23.
A late-season check in the Soybean Watch '23 field revealed that the crop appeared to be on track to deliver respectable yields. When the canopy was pulled back, the first obvious feature was that plants were teeming with pods, especially in the midsections. Nodes were spaced relatively close together in the middle portion of the plants, each with three to four three-bean pods.
The field is irrigated, so there should be sufficient moisture to allow plants to finish on a positive note. "We are always watching for issues like diseases or insects, even at this stage, but so far we have not found major problems in this field that would impact yield," Gauck says.
High-yield components
Here are key factors that Gauck believes contribute to higher soybean yields:
Nodes per plant. "We want as many nodes as possible," he explains. "Ideally, they will be spaced relatively close together on the plant. More nodes equal more pods and more beans per acre."
Planting early typically results in closer podding, all other things being equal, he says. The Soybean Watch '23 field was planted by mid-May.
"You also should control weeds early," Gauck adds. "We saw in a few thistle patches this year that, when allowed to compete with beans before spraying, soybean plants tended to seek light, putting a lot more distance between nodes. That hurts yield potential."
Pods per node. Achieving ideal spacing for nodes only helps if each node sets multiple pods. "The key is avoiding as much stress as possible during that part of the season," Gauck says. "Soybeans typically send out multiple flowers at each node, each capable of producing a pod. When plants are stressed, more of those flowers abort and don't form pods than if growing conditions are favorable."
Because this field is irrigated, the grower has an extra tool available to help mitigate possible stress. However, the secret is knowing when to irrigate — enough that plants aren't overly stressed but not so much that plants produce excessive vegetation, leading to lodging later. A moisture probe installed by Ceres Solutions early in the season provides information about moisture levels directly to the grower's phone, helping him make more informed decisions.
Beans per pod. Somewhat controlled by genetics, three beans per pod is standard, with four being a bonus. Most pods observed in the Soybean Watch '23 field have three beans per pod.
"You don't want a lot of two-bean pods if you are after top yields," Gauck notes. "Again, it's a matter of minimizing stress, especially when plants are making those decisions during the reproductive phase."
Subscribe to receive top agriculture news
Be informed daily with these free e-newsletters
You May Also Like
---