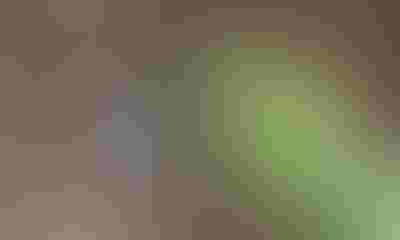 Several significant black cutworm flights have arrived in Minnesota, according to Bruce Potter, University of Minnesota Extension integrated pest management specialist based in Lamberton.
Potter noted in a recent online post that most activity has been reported on a diagonal from Rock to Sibley Counties. Neighboring states also reported large black cutworm flights, he said.
"Larvae from the March 28 and April 12 flights should be large enough to produce visible leaf feeding and in the case of March 28 flight, be large enough to cut small corn by May 16," Potter said, adding that portions of southern Minnesota are at risk for stand loss from black cutworm larvae.

Extension warns of black cutworms
Extension specialists say the first sign of black cutworm damage is leaf feeding on emerged corn or weeds. Sometimes, larvae will cut weeds, such as lambsquarters and ragweed, before they move to corn.
Other broadleaf crops can be affected, too. Sugarbeets are at risk because of their yield and quality sensitivity to stand. In addition, they are planted early and often with an oats cover which may encourage black cutworm egg laying. Cutworms move to beet seedlings as oats and weeds are killed by herbicides.
And in soybeans, black cutworm can still cut plants but they are seldom a yield-limiting problem. Soybeans are seeded at a much higher plant density and compensate somewhat for reduced stand much better than corn.
According to information provided by U-M Extension entomologist Ken Ostlie, North American black cutworm moths use prevailing winds help them move north in the spring and south in the fall. In central United States, black cutworm moths migrate northward from over-wintering areas in Texas and Mexico when appropriate weather systems occur. In spring, these moths can make it from south Texas to Minnesota within two days by hitching a ride on nocturnal low-level jet streams.
If weather systems cooperate, they are whisked off by surface winds and rising air in advance of thunderstorms into the lower-level jet stream. These winds are strongest at night, moving at 30 to 80 miles per hour, and can occur from about 330 – 3000 feet in altitude. The flight is mostly passive with moths carried along until they decided to drop out, encounter cold air or rain out in thunderstorms. These migrating moths arrive in excellent shape.
For more information about black cutworms and to stay up to date on activity, visit the U-MN Black Cutworm Reporting Network.
Subscribe to receive top agriculture news
Be informed daily with these free e-newsletters
You May Also Like
---