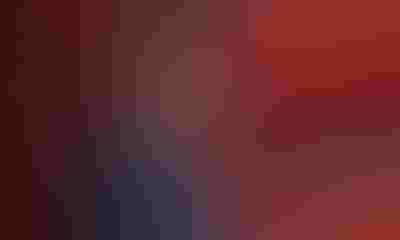 About every year, Ron Pierson tries to trade one of his larger Case IH tractors for a new one. He did not this year because the dealer was reluctant to add another expensive piece of used equipment to the big supply already on the lot.
So, the Illinois farmer will use the 275-hp unit another year.
"They were not willing to deal at all," says Pierson, who raises corn and soybeans in northwest Illinois. "The prices were too far out of range. We are in good enough financial position to upgrade, but we don't want to just throw money at something."
Ron Pierson tries to upgrade to new equipment every year, but he says that has been difficult lately, because the vast amount of used equipment on dealer lots has them reluctant to accept trades. (Photo: Eric Ginnard)
Shorty Kulhanek, a custom harvester based in Colby, Kan., had the same problem with his combines. Each year he typically trades his three Gleaners for new ones, but this year the dealer still had the ones he traded the previous two years.
"I normally had a one-year turnover in the combines, but I didn't this year because the dealer had too many used combines," he says. "I am glad I waited. I'll trade for the 2017 models when they will be eager to deal."
That is the state of the farm machinery market now. The current glut of used farm machinery has provided attractive prices for late-model combines, large tractors, sprayers and, in some cases, big planters. But it also has dealers reluctant to add used equipment to their lots. That has made it difficult for farmers to trade for new equipment, and manufacturers have noticed.
"I think we overcompensated on pulling back on selling new during this downturn because of the used equipment we have," says Jim Walker, vice president of Case IH North America.
But for farmers who can afford it, the used equipment market is offering well-maintained, used pieces that have much of the latest technology at low prices.
"The late-model combines are probably about 30% less than two or three years ago. Anything in the Midwest is on the weak side," says Tim Slatt, who works at Del Peterson and Associates auction house in Fremont, Neb. "However, it is a lot harder to come up with $200,000 today than it was then."
Shop around
Brad Stackhouse has been shopping for a used combine but has held off waiting for prices to hit bottom.
"At some auction sites there are 3-year-old combines at $110,000 to $120,000, depending on location," says the northern Indiana farmer.
That compares with the dealer quote to him of $180,000 for the same model. "I haven't bought anything yet because there isn't any spare money sitting around here."
While some signs are emerging that supplies of some types of used equipment are becoming manageable, industry sources say it may be a year or more before supplies of the big-ticket items, such as four-wheel-drive tractors, are pared down.
Researching prices has become fairly easy with the proliferation of online sites such as Del Peterson & Associates, Purple Wave, Big Iron, Machinery Pete, TractorHouse and others.
"There has never been a time when so much pricing information has been available to the farmer. It is equivalent to the information available when buying a car," says Marc Johnson, a partner with the accounting and consulting firm K-Coe Isom. "As far as price goes, it is a new world right now, and the dealers are having to adjust to it."
Farmers can and are using this price visibility to either buy the equipment online or to strengthen their negotiating stance when working with a dealer.
Coming in Part Two: how to get the best deal in this machinery market.
Subscribe to receive top agriculture news
Be informed daily with these free e-newsletters
You May Also Like
---