AERIAL VIEW: Note the slightly lighter-colored areas toward the center of the Soybean Watch '21 field. This field isn't pattern-tiled, and soybeans got a slower start in those areas due to wetter soils. The bare spots are missing plants, primarily due to vole damage.
Courtesy of Steve Gauck
Steve Gauck was impressed for the most part with what he saw when he visited the Soybean Watch '21 field recently. Yields may suffer if rains don't come at the right times before the season ends, but that is in Mother Nature's hands.
To get a better view of the field, Gauck launched his drone. Later he made a map of the field. Gauck, a regional agronomy manager for Beck's, is based near Greensburg, Ind. Beck's sponsors Soybean Watch '21.
Related: Weather determining fate of high soybean yield potential
"We saw some vole holes scattered across the field from the air," Gauck says. "We knew there was some vole damage from walking the field earlier, but we didn't know how many spots there were. Each spot is relatively small, but they're unsightly, and they do add up."
One of the other major trends Gauck picked up from the aerial view was a few areas where soybean plants tended to be lighter in color compared to dark green plants surrounding them.
"It's not a large percentage of the field, but there was a definite difference, so we wanted to find out why they were showing up," he says.
Ground-truthing
When Gauck and the grower walked to one of the spots, the cause became more obvious. "It was a wet area within the field, and it was wet here when soybeans were establishing themselves, and then again in early to mid-July," Gauck says. The grower confirmed that based on soil maps, these were areas of lower organic matter, somewhat poorly drained soil. The field isn't pattern-tiled. They aren't necessarily the lowest areas within the field, but they are soils that don't drain quickly.
Gauck pulled up one of the lighter-colored plants and compared it to a greener plant from a different area. He noted that there were fewer nodules on the lighter-colored plant's roots, and also fewer pods compared to the greener plant.
"If you didn't have darker green plants to compare to, it would be harder to pick up," he says. "These areas could still make decent soybeans if Mother Nature cooperated, but they likely won't yield as well as areas where soybeans weren't held back by wetter soils earlier in the season."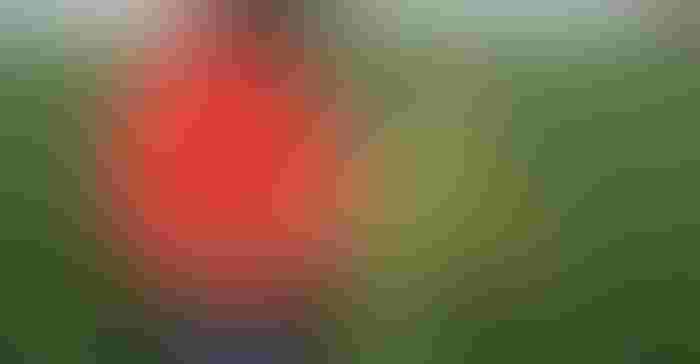 Agronomist Steve Gauck pulled this plant from one of the lighter-colored areas he noticed on the aerial flight. Compared to soybeans in other areas, it's shorter with fewer pods.
Gauck notes that number of pods per plant is critical if you're after high yields. The number of pods on the lighter-colored, shorter plants, even though they weren't extremely yellow or extremely short, didn't measure up to the number of pods on the greener plants.
"When the combine goes through these areas, at least the grower will know why he may see a difference on the yield monitor," Gauck concludes.
Subscribe to receive top agriculture news
Be informed daily with these free e-newsletters
You May Also Like
---