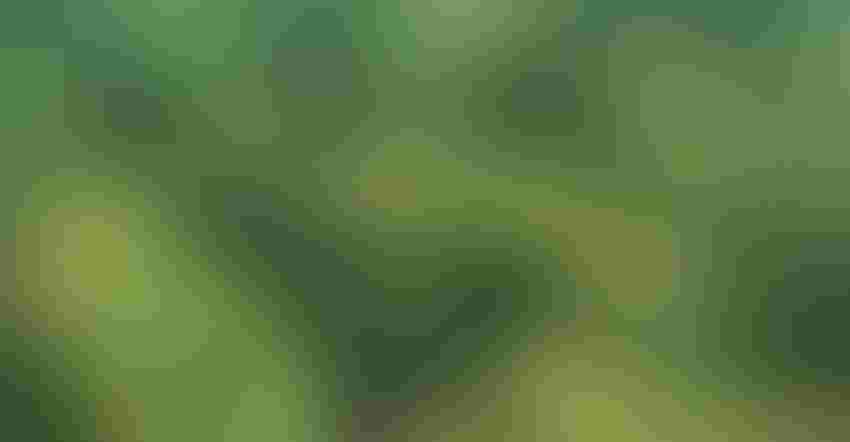 PLENTY OF SYMPTOMS: Some late-planted soybeans showed signs of potassium deficiency in August and September. Whether it was a soil deficiency or caused by other factors, potassium was deficient in plants.
Many June-planted soybeans were still as green as grass over Labor Day weekend in 2019. In other fields, a yellowish cast was appearing in the tops of soybean plants, especially along the outer edges of fields or on end rows. However, plants showing these symptoms also were scattered deeper into fields in some instances.
"We observed these symptoms in many fields in southern Indiana," says Steve Gauck, a Beck's sales agronomist based near Greensburg, Ind. "It was way too early for these fields just to be turning colors for fall. They were still in the middle of reproductive stages.
"If you stopped and looked closely, you could see that yellowing started around the edges of upper leaves. Yellowing or even reddening — and later, dying of leaf tissue — starting at the leaf margins are symptoms of potassium deficiency."
After doing his homework, Gauck concluded this was potassium deficiency. Whether the soils were deficient in potassium or various factors were preventing plant roots from taking up potassium was another question.
"Lots of soil compaction was created in many areas of the Midwest where planting was super late," Gauck notes. "That can result in flatter-than-normal soybean roots, which go out sideways instead of going down.
"It makes sense that symptoms of a deficiency linked to roots not being able to supply enough to the plant because of soil compaction would show up on end rows first. They're often the most compacted parts of the field."

FLAT ROOTS: Soil compaction affected rooting in many soybean fields this year. Sometimes it contributed to expression of sudden death syndrome symptoms, like on this plant. Other times it may have prevented plants from taking up enough potassium. 
Ross Bender, senior agronomist for Eastern North America for Mosaic, says the chain of events leading to hiccups this year began with a challenging late fall in 2018. "Wet weather prevented many people from making fall fertilizer applications in 2018 for 2019," he recalls. "It was not only a problem for farmers, but for retailers, as well.
"Then we come to spring of 2019, and many people found it even more challenging to make applications due to the unusually wet spring. Some people planted when it got so late without fertilizing. There was more disruption for dealers and the supply chain, too."
The net result was that some fields that needed fertilizer likely didn't get it.
"In the situation ... with potassium deficiency showing up late, the ideal thing would have been pulling soil samples and tissue samples from areas showing symptoms," Bender says. "That's the only way to know for sure if soils were actually deficient, or if soil compaction or some other stress caused a deficiency in the plant, even though the nutrient was adequate in the soil."
It's too late to pull tissue samples for 2019. However, Jim Camberato, Purdue University Extension soil fertility specialist, says it's not too late to pull soil samples.
"Go back to those spots where you saw symptoms of potassium deficiency and pull soil samples," he suggests. "That will determine if soils were truly deficient. If so, address it in your fertilizer plans for 2020."
Camberato says potassium deficiency normally shows up on lower soybean leaves first. However, he, like Gauck, saw symptoms on upper leaves late this season.
"We've seen it before on upper leaves during seed fill," Camberato says. "Usually it happens when soil moisture is limited and/or roots are compromised."
Potassium deficiency is often confused with soybean cyst nematode damage, Camberato notes. "The truth is that if SCN populations are high, low potassium levels can intensify SCN symptoms," he says. "If you can identify high SCN areas and low-testing potassium areas, you can take steps to rectify these issues for 2020."
Soil fertility plan
"We suggest working with your local retailer to update the plan in 2020," Bender says. "A plan is going to encompass more than just soil fertility. It also should address weed control."
When it comes to soil fertility, the backbone of any plan is soil testing, he says. That will help you determine not only if potassium is limiting, but also where each field stands with regards to phosphorus and soil pH levels.
"We promote the '4 R's' of nutrient management: right product, right rate, right time and right placement," Bender says. "We believe there are differences in products when it comes to phosphorus and potassium, and we supply various products tailored to different needs.
"Right rate is also critical. That's where soil testing comes in. With crops running late, harvest could be late, and we face a similar situation as we did in 2018.
"If that happens, don't be afraid to pull soil tests and apply before next spring's soybean crop. There is a variety of dry, liquid and foliar sources of potassium available. These can be applied individually or simultaneously to ensure you have adequate potassium available all season long.
"Placement may be more of an issue for no-tillers or strip-tillers. It's important to think about how you're placing nutrients to get the most efficiency.
"Finally, think about timing," Bender concludes. "Fall applications are acceptable for potassium and phosphorus because they're less mobile in the soil compared to some other nutrients. But you still should think about when the crop needs each nutrient most."
Subscribe to receive top agriculture news
Be informed daily with these free e-newsletters
You May Also Like
---