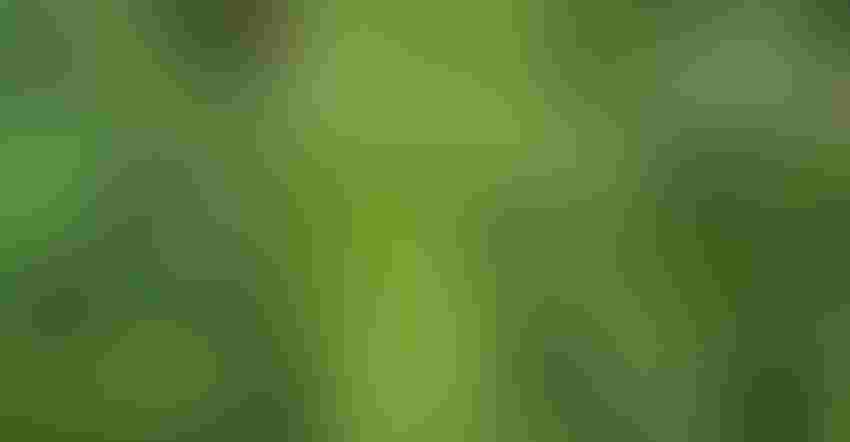 TAKE CONTROL: Controlling volunteer corn as soon as possible is critical — as your percent of yield loss is determined by the density and size of the volunteer corn.
By Don Boehm
With a later-than-normal harvest last fall, higher-than-normal ear drop and downed corn from wind, we should anticipate increased levels of volunteer corn in our soybeans this year. As we've shifted more of our soybean acres to no-till, minimum till or vertical tillage systems, this tends to increase the chances for volunteer corn. It's important to remember that in soybeans, volunteer corn is a weed, so we need to treat it like a weed. If it were a weed like giant ragweed, we wouldn't think twice about trying to control it. Comparing volunteer corn to giant ragweed is a good comparison, because both can get very large if not controlled early, with similar yield losses of 0 to 40%. Oftentimes, volunteer corn comes in clumps of six to 12 plants, reducing yield around each clump. Controlling volunteer corn as soon as possible is critical — as your percent of yield loss is determined by the density and size of the volunteer corn. When you consider that your soybeans are competing against that volunteer corn for nutrients, sunlight and moisture, it's really pretty simple what you need to do.
Improperly managed volunteer corn can also have implications for corn rootworm management down the road. If volunteer corn is not removed before it silks, it can attract rootworm beetles, which will lay eggs in the soybean field. Additionally, volunteer corn in soybeans may provide a food source for rootworm larvae that hatch out in the field. In either case, if the field is going back to corn the next year, it reduces the value that comes from rotating crops.
Know what you've planted
The good news is, there are numerous herbicides that can be applied in-crop (post) that can effectively control volunteer corn in soybeans. The list includes glyphosate, Liberty, Assure II, Fusilade DX, Select Max, and generic clethodim. With so many trait platforms available in both corn and soybeans today, choosing the right herbicide requires a little planning to ensure you select a herbicide that will control the volunteer corn and not kill your soybeans. As you prepare to spray for your volunteer corn, make sure you know the trait package of the corn you planted the previous year and the trait package of the soybeans you're spraying. A very high percentage of the corn planted today includes the Roundup Ready trait; and surprisingly, numerous seed companies use the LibertyLink trait as the marker gene in their corn rootworm trait. You might not have realized that the corn you planted had the LibertyLink trait in it. If you planted a traited (RR, LL, Bacillus thuringiensis [Bt] or corn rootworm [CRW]) corn hybrid the previous year, do not plan on using glyphosate or Liberty to control your volunteer corn. The simplest (and safest) choice is to use Assure II, Fusilade DX, Select Max or generic clethodim, because it doesn't matter if you planted glyphosate- or Liberty-tolerant corn the previous year. Using one of these products also eliminates risk and allows for flexibility if you're planting conventional, Roundup Ready, LibertyLink or Roundup Ready 2 Xtend soybeans.
As new products are launched with a variety of trait mixes, growers must be cognizant of what is being sprayed. For example, Enlist corn was available for planting in 2018 as a brand-new product line, and the Enlist soybean has just received approval for 2019. Be aware that if you planted Enlist corn in 2018, your only option for controlling Enlist volunteer corn in soybeans is Select Max or generic clethodim.
Scouting works
Another key method to controlling volunteer corn is to scout your fields; don't wait for the corn to stick out above the soybeans. The quicker you spray, the easier it will be to control and help limit yield loss. 

RATES OF HERBICIDE: Listed here are the rates of grass herbicides needed for controlling volunteer corn in soybeans, based on the size of corn. Adding crop oil or ammonium sulfate will improve the performance of these herbicides.
Boehm is a CCA with Legacy Farmers Cooperative. Contact him at 419-348-0065 or [email protected].
Subscribe to receive top agriculture news
Be informed daily with these free e-newsletters
You May Also Like
---