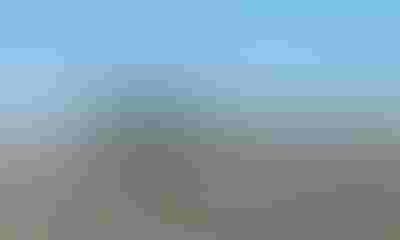 For the third consecutive year rental rates for Iowa farmland have declined, according to results from the 2016 Cash Rental Rates for Iowa Survey conducted by Iowa State University Extension. The annual survey results were released May 9 by ISU.
After 15 consecutive years of rental price increases (1998 to 2012), cash rent prices have now gone down for three straight years. Cash rents dropped by an average of 6.5% in 2015 after a 5% decrease the year before. The better crop producing land is the class of land that fell the most, in terms of dollars per acre in cash rent.
Driving factor is lower market price for corn and soybeans

DOWNTURN CONTINUES: Cash rents for cropland in Iowa fell by an average of 6.5% in 2016, according to ISU survey results released in early May. Rents are down 14.8% statewide for Iowa since they peaked in 2013.
"Cash rents are declining but not as fast as crop prices," says Alejandro Plastina, an Iowa State University Extension economist. "Prices have dropped for cash crops by between 50% and 60% in the last three years and rent has gone down 15%. Profitability in cash rented acres will still remain tight despite lower cash rents in 2016."
Cash rents for 2016 are lower in all 9 crop reporting districts
Rental rates are now averaging $230 per acre statewide, with a dip in prices shown in all nine of the state's crop reporting districts. The state average rate was $246 last year and was $270 just three years ago. The largest drop in cash rent came from District 3, a $23 drop in the counties making up the northeast corner of the state. Districts 4, 5 and 7 all saw decreases of $20 or more as well.
Despite its drop in rental price, District 3 also had the highest cost in the state for the second consecutive year, averaging $273 per acre. The district with the lowest cost per acre in 2016 also saw the smallest drop in cash rental price. Cost per acre in District 8 (south-central Iowa) went down just $4, falling from $187 per acre to $183.
"I don't expect crop prices to improve a lot over the next year," Plastina says. "With profitability of cash rented acres remaining tight over the course of 2016, I do not anticipate seeing an increase in cash rent prices either."
Survey results can help determine rental rate for your farm
Rental values were estimated by asking people familiar with land rental markets what they thought were typical rates in their county. Of the 1,585 responses received, 47% came from farm operators, 25% from landowners, 14% from ag lenders, 12% from professional farm managers and realtors and 2% from other professionals. Those who responded in this survey indicated being familiar with a total of 2.5 million cash rented acres across the state.
Cash rent survey results can be used as a reference point for determining an appropriate cash rental rate for a particular farm, but a number of factors (such as small size or unusual shape of fields, terraces or creeks that affect the time it takes to plant and harvest crops, high or low fertility levels or pH index, or longevity of the lease) may justify a higher or lower than average rent.
Sources are available to help you figure a fair cash rent
The Cash Rental Rates for Iowa – 2016 Survey is available online from the Extension Store and the ISU Ag Decision Maker website.
Other resources available for estimating a fair cash rental rate include the Ag Decision Maker information files Computing a Cropland Cash Rental Rate (C2-20), Computing a Pasture Rental Rate (C2-23) and Flexible Farm Lease Agreements (C2-21). All documents include decision file electronic worksheets to help analyze leasing questions.
Subscribe to receive top agriculture news
Be informed daily with these free e-newsletters
You May Also Like
---