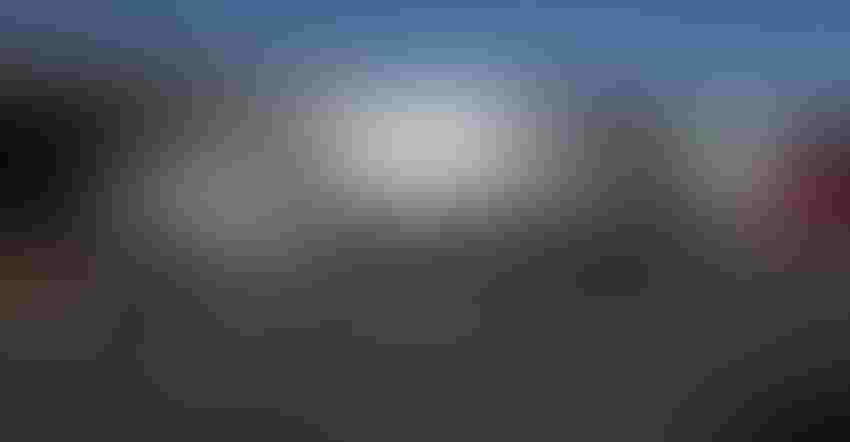 Workers play soccer between trucks stopped at Centro de Armazos Gerais de Sao Paulo during the trucker's strike on May 29, 2018 in San Paulo, Brazil.
Victor Moriyama/GettyImages
by Tatiana Freitas and Fabiana Batista
Now in its 10th day, the national strike by Brazilian truck drivers has weakened as the army and Federal Police work to unblock roads. Trucks carrying soybeans regained access to Paranagua Port while poultry and pork slaughtering was restored at some plants. Truckers have been protesting against fuel prices that have increased by about 50% from a year ago. Time stamps are for Brasilia unless stated otherwise.
More poultry plants restart operations (5:55 p.m.)
Forty-six plants have resumed operations as road blockades by striking truck drivers were ended by the army and police, Ricardo Santin, a director at industry group ABPA, said in an interview. The transportation of feed to poultry farms is slowly being restored, he added .On Tuesday, 167 poultry, pork plants were halted.
Soy Trucks Arrive at Major Port (5:05 p.m.) 
Trucks arrived at Paranagua in Parana state around 2pm local time, escorted by the Federal Road Police, a press official from the port authority said. That was the first time trucks have entered the port complex since the strike started on May 21. Vehicles with 42,000 metric tons of soybeans are expected to unload in the next 24 hours.
Protein industry may take years to recover: Maggi (2:59 p.m.) 
Poultry producers have lost 1.3 billion reais ($350 million) from the strike so far and it may take as many as 2 1/2 years for them to fully recover, Minister Blairo Maggi tells reporters at sidelines of event in Sao Paulo. Brazil may be forced to import food, he said.
Port protests to be resolved, minister says (2:50 p.m.) 
"Sao Paulo state is acting to unblock Santos port at this moment as it is fundamental in terms of logistics and trade," Cabinet Minister for Institutional Security Sergio Etchegoyen tells reporters in Brasilia. There are only two road blockages across the country, and other obstructions aren't related to the strike, he said.
Strike slows coffee harvest, Cepea says (11:45 a.m.)
"Many growers, who had already started to harvest both early beans and younger crops, had to reduce activities this week" because there's no fuel for workers or machinery in some places, Cepea, the University of Sao Paulo's research arm, said in a report.
Soybean ship congestion increases at ports (11:36 a.m.) 
The number of soybean vessels waiting to dock at Santos, the largest Latin America port, increased to 24 on Tuesday from 11 a week earlier, according to ship agency Williams. Ships lined up at all Brazilian ports rose to 78 from 50. 
Road blockades continue to prevent soybean, sugar and meat cargoes from reaching export terminals, and Santos can't receive trucks, a port authority press officer said Wednesday in an email.
Brazil recovery threatened by strike (11:02 a.m.)
Family consumption and lower interest rates supported a faint recovery of the Brazilian economy in the first quarter, even as strikes and political uncertainty weigh on the outlook for the year.
Strike to raise prices, may spur imports: Maggi (10:12 a.m.)
Blockades of roads have halted the transportation of agricultural products and may turn Brazil into a net importer of food, Agriculture Minister Blairo Maggi says in a video shared by his press official.
"My main concern is food prices and quantity at Brazilian homes and supermarkets," he said. "If we won't be able to release traffic on all roads and resume activities at poultry farms by Thursday, we could lose 1 billion chickens and become a net importer of chicken meat." 
Becoming a net importer of food will increase food prices and make them more volatile, as local prices will be impacted more by currency movements, Maggi said. "As soon as Brazil resumes agricultural production, the better it will be for everyone."
Government to sell corn inventories (8:16 a.m.) 
The government plans to sell corn inventories directly to poultry and pork producers and the animal-feed processing industry. Supplies are estimated at 1 million tons, Jose Maria dos Anjos, trade director at the Secretariat of Brazil Agricultural Policy. Sales will be at Conab's spot price. Warehouses in Mato Grosso hold more than 80 percent of stockpiles.
--With assistance from David Biller, Marvin G. Perez, Fabiola Moura, Simone Iglesias and Gabriel Shinohara.
To contact the reporters on this story: Tatiana Freitas in São Paulo at [email protected]; Fabiana Batista in Sao Paulo at [email protected]
To contact the editors responsible for this story: Simon Casey at [email protected]
Patrick McKiernan
© 2018 Bloomberg L.P
Subscribe to receive top agriculture news
Be informed daily with these free e-newsletters
You May Also Like
---