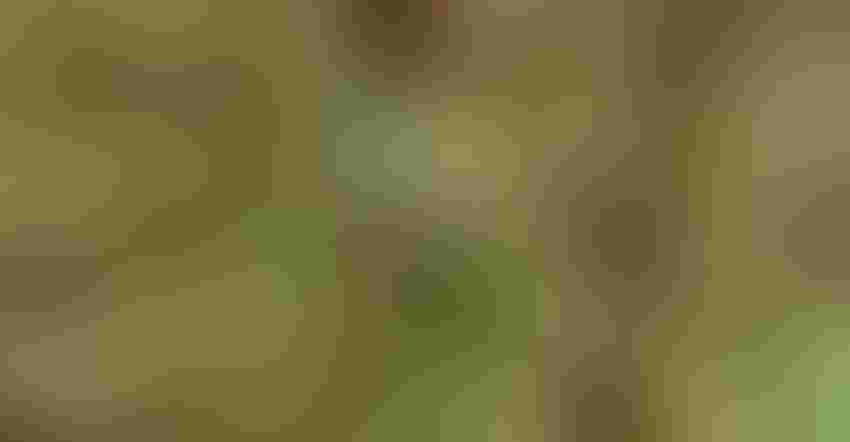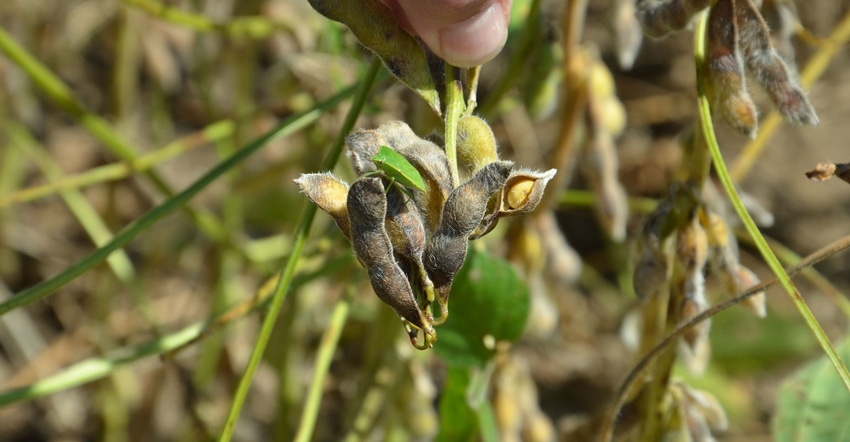 WATCH FOR THIS PEST: Stinkbugs have been more prevalent in some soybean fields over the past few seasons.
Tom J. Bechman
What if stinkbugs start showing up now in soybeans? Is it too late to spray for these insects? Is there a situation where it would still more than pay for itself? How do I decide?
The Indiana certified crop advisers panel answering this question includes Betsy Bower, agronomist, Ceres Solutions, Terre Haute; Jesse Grogan, regional manager, AgReliant Genetics LLC, Lafayette; and Stan Miles, agronomist, A&L Great Lakes Labs, Fort Wayne.
Bower: Stinkbug is a late feeder of soybeans and can be found from R3 to R8, but it seems the past several years we've found them at R4, R5 and into R6, even after fungicide and insecticide have been applied. Stinkbugs are a pest you should go after if you reach the economic threshold, as soybean quality can be drastically reduced.
You will need to sweep with a sweep net in your soybeans. The economic threshold for stinkbugs is 40 bugs per 100 sweeps with still-green soybean pods. If you are growing soybeans for seed, the economic threshold is even lower at 20 bugs per 100 sweeps with still-green soybean pods.
Grogan: Stinkbugs are showing up recently in southern Indiana fields. Significant damage to seeds can occur in the R5 growth stage, beginning seed fill, to R6, full seed. Scouting should begin before pod fill to R6 growth stage by inspecting the edges of fields for activity.
When activity is noticed, take sweep samples in the affected field. Threshold for commercial beans is 40 stinkbugs per 100 sweeps if pods are still green. Control in seed beans is recommended if there are 20 stinkbugs per 100 sweeps and pods are still green. That averages out to 0.2 stinkbug per net sweep. Sweeps should be collected in five different areas of the field.
Most insecticides labeled for soybeans are effective. Insecticides used near the end of the R6 stage are usually too late. Harvest restrictions for insecticide products should also be observed.
Miles: It is possible for stinkbugs to be present in sufficient numbers to damage a soybean crop from R3 to R8. Purdue University research suggests that treatment may be necessary when insect numbers reach 40 stinkbugs per 100 sweeps. Even if stinkbugs are present late in the season and the crop is at low risk for reduced yield, excessive feeding could cause quality concerns that may be damaging, especially in seed production fields.
Editor's note: Two years ago, green stinkbugs caused considerable damage to soybean quality, especially in the southern half of Indiana. They can open the door to diseases and other issues to affect soybean seed quality, as well. Guidelines are spelled out for treatment. If you see stinkbugs, find yourself a sweep net and follow recommendations.
Subscribe to receive top agriculture news
Be informed daily with these free e-newsletters
You May Also Like
---