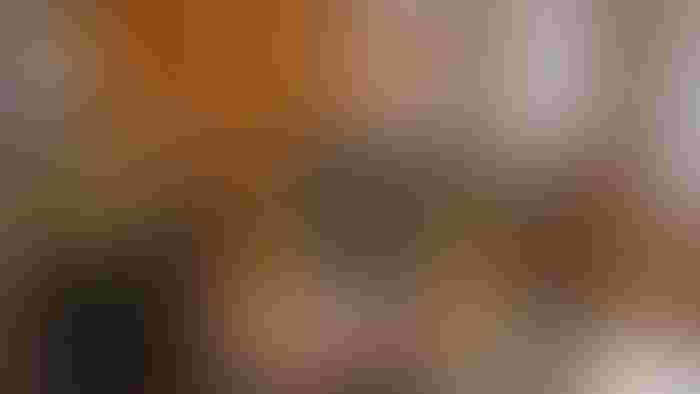 Finding ways to use soybeans to replace effective but less environmentally friendly ingredients in everyday products appeared to be the unofficial theme of the 29th annual Student Soybean Innovation Competition. This event is sponsored by the Indiana Soybean Alliance with support from Purdue University. This year, AgriNovus Indiana came alongside as a sponsor.
Twelve teams of students reached the finish line with the prototype of a product developed from scratch.
"Indiana soybean checkoff funds are used to find new uses and new markets for our soybeans," says Mike Koehne, a Greensburg, Ind., soybean producer and chair of the ISA committee overseeing the contest. "This event allows ISA to create relationships with bright and innovative students and their mentors at Purdue. Some of the products from this contest will help us move more soybeans into the market."
Koehne observes that this year's teams focused on potential uses that tended to encompass more parts of the bean, not just oil. That could be a plus in developing markets for moving more soybeans in the future.
Top 3 teams
The top three teams won cash prizes of $20,000, $10,000 and $5,000, respectively. They are:
1. StyroSoy. Students developed a replacement for plastic foam like Styrofoam using soy protein and soy glycerin. It's biodegradable and should be ideal in replacing packing peanuts and packing for electrical devices. StyroSoy also won the People's Choice award and an additional $500. Team members include Alyssa Choi, Louis Caceres Martinez, Valeria Tellez Gallego and Amy Tang.
2. SoySafe. This drywall made from soy flour and soymeal can withstand higher temperatures than regular drywall, making it safer, according to team members Sarah Juffer, Charles Sebright and Josh Stephenson. It's also more environmentally friendly.
3. SoyScara. Alison Dunbar, Jason Li and Conway Zheng started with a soy oil base and developed mascara free of potentially harmful chemicals.
Other contest participants include the following, in no particular order:
SuperSoy. Wondering what they were eating when consuming apples coated with food wax triggered this team to develop a soy-based, edible food wax from a blend of soy oil, other soy products and wax. Team members include Anthony Pellicane, Andrew Rosenberg, Dartanian Sloan and Brandon Verone.
SoyWare. Mandar Bagade, Jack Dempsey and Andres Gomez developed a 100% soy-based material that could be molded into microwave-safe food-storage containers.
SoySealers. Your bottle cap that ends up on the ground won't last forever if made from soy wax and soy oil, say team members Lauren Schroeder and Fiona Wehrle.
SoyFlect. Get rid of that pesky film on your windshield with a water repellant that is 86% pure soybeans. Soy oil is the base. Team members are Ethan Miller and Libby Plassard.
Agent Sticky. Soy protein and other soy ingredients make up this all-soy product that is a roll-on glue replacement for arts and crafts. Team members are Edison Ko Bautista, Lauren Tricker and Daria Tsoneva.
PureSoy. Shams Adigozalzade and Taylor Cooney developed a natural facial cleanser made from soy oil and other soy products.
SoyLace. Who realized dryer sheets break down slowly in the environment? This team developed scented dryer sheets from soy that are totally biodegradable. Team members include Emmanuel Alagbe, Alden Brugh, Laura Kemerer and Chathura Viswanath.
Soy-A-Wax. Watching Dad polish the boat with wax containing petroleum distillates inspired this environmentally friendly boat wax made from 97% soybeans. Inventors include Grace Andrews and Mallory Zobel.
SoyScreen. Alison Fung and Madeline Tiedt developed a sunscreen using soy wax and soy glycerin. It's environmentally friendly and biodegradable, with an SPF rating between 30 and 50.
Subscribe to receive top agriculture news
Be informed daily with these free e-newsletters
You May Also Like
---