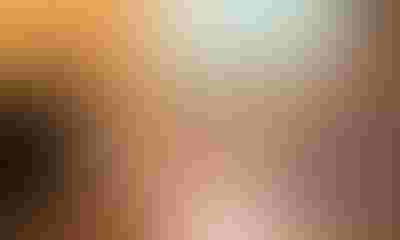 Ready for a late-winter travelogue? Spend some time learning about Vietnam as we share a blog post from Doug Monson, Minnesota Soybean's communition director. Monson is one of the folks on the 'See For Yourself' tour in Vietnam. Read on:
Minnesota farmers kicked off their 2016 'See For Yourself' mission with a meeting with USDA's Foreign Agricultural Service and U.S. Soybean Export Council before heading out to view what a typical marketplace looks like in Hanoi.
Mark Dries, Counselor for Agricultural Affairs for FAS, addressed the Minnesota delegation, telling the farmers that Vietnam is an important market for their product.

Farm talk. Tran Trong Chien talks about farm land ownership with Chuck Retka of Le Sueuer, (right), Rodney Balvistch of Ellendale, and Minnesota Soybean Growers Association director Ron Obermoller, of Brewster, Thursday, March 17 in Hanoi, Vietnam. The country's government owns the land, but farmers can rent farm land for 50 years from the government.
"This has been a big and growing market for you," he said. "I think it is clear through your selection that you made a wise decision with your checkoff investments."
Also addressing the delegation was Tran Trong Chien, director of Ag Consulting Company in Vietnam, which contracts with USSEC. Chien talked about the growth of Vietnam, specifically in pork production and consumption, and the importing of feed ingredients.
"We have to import about 70 percent of the feed ingredients for livestock in Vietnam," he said.
According to Dries, Vietnam is the 11th largest market for U.S. exports. While Vietnam imports 95 percent of its soybean meal and whole soybeans, the U.S. is competing with countries such as Argentina and Brazil for a place in the market. Of that market, Chien says Vietnam imports about 10 percent of its soybean meal from the U.S. and about 50 percent of its whole soybeans from the U.S.
"The government is very clear about the efficiency to produce soybeans in Vietnam," Chien said. "It's cheaper to import to supply the demand."
Rodney Balvitsch, who raises cattle near Ellendale, said he was a little miffed by Argentina's soybean meal sales.
"It was interesting to hear Argentina was adding corn to their soybean meal to get around their tariffs," he said.
Chien said Argentina will mix anywhere from 5 percent to 15 percent of ground corn in its soybean meal, making it cheaper and helping the country skirt around export tariffs.
Fresh from the farm. A woman tends to a stand of fresh chicken at a wet market in Hanoi, Vietnam. Livestock is often brought to market, butchered and sold all in the same day.
"It sounded like they were cheating to me," said Roger Steinman of Lake Wilson.
MSR&PC chairman Keith Schrader said the investments in Vietnam have been important to Minnesota soybean farmers.
"We were looking for a way to be more involved in Southeast Asia," he said. "Vietnam was the ideal market."
Chien said Vietnam's pork, poultry and aquaculture industries are growing, on average, by 6 to 7 percent each year.
With more than 26 million hogs raised in the country, Vietnam ranks sixth worldwide in production and 7th in consumption of pork.
"The thing that surprise me was 64 percent of the nation's hog are on farms that have one to 10 sows," said Ben Storm, who grows corn and soybeans near Dover. "That's kind of a crazy number. And only 16 percent of [those operations] were bigger than 50 sows."
Room to grow
John Lenort, who farms near Fairmont, came away looking at the possibility of growing exports to Vietnam, which boasts a population of more than 19 million people.
"I was very impressed with the amount of food they're going to need to keep up with their population," he said.
Patrick Hennen, who farms near Ghent and chairs the Lyon County Corn and Soybean Growers Association, agreed.
"I was impressed by the potential for the U.S. for imports here because of their growth," he said. "But I was also shocked at the percentage of their gross income that is used for food."
The Vietnamese currently spend approximately 65 percent of their income each year on food.
For Minnesota Farm Bureau president Kevin Paap, who farms near Garden City, getting to know the boots on the ground was important.
"I think it was good just to see the passion in everybody," he said. "When you have people working for you, you don't really know, are they just doing it because it is a job? Are they doing it because they love it? Certainly Mr. Chien had the passion of wanting to tell us more and talk about it."
A market like no other
Marketplaces in Hanoi are very different from what the delegation is accustomed to back home. From fresh fruit, to fresh meats, to clothing and textiles, the marketplace has a wide variety of options for consumers.
And while navigating the never-ending mopeds zipping through the marketplace paths can be a little difficult, the experience was eye opening for many in the group.
"I was really impressed with the amount of food they had there," Lenort said.
He also was concerned with the amount of potential waste for fresh food such as meats that weren't sold by the end of the day.
In the marketplace, it is common for live hogs to be sold, butchered and sold as cuts all within the same day. And the marketplace offers that glimpse, with stand after stand filled with pork or chicken or several species of fish.
"I talked to someone who said they just kind of know how much food their going to need," Schrader said. "They've been doing this so long that it's second nature for them to estimate the food needed to avoid waste."
Things to come
The Minnesota delegation also toured Mr. Chien's office, which is the USSEC office in Vietnam. The office donned pictures of MSR&PC directors with USSEC staff from Southeast Asia.
The delegation spend last Friday and Saturday touring a CP Feed mill, swine farm and poultry farm before departing Hanoi for Ho Chi Minh City.
The 13 farmers are guests of MSR&PC, which brings farmers to different countries to see how MSR&PC invests soybean checkoff money in those markets. Participating farmers will then evaluate the use of checkoff money at the end of the mission.
Minnesota Soybean's Doug Monson shares his first blog post and photos.
Subscribe to receive top agriculture news
Be informed daily with these free e-newsletters
You May Also Like
---