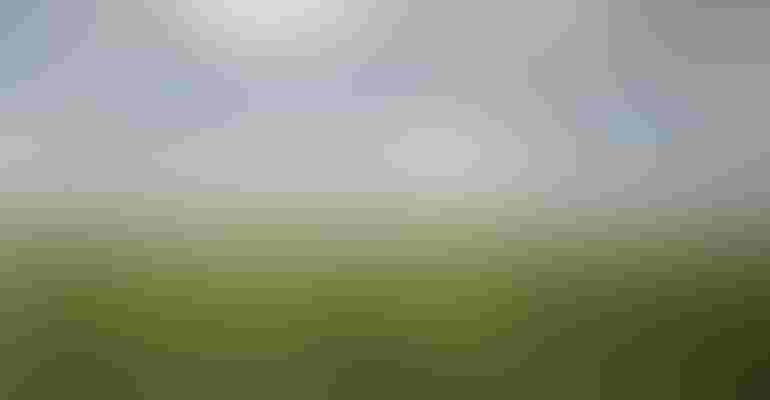 Cotton growers considering grain sorghum as a secondary crop are urged to plant it within the next two weeks.
Sorghum Checkoff Jennifer Blackburn
Prolonged drought has created countless moments of indecision for South Plains cotton farmers about the viability of their cotton crop, dryland as well as irrigated and drip, forcing growers to decide whether to leave their parched cotton ground fallow or roll the dice, and plant a secondary crop such as grain sorghum. But if producers are betting on haygrazer or sorghum, John Duff, National Sorghum Producers strategic business director, says growers need to make that decision quickly.
"Time is getting short here and with the rains that came over the last couple of days, in some areas, there may be moisture to get a sorghum crop in and have a prayer of it coming up," says Duff. "The number of claims we're going to have on the South Plains this year is obviously going to be pretty high and with the end of those late plant periods approaching, the waiting list can be long. I strongly recommend any farmer who hasn't already visited with his or her agent, to get on a list to have an adjuster come out and look at your crops, so that as soon as, legally possible, they can be turned loose by the adjuster to plant."
Growers have about three weeks left to plant sorghum. "By the first week in July, you're starting to reduce your chances of making a wildcat sorghum crop," warns Duff, who recommends choosing a short maturing hybrid.
Seed variety
Another decision producers will have to quickly make, is what variety they will plant. Duff says, whether it's haygrazer or any grain sorghum hybrid, he encourages growers to visit with seed dealers, "sooner rather than later."
"With hay prices the way they are — in some cases reaching levels that have not been seen since 2011 — and overall, a lot of struggling cotton, grain sorghum seed and hay grazer seed could run short. Certain hybrids in particular, could be short."
When choosing a sorghum hybrid, producers also need to select a hybrid with sugarcane aphid tolerance, says Brent Bean, director of agronomy, United Sorghum Checkoff Program in Lubbock. "With late planting, we may have more risk from sugarcane aphid," he says. "Make certain to use a seed treatment insecticide — that will provide from 40 to 45 days of protection."
So far this year, aphids have been a non-event in South Texas, according to Duff, and haven't been much of an issue the last couple of years. "Outside of pockets across the South Plains, we didn't have a problem last year, either. We are looking fairly decent in terms of prospects to not have huge aphid outbreak in 2018."
A list of hybrids with sugarcane aphid tolerance are listed on the sorghum checkoff website, http://bit.ly/2rMGHkk.
Bean recommends growers:
be aware of the potential for sugarcane aphids

select a tolerant, early-maturing hybrid

check herbicide use in the cotton acreage

plant from 20 percent to 25 percent more seed with very early hybrids
"Also, be aware that grain sorghum planted late does not tiller as much."
Crop insurance options
Chris Cogburn, NPS senior policy advisor, says farmers replanting sorghum following a failed cotton crop also have decisions to make on insurance coverage. Options include taking 100 percent on the failed cotton insurance, and planting "wildcat" grain sorghum—with no insurance. "This is what happens most of the time," Cogburn says. Insurance coverage for the first crop typically offers a better payment than the second will. That's especially true considering actual production history with cotton and current price for cotton versus grain sorghum.
But farmers replanting to sorghum have the option of taking only 35 percent of the cotton insurance payment and insuring the grain sorghum at 100 percent. Cotton insurance premium would be reduced. "At the end of the year, if the grain sorghum crop did not suffer a loss or only a small one, the farmer has the option of taking the remaining 65 percent of the cotton insurance," he says.
The producer would pay 100 percent of both premiums.
If the grain sorghum crop fails, the producer can determine which option offers the best return.
Cogburn says few farmers take the 35 percent payment on cotton to insure grain sorghum for 100 percent, but he encourages them to consider all the options available.
See, Failed cotton claims up, growers encouraged to make a plan
Sorghum's future
While Southwest grain sorghum acres have been flat to down, due to trade concerns with China and the improving price for cotton, Duff is optimistic about the future.
"The trade situation improved radically, literally overnight. We are in a lot better shape and China is buying at a higher price now than they were before because they had been resigned to have to buy Australian sorghum, which is double the price of U.S. sorghum right now.  So, they're able to pay more for it."
As far as cotton, Duff says grain's future has always been tied to cotton in the Southwest. "Cotton and grain kind of go up and down at the same time — a mirror image of each other. This year, as cotton prices went higher, and continue to go up, it's tough for producers in the commodity environment we've been in the last couple of years, not to take that money."
But he adds, "We are optimistic for the future as always. With world demand for protein and feed grains as well as our unmatched ability to meet this demand, we are looking forward to the next decade."
For more information about secondary crops, see Texas AgriLife's "2018 Alternative Crop Options after Failed Cotton and Late-Season Crop Planting for the Texas South Plains."
Subscribe to receive top agriculture news
Be informed daily with these free e-newsletters
You May Also Like
---