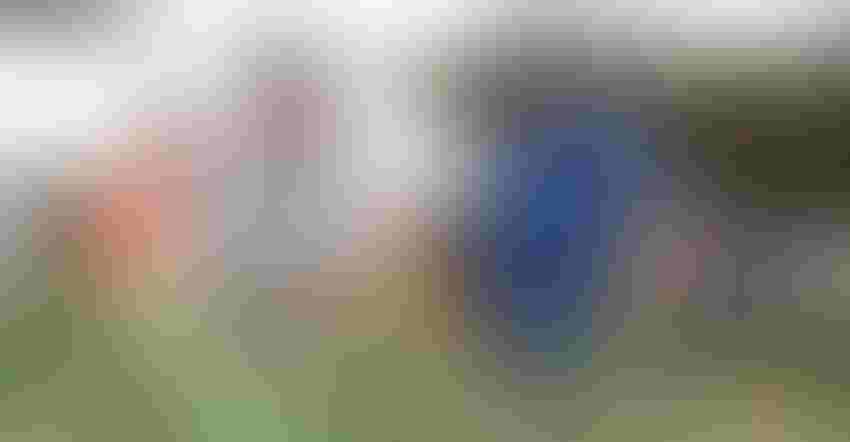 AgLaunch tour participant Chance Weldon, left, and Tennessee farmer Alex Forsbach examine food-grade grain sorghum varieties under production at Agricenter International during the recent AgLaunch Field Day.
Brad Robb
Alex Forsbach, and his father Karl, produce soybeans, wheat, and grain sorghum in Hardin County, Tenn., but when they started struggling to find a market for their grain sorghum, they turned to AgLaunch and the Tennessee Department of Agriculture where they were eventually awarded a "Value-Added Producer Grant" from the United States Department of Agriculture.
Alex Forsbach spoke at the recent AgLaunch Field Day at Agricenter International located on the outskirts of Memphis, Tenn. "There are other farmers in our area who also produce grain sorghum," says Forsbach. "We are now using that grant and assistance from AgLaunch to help us work our way into food-grade grain sorghum markets."
The Forsbachs manage Growing Acres and Karl Forsbach Farms, Inc., below Pickwick Dam, a quite precarious place to farm, especially when the Tennessee Valley Authority releases water through the dam after excess rains which often flood many of the area's terrace soils.
Grain sorghum fits well in the Forsbach operation, especially on their dryland acres where they cannot grow corn. "It's a great rotational crop for us," says Forsbach, who is a member of the AgLaunch Farmer Network. "We're here at the Agricenter today because of our involvement with Texas A&M on a food-grade grain sorghum variety project."
Texas A&M is a recognized authority on grain sorghum varieties and breeding efforts. The project at the Agricenter is comprised of different varieties replicated four times. The research will look at starch properties for grain sorghum's potential use in things like insulation and possibly even in the spirit industry.
"We're focusing on food-grade grain sorghum," says Forsbach. "It's gluten-free, non-GMO, and the different varieties offer a wide range of quality and properties like anti-oxidants. We're also learning more about 'waxy' sorghums that have a good presence in the ethanol market and even the distillery/spirits segment because of that waxy, or improved starch ratio quality, that allows fermentation to happen much faster."
Several years ago, Alex and Karl switched to continuous no-till and began using multi-species cover crops. The decision has vastly improved their farm's soil health by reducing inputs like fungicides and herbicides.
New irrigation technology
Forsbach was sharing his part of the AgLaunch event tour stop with Vince Ferrante, vice president, sales, Groguru, who spoke about the company's new wireless underground sensing system (WUGS) the Forsbachs are using on their farm in Savannah, Tenn. "This is our first year to use the WUGS and we're finding it very user-friendly," says Forsbach.
"It's like a gas gauge. If you just want to get a quick reading of moisture levels, you can do that, but you can also use it to dig down deeper into data and see your crop's daily water use levels."
WUGS is a permanent install without wires or cables so producers can farm over the buried sensors. It is powered by a battery with a seven- to 10-year life and telemetry capability to transmit moisture readings to a cloud-based radio network that producers may access to receive soil moisture level readings on their iPhone or tablet device. "The system provides predictive algorithms based on rainfall amounts," says Ferrante. "It also allows you to determine how far your fertilizer is from the root zone."
The system allows soil moisture monitoring all year long, and another system measures salinity and electroconductivity.
Subscribe to receive top agriculture news
Be informed daily with these free e-newsletters
You May Also Like
---