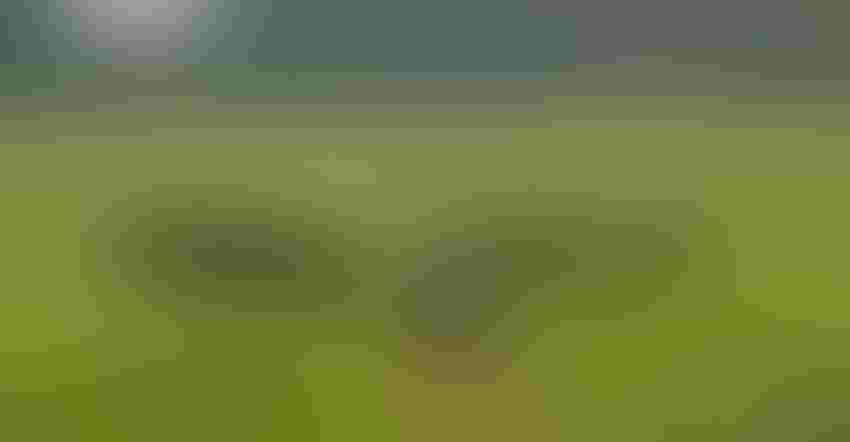 SAFER GRAZING: A sorghum-sudangrass forage under testing at Purdue would make it safe to graze livestock on these plants after a frost.
Shelby Gruss
A new trait in sorghum-sudangrass hybrids that doesn't produce a compound known as dhurrin continues moving toward the commercial market. Unofficial estimates suggest it could reach your hands in the next three years.
The new trait, developed at Purdue University by Mitchell Tuinstra's research group, continues performing well in more recent feeding trials with livestock. Researcher Shelby Gruss, who worked with both sheep and cattle in her doctoral and postdoctoral research program, looked at performance and palatability of the new trait. She recently answered questions about her work.
You refer to the new sorghum trait as dhurrin-free. What does that mean? Dhurrin is a compound which leads to production of hydrogen cyanide, or HCN, which is toxic to animals. Dhurrin is generally produced in sorghums when it frosts in the fall, during drought stress and in young plants. The new hybrid developed here does not produce dhurrin, so it doesn't produce HCN.
Why doesn't this new hybrid produce dhurrin? We disabled an enzyme in the biosynthetic pathway which is a necessary step in its production. Dhurrin-free sorghum-sudangrass plants can no longer produce this compound.
So, does the new trait cause plants to be labeled as GMO? No, it is not genetically modified. We obtained our results through looking for mutants which didn't produce dhurrin, through conventional breeding practices.
You first conducted grazing trials with sheep, correct? Yes. We pastured ewes on dhurrin-free sorghum-sudangrass compared to conventional hybrids in 2019 and 2020. They ate it better than the conventional sorghum-sudangrass and performed satisfactorily.
What did you learn from cattle trials in 2021? We conducted a replicated experiment using 24 beef calves. There were six groups of four calves each, and half of them fed all summer on conventional sorghum-sudangrass forage, and half on dhurrin-free sorghum-sudangrass. Daily average gain was similar on both, with no significant difference at approximately 2 pounds per day. Total biomass produced was also very satisfactory, and not statistically different.
Did calves pasture on the dhurrin-free forage after a frost? The pasture trial was over before frost occurred. However, we kept one group of calves on pasture for several days after frost. No problems were observed, and they continued grazing normally.
Do sheep and cattle seem to like this new forage? Yes. Anecdotally, there are indications they prefer it over conventional sorghum-sudangrass. Ewes ate it first when given a choice.
We suspect preference could revolve around taste. Conventional plants containing dhurrin can be a bit bitter. It's possible that comes from dhurrin, or from release of HCN.
Are there drawbacks to not having dhurrin in these plants? We believe that dhurrin's role was to help provide fall armyworm protection. We have seen some slight indication that plants without dhurrin could be more susceptible to insect problems. So far, we have not encountered significant insect concerns during our trials.
What is the next step toward commercial marketing? S&W Seed Co. is working with Ag Alumni Seed, Purdue University and Tuinstra to commercialize the new dhurrin-free trait.
Subscribe to receive top agriculture news
Be informed daily with these free e-newsletters
You May Also Like
---