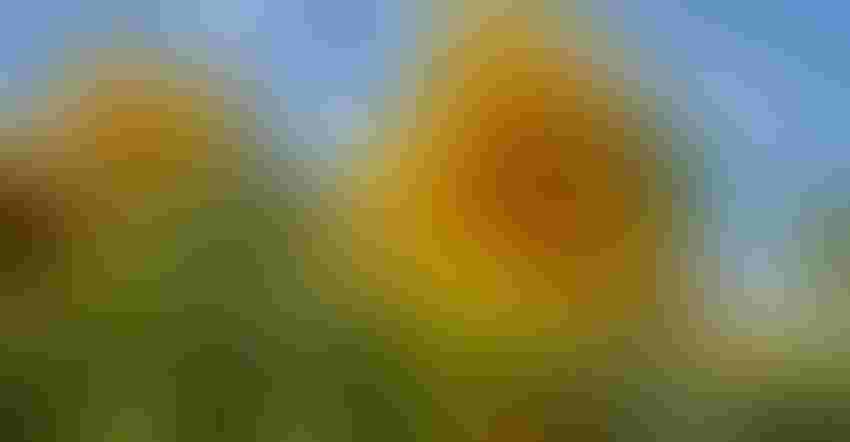 BLOOMING PERIL: Sunflower blooms are a pretty sight, but they attract hungry insects, too.
Lon Tonneson
When sunflowers begin blooming, it's a sight to behold. But many insects are attracted to the bright yellow flowers, too. Janet Knodel, North Dakota State University Extension entomologist, says growers should be on the lookout for three pests: red sunflower seed weevils, sunflower moths and lygus bugs.
Red sunflower seed weevils. Female red sunflower seed weevils must consume pollen before laying eggs. Adults are 1/8-inch long and have pronounced snouts that make them recognizable. Begin counting at least 75 to 100 feet into the field to avoid field margin effects. Count the number of adults on five plants at five sites for a total of 25 plants.
Scout until the economic threshold for spraying is reached (it varies based on the price of sunflower) or when most plants have reached 70% pollen shed (growth stage R5.7). The economic threshold is usually about four to six weevils per head for oilseed sunflowers and only one weevil per head for confection sunflowers.
RED RAIDERS: Adult red sunflower seed weevils are easy to spot because of their distinctive red color and long snouts.
At 70% pollen shed, plants are no longer susceptible for egg laying or significant damage. On older flowering plants (after R5.7), larvae will be feeding inside the seeds and protected from the insecticide. By then, much of the feeding damage has already occurred.
Lygus bugs. Lygus bugs are primarily a concern in confection sunflowers, according to Knodel. Adults are about 1/4-inch long, cryptically colored with a distinctive yellow triangle or "V" on the wings. They vary in color from pale green to dark brown.
Lygus bugs insert their mouthparts into developing sunflower seeds and inject a toxic saliva into the seed, causing a brown to black spot called "kernel brown spot." Sunflowers are susceptible to feeding injury from flowering through seed hardening. The economic threshold is one Lygus bug per nine heads.
Sunflower moths. The sunflower moth can be very damaging, especially in the southern Great Plains. The adult sunflower moth is buff to gray with a 3/4-inch wingspread. The larva is about 3/4-inch long and has a brown head capsule with alternate dark and light lines running longitudinally.
Larvae tunnel in seeds from late July to late August. When population are equal to or above the economic threshold of one to two moths per five plants, treatment is recommended.
NASTY MOTH: Sunflower moths, which can be very damaging, range in color from gray to buff with a 3/4-inch wingspread.
Spray timing. The best sunflower plant growth stage to treat for all of these head-infesting insect pests is when the majority of the plants are in the early flowering (R5.1) growth stage. That's when there is pollen shed on 10% of the outer rim of the sunflower head, Knodel says.
Tip: Because scheduling an airplane to spray fields may take a week or more if ag pilots are busy, plan for the insecticide application when only 30% of the plants in a field reached the R5.1 growth stage.
If the weather is hot, flowering will progress more rapidly and one week may not be enough lead time. Getting the timing right in this situation is difficult, so making arrangements when just 5% to 10% of plants are at R5.1 may be more prudent, she says.
Insecticides should be targeted at the adult red seed weevils to prevent egg laying; at the adult and early larval stages of sunflower moth; and at the adult or nymph stages of Lygus bug.
TOXIN INJECTION: Lygus bugs are primarily a problem in confection sunflowers, and their colors range from pale green to dark brown. A toxin injected into the sunflower head by lygus bugs creates a black to brown spot in the head called a 'kernel brown spot.'
Bee care. Because blooming sunflowers attract bees, apply insecticide in the late evening or early morning. Many beekeepers would prefer sunflowers be sprayed in the late evening rather than the morning.
The ag departments for both North Dakota and South Dakota maintain bee maps to make it easier to locate hives and the owners' names.
NDSU Extension Service provided information for this article.
Subscribe to receive top agriculture news
Be informed daily with these free e-newsletters
You May Also Like
---