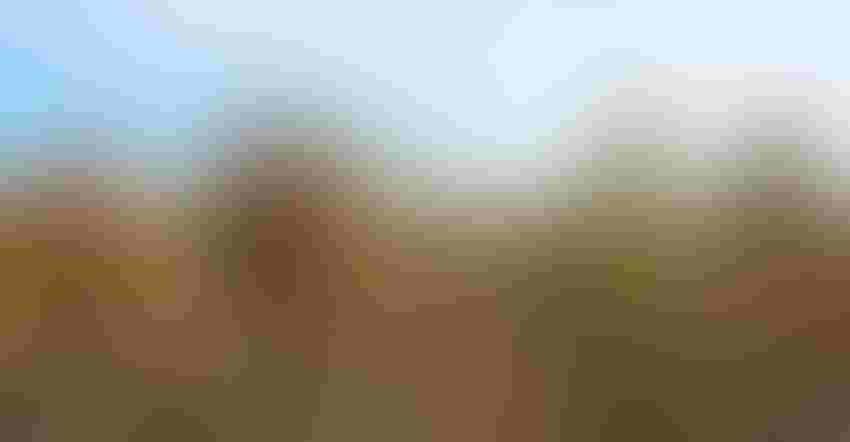 Spring has sprung and if you're planting sorghum, it's time to select a preplant herbicide.
"As most sorghum producers know, we have fewer herbicide options in grain sorghum than cotton and corn," says Agronomist Jourdan Bell, Texas AgriLife Extension, Bushland. "Most sorghum producers I work with depend heavily on atrazine and metolachlor herbicides, but our research at Bushland has evaluated other herbicide chemistry for sorghum."
Agronomist Jourdan Bell, Texas AgriLife Extension, Bushland (Photo by Shelley E. Huguley)
In the Bushland trials, herbicides that contain mesotrione, such as Coyote, Lexar, Lumax and Halex GT, provide added control, especially in fields with heavy residue, Bell says. "We've seen those to be very effective, although they can be pricier than metolachlor and atrazine plus metolachlor options."
Verdict and Dimethenamid, BASF herbicides, provide good activity on broadleaf weeds, as well as some activity on grass seedlings, though they too are more expensive than atrazine and metolachlor, Bell adds. "We're talking about preemergent activity on grass. This is not a post-activity like we would see with the new ImiFlex herbicide program for the igrowth sorghum."
See, Sorghum Focus: Infrastructure is key to U.S. sorghum competitiveness
Bell discussed preplant herbicide management during the regional Zoom meetings being held throughout April. The online seminars target sorghum production topics pertinent to the High Plains, Rolling Plains and Concho Valley.
Common concern
A common question Bell receives most often from dryland producers is, "Why are my residual herbicides not working?
"Many dryland producers have been frustrated with herbicides like Dual or Bicep over the last several years because many producers believe the herbicide activity was previously more effective. In some cases, poor herbicide activity on dryland acres is due to drought conditions. We have to consider the water solubility of the herbicide. It's likely that poor herbicide performance is due to our drought conditions and not getting timely precipitation to activate that herbicide."
When considering a herbicide, Bell says some only need about a half-inch of rain or irrigation while other herbicides need one inch. "So, that's a reason we are not seeing these herbicides working as well on all fields," she says.
Tillage systems also can affect herbicide performance. "We are seeing strip-tillage increase across the central and northern Panhandle. With conservation tillage, we have greater residue on the soil surface and that residue can intercept the herbicide.
"While, rainfall or irrigation will wash the herbicide off the residue, if we do not have rainfall or irrigation, we will see the herbicide bound by the residue and therefore reduced activity on dryland acres," Bell says.
Herbicides also break down. "If we're applying a chemistry without extended residual and then we don't plant grain sorghum until mid-to-late June, there's the possibility that the herbicide might have some photochemical decomposition if we don't receive the rainfall to activate it.
"Although there are discussions about resistance, we must also consider field and environmental conditions as well as application management because there are many reasons why herbicides may not be working."
Generic Herbicides
Producers consider the cost of every input, so many producers inquire about the activity of generic herbicides. There are very good generic herbicides on the market, but it is important producers fully read the label, Bell emphasizes.
Is the active ingredient including the form of the active ingredient that is needed? Also, is the concentration the same as on the brand name label?
"Sometimes with the generic, you might need twice as much chemical, so you're actually not saving money on the herbicide if you need a higher application volume," she says.
As we look at preplant options, cost and availability of herbicides are important considerations every year, but it is important for producers to understand that they will see a positive return on a well-planned herbicide program, Bell adds.
"It is important to know the weed pressure in your field and plan for the correct chemistry in advance. We should not 'cheap out' a preplant herbicide program because the yield that can be lost due to weed pressure is significant," Bell says. "We see an increase in yield with timely herbicide placement and correct application volumes."
Next seminar
The final Zoom seminar is April 22, from 12:30-1:30 p.m., and will address insects. To receive a Zoom meeting passcode, contact Calvin Trostle at 806-746-6101 or [email protected]. Or to join the Zoom meeting by phone, call 346-248-7799.
A regional sorghum meeting is also scheduled for Central and South Texas, April 21, from 12:30-1:30. To receive more information, contact Extension Agronomist Ronnie Schnell, Bryan-College Station, at 979-845-2935, [email protected]
The April meetings are joint project between Extension and the Texas Grain Sorghum Association. 
About the Author(s)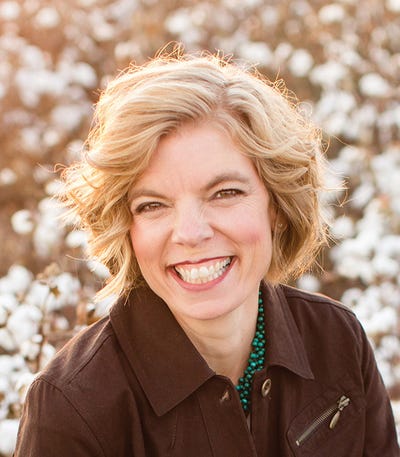 Editor, Southwest Farm Press
Shelley Huguley has been involved in agriculture for the last 25 years. She began her career in agricultural communications at the Texas Forest Service West Texas Nursery in Lubbock, where she developed and produced the Windbreak Quarterly, a newspaper about windbreak trees and their benefit to wildlife, production agriculture and livestock operations. While with the Forest Service she also served as an information officer and team leader on fires during the 1998 fire season and later produced the Firebrands newsletter that was distributed quarterly throughout Texas to Volunteer Fire Departments. Her most personal involvement in agriculture also came in 1998, when she married the love of her life and cotton farmer Preston Huguley of Olton, Texas. As a farmwife she knows first-hand the ups and downs of farming, the endless decisions that have to be made each season based on "if" it rains, "if" the drought continues, "if" the market holds. She is the bookkeeper for their family farming operation and cherishes moments on the farm such as taking harvest meals to the field or starting a sprinkler in the summer with the whole family lending a hand. Shelley has also freelanced for agricultural companies such as Olton CO-OP Gin, producing the newsletter Cotton Connections while also designing marketing materials to promote the gin. She has published articles in agricultural publications such as Southwest Farm Press while also volunteering her marketing and writing skills to non-profit organizations such a Refuge Services, an equine-assisted therapy group in Lubbock. She and her husband reside in Olton with their three children Breely, Brennon and HalleeKate.
Subscribe to receive top agriculture news
Be informed daily with these free e-newsletters
You May Also Like
---