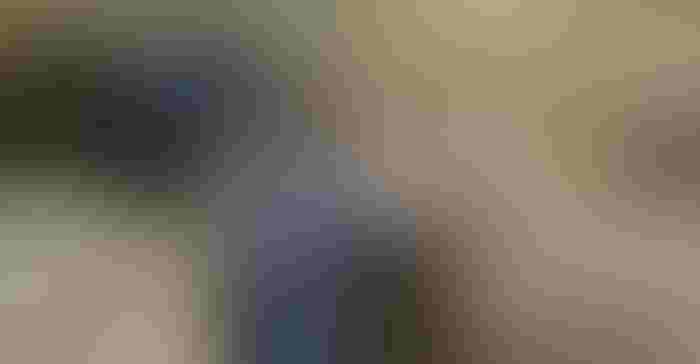 Interested in learning how tillage and crop management impact soil? Step down into some 4-foot-deep pits scattered around a field, poke at the walls with your jackknife and observe the differences in soil color, structure and texture.
That's what dozens of participants did last fall when the University of Minnesota Extension, along with various partners, hosted two days of hands-on learning in a farm field near Granite Falls.
Participants at the "Life in the Pits Field Day" moved among four soil pits and above-ground three learning stations to explore how soil texture, crop management and topography influence crop and soil quality. Each pit showed something different and reflected management choices over the past century. Two pits — one at the top of a hill and one at the bottom — specifically demonstrated the effects of erosion. Topsoil from the upper parts of the slope had moved down and were visible in the walls of the bottom pit. And the topsoil visible in the top pit was less than a foot thick.
The other two pits compared the impact of crop management — grass versus tillage. The pit dug in a 12-year-old grass field had loamy till soil that was medium-textured with good structure. It was very prolific and had lots of roots visible throughout the soil profile. There was good residue protection on the soil surface. And the soil smelled fresh.
The pit dug in the tilled field showed the soil structure was not as crumbly as in the grass field pit. Soybeans had been planted in the chisel-plowed field. The soil held no aroma.
"The more tillage you do, the more it makes soil homogenized and roots don't want that," says Jodi DeJong-Hughes, University of Minnesota Extension educator and organizer of the event.
Tillage damages soil structure by breaking apart soil aggregates and adding oxygen to the soil. Adding oxygen via tillage makes microbes break down organic matter faster, thus reducing soil biological life — the microscopic fungi, bacteria and protozoa that make for healthy soil. Some forms of tillage have been implicated as major contributors to soil degradation and erosion. According to USDA, wind and water erode more than 8 tons of soil per acre each year.
Seeing is believing
Feedback from participants, which included farmers, students, crop consultants and government agency personnel, was positive, according to DeJong-Hughes. Some said they would try to reduce tillage the next growing season or add a cover crop into their rotations.
"This was one of my favorite field days," DeJong-Hughes says. "You usually don't see four soil pits with four different scenarios in one field."
Particularly eye-opening for her was seeing the erosion from the sloped part of the field, DeJong-Hughes says.
Along with U-M Extension, partners involved in soil pit days Sept. 10-11, 2019, were Renville, Yellow Medicine and Swift County Soil and Water Conservation Districts; MN Ag Services; the Hawk Creek Watershed Project; the Minnesota Soil Health Coalition; Minnesota Corn Growers Association and local farmers.
The event was held in Galen Skjefte's field near Granite Falls. Presenters included soil specialists from Minnesota, North Dakota and Manitoba.
Mark your calendars. DeJong-Hughes says planning is underway for another soil pit day for Sept. 9 near Barrett.
About the Author(s) Paula Mohr has been editor of The Farmer since 2004. She enjoys covering a wide range of topics that are of interest to Minnesota producers.
Subscribe to receive top agriculture news
Be informed daily with these free e-newsletters
You May Also Like
---