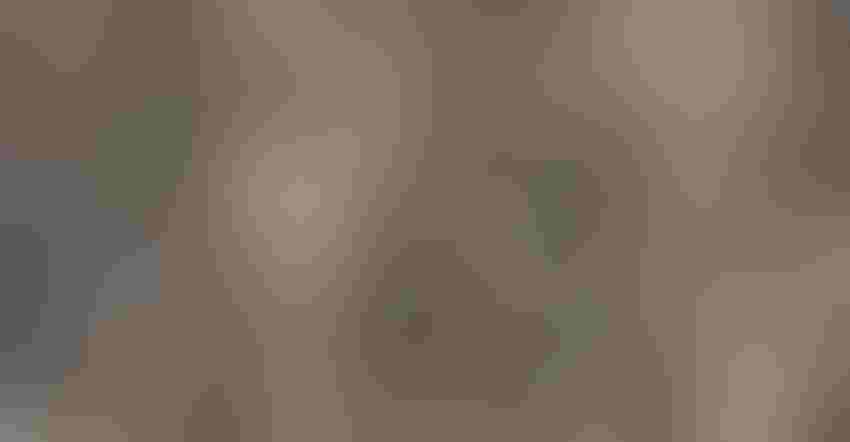 HAVE A PLAN: Residue can build up after several years in no-till. Handling it properly starts with having a plan to discharge it evenly behind the combine.
By Tony Bailey
Even though the crop material left over after harvest is known by different names, the planned results should be the same: residue spread uniformly across the soil surface. Evenly spreading residue allows all cropping systems to work better.
It's especially important to those in or preparing to switch to a high-residue system such as strip till or no-till. Successful high-residue planting systems begin at harvest.
Benefits of evenly spread residue include improved crop emergence due to more even soil warming, improved carbon-nitrogen ratios and less nutrient tie-up in strips across the field, more even weed seed distribution, and reduced water and wind erosion.
According to Purdue University Extension publication Managing Crop Residue with Farm Machinery (AY-280), here are eight tips for designing a crop residue management program:
1. Plan begins at harvest. Leave as much residue as possible, but spread it out.
2. Adjust combine to spread residue uniformly over harvested swath. This is usually not a problem for combines that handle four-row corn heads or 15-foot or narrower grain tables. However, larger corn heads and grain tables make it difficult to spread residue evenly over the entire width of the harvested swath.
3. Consider a chopper attachment for wide heads. Chopper attachments should be adjusted to spread full width, and the addition of a chaff spreader attached to the rear axle should be considered. Chaff spreaders are most effective for spreading wheat and soybean residue because a larger percentage of residue is handled by the cleaning shoe.
4. Consider a spreader attachment, if available. Some combines offer a spreader attachment in place of the chopper. While a spreader distributes the residue more uniformly, more cover can be obtained with a chopper, as the residue is chopped into smaller pieces before spreading. The spreader attachment, by design, spreads whole pieces of residue and consequently doesn't cover as much surface. One drawback to the chopper is that small pieces of residue decompose quickly and are subject to movement by wind and water.
5. Combine size increases challenges. The challenges of spreading residue from a combine at harvest have increased as the size of equipment has increased. The ability to handle what comes out the back end hasn't kept up with harvest widths at the front end. However, newer combines offer more alternatives to spreading residue evenly.
6. Spreading finer materials requires special attention. Consideration should also be given to sizing of residue, as smaller pieces have an increased potential to move and accumulate in low spots and drainage ways. Leaving stalks attached and upright, or planting a cover crop, will help keep residue in place.
7. Clean the combine as you move from field to field. This becomes more important if there are lots of weeds. A strategy of saving the weediest fields for last can also help. Make sure the header, feeder house, rock trap, grain tank, unloading auger, tailings elevator, chopper, cleaning shoe and moisture sensor are cleaned with compressed air or a vacuum.
8. Pay attention to details. Uniformly spreading residue at harvest will pay dividends. You'll reap benefits in any tillage system, but especially in reduced tillage fields.
Bailey is a state agronomist with the Natural Resources Conservation Service. He writes on behalf of the Indiana Conservation Partnership.
Subscribe to receive top agriculture news
Be informed daily with these free e-newsletters
You May Also Like
---