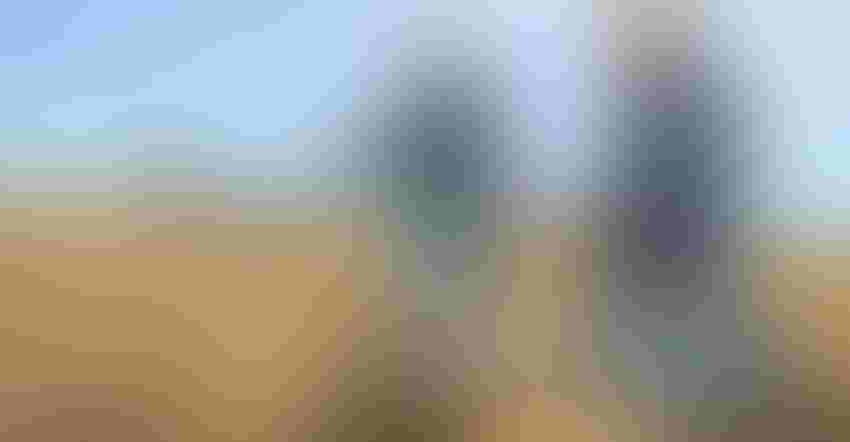 IN THE FIELD: Mower (Minnesota) Soil and Water Conservation District's Steve Lawler, a certified soil scientist, worked last fall with Riverland Community College agricultural students to take soil samples in a cover crop farm field in Austin Township, Minn.
Mower SWCD
With grant assistance from The Hormel Foundation, the Mower (Minnesota) Soil and Water Conservation District will continue efforts over the next three years to work with farmers to provide better soil health data to support their operations.
Mower SWCD, which started a soil health initiative in 2015, will receive a $98,000 Hormel grant to conduct research analyzing soil health at up to 45 plots across the county — about half in the Cedar River Watershed in Minnesota. The study also will look at the benefits of incorporating cover crops and other soil health practices into farm operations.
The nearly $200,000 project will match the foundation's grant with state capacity funds given annually by the Minnesota Board of Water and Soil Resources, and with in-kind services from partner agencies.
Mower SWCD's Steve Lawler, a certified soil scientist — who, in a previous role, produced a soil survey of Mower County in the 1980s — will lead the research.
"Mower County has high-quality, unique soils that have not been studied to this degree," Lawler says. "We are very grateful for The Hormel Foundation's support, as this project has the potential for its findings to be applied on a broad scale by ag producers in our county, southern Minnesota and beyond."
With more than 30 years of applied soil science in the field, Lawler will work in fields and soil labs with paid staff and college interns from University of Minnesota, University of Wisconsin-River Falls and Riverland Community College's new ag center in Austin, Minn.
This fall, Mower SWCD will continue planning for the project's launch of fieldwork in spring 2018, when soil-temperature gauges will be placed in the ground before planting, which will be followed by plot work. Mower SWCD is seeking more farmer participants, who can remain anonymous in project outreach and reporting.
Soil health interest expands
Interest in soil health is increasing in Mower County and southern Minnesota, but funding for its research is minimal, Lawler says. One practice is cover cropping, which involves planting a second, unharvested crop in coordination with regular cash crops, such as corn and soybeans. Other soil health practices include only tilling strips on a field before planting — a type of minimum tillage — and no-tilling to reduce erosion.
Farmers are interested in soil health, Lawler says, but many want more data and scientific evidence before making changes in their fields.
"For some producers, soil health information has proven itself in their farming operations," he says. "Others, however, are skeptical and want more proof that cover crops and other soil health practices are good for their farm."
The Sustainable Agriculture Research and Education program recently funded a nationwide survey on cover crops with farmers, who reported increased crop yields and improved control of herbicide-resistant weeds. Acreage planted in cover crops also now has nearly doubled in the past five years nationwide.
This year, Mower SWCD has worked on extensive soil health outreach with two Austin-area farmers, Tom Cotter and Tom Finnegan, under a nearly $9,000 Cover Crop Champion grant from the National Wildlife Federation. The grant helped fund a soil health tour Mower SWCD offered in May at three Mower County farms, which will be part of a follow-up free tour set for Oct. 31.
The research project strengthens the growing partnership between Mower SWCD and Riverland's new ag program, providing field lab experiences as well as a wealth of local soil data for use in the college's courses.
Farmers and landowners interested in participating or getting more information on Mower SWCD's research project are encouraged — ideally before harvest — to contact Lawler at 507-434-2603 or by email at [email protected].
Source: Mower SWCD
Subscribe to receive top agriculture news
Be informed daily with these free e-newsletters
You May Also Like
---