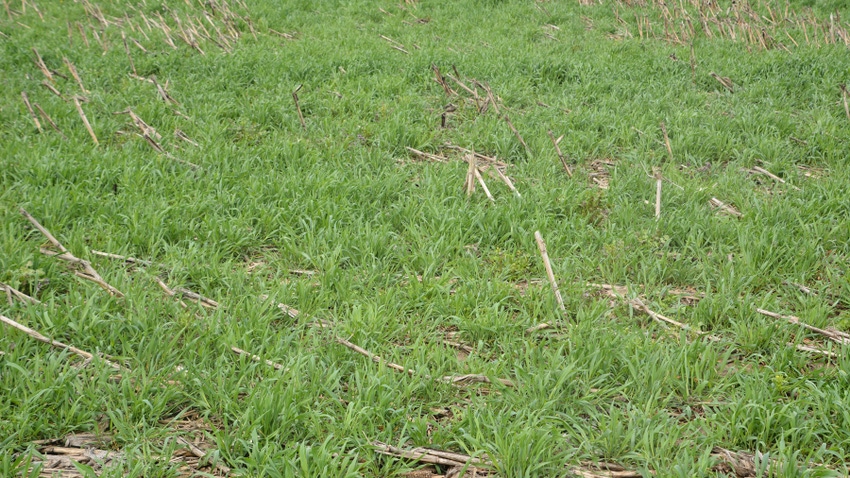 ANNUAL INVESTMENT: Planting a high-carbon cover crop like cereal rye ahead of no-till soybeans is a good investment in better future soil infiltration, more organic matter and overall improved soil health.
Tom J. Bechman
Some people go into retirement unprepared. Others spend most of their working career preparing for that time when their income will be reduced. What about you? Will you be ready when the need becomes obvious?
There are three principles of building a retirement account that will provide the necessary income when you need it: investments into the account, no withdrawals and diversifying your portfolio. All these principles can also be applied to building a soil that is ready to deal with whatever weather conditions may come along. When heavy rains come, the soil is ready to infiltrate and store water for those days of dry weather ahead.
Investing in the soil
Here is a closer look at how you can build a "retirement account" in your soils:
Investment in your account. Building a retirement account requires many years of putting funds into an account that will grow with interest earned. You contribute over time, starting small and growing your contribution as your income grows.
Your investment in your soil is carbon. A small amount comes from cash crops, but the major contributor will be cover crops. While a no-till system can reduce carbon and topsoil losses, you cannot build carbon without cover crops. Start small and grow your investment over time. When you're ready to plant green into mature, high-carbon cover crops, you will be making large investments.
No withdrawals. The primary principle behind building soil organic matter over time is to increase soil organic carbon. Just like you do not want to take money from your retirement fund for nonemergency purchases, limit the oxidation of carbon from your soil with nonemergency tillage. Each full-width tillage pass you complete contributes to the loss of soil organic carbon. That impacts your ability to build carbon and improve overall soil health.
Diversify your portfolio. Don't put all your eggs in one basket. Spread out your investments in various accounts to ensure a steady rate of gain over time. For your soil, Mother Nature abhors a monoculture. Mimic Mother Nature by increasing diversity of cash crops, such as adding wheat to the rotation.
Generally, cover crops are the primary method of increasing diversity. Corn is a warm-season grass, while soybeans are a warm-season broadleaf. Adding other species of covers that are cool-season broadleaves (such as radish, crimson clover or rapeseed) and cool-season grasses (such as cereal rye, annual ryegrass and winter barley) create diversity. They create diversity of not only plant growth, but also root growth, promoting active biology in the soil.
Bottom line
Weather fluctuations are one of the primary aspects of agriculture that farmers and landowners cannot control. Some say 80% of potential yield loss is due to short-term shortage of soil moisture. Is your soil ready to infiltrate those heavy rainfalls and store it for dry periods? Like a retirement account, a resilient soil takes time to build.
Start your soil health journey today. Build a soil that will be able to deal with whatever weather conditions may take place.
Donovan is a district conservationist with the Natural Resources Conservation Service. He writes on behalf of the Indiana Conservation Partnership.
Subscribe to receive top agriculture news
Be informed daily with these free e-newsletters
You May Also Like
---