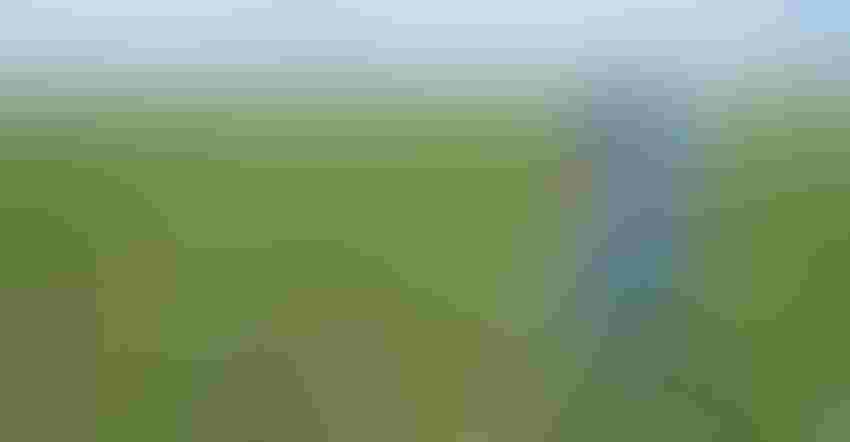 DIGGING NEW JOB: Sam Ireland grew up on a no-till farm near Martin, S.D. As manager of Dakota Lakes Research Farm, which is entirely no-till, he knows to look below the surface to find the true benefits of no tillage.
Photos by Kevin Schulz
Editor's note: This is the first of two parts on the Dakota Lakes Research Farm, previously managed by Dwayne Beck, and now headed by new manager Sam Ireland.
Sam Ireland is not intimidated as he takes over as manager of the Dakota Lakes Research Farm near Pierre, S.D., even though he replaces Dwayne Beck, a legendary guru of soil health improvements.
The Ireland home farm near Martin, S.D., is living proof of the Beck influence, as Ireland's dad and grandfather adopted no-till practices roughly 25 years ago.
"So that's all I knew growing up," Ireland says. "I definitely saw the impact that had on our operation," adding that Beck and the research farm "drastically" changed operations in Martin and across the state.
Master changed focus
Ireland attended South Dakota State University, studying civil and environmental engineering. But as he neared the end of his undergraduate time at SDSU, he yearned to return to the agricultural sector. That desire spurred him to start a master's degree in agronomy, and it was during those studies that he came to know Beck.
During his master's work, Ireland conducted research at Dakota Lakes during the summers of 2019 and 2020. Those summers allowed him to work alongside Beck and to learn more about soil health.
Upon completion of his master's degree, Ireland headed west, taking a job at Montana State University's Central Agricultural Research Center at Moccasin. After a year in Montana, Ireland returned home when he became the Dakota Lakes manager in January.
Farm's background
Since its inception in 1983, Dakota Lakes Research Farm has developed a history of research with an eye on the soil, both what you can see and what you cannot see. When Beck came in 1990, his emphasis became developing no-till systems for both irrigated and dryland areas. All of Dakota Lakes' 800 acres are no-till and about 250 are irrigated.

PARTNERSHIP: Dakota Lakes Research Farm near Pierre, S.D., is part of the South Dakota State University Experiment Station system. The land, facilities and much of the field equipment is owned by the Dakota Lakes Research Farm Corp. and is managed by a board of directors.
Ireland sees no reason to drastically change anything, especially in the no-till makeup of the farm. Some of the crop rotations have been in place for the entire existence of the research farm, while other adjustments have been made along the way.
"We're starting to integrate some perennials to get them mixed into our annual crop rotation," he says. "I want to, at least for the first few years here, just continue on with what's been done on the long-term rotation side of things. It's pretty eye-opening, the impact that some of that's had on our soil structure here."
Right direction
Ireland admits incremental changes will be adopted, but for the time being, he says, "It's more me just trying to get up to speed with everything."
As Ireland sees it, the work Dakota Lakes is known for, is heading in the right direction.
"I think what we're doing here is the right answer for agriculture, at least in this area," he says. "I think that we've got a lot of good ideas here that Dwayne's sparked, and I'm hoping that we can carry on and continue to move forward and adapt with some of those. But we've got a pretty good groundwork laid."
Beck has agreed to stay on part time to help Ireland get comfortable in his role, and Ireland will take that opportunity to learn even more from the master of soil health.
"These definitely are big shoes to fill," Ireland says. "I just hope that I can make an impact here and, hopefully, continue the legacy that's going on" with Beck's work and the research being done at Dakota Lakes.
Subscribe to receive top agriculture news
Be informed daily with these free e-newsletters
You May Also Like
---