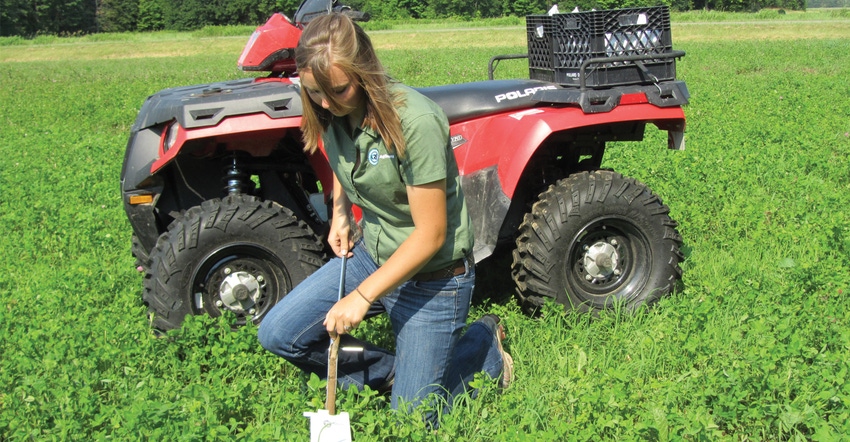 REPRESENTATIVE SAMPLE: The laboratory analysis uses less than a teaspoonful of soil to make a recommendation on how much lime fertilizer to apply.
The largest and most common source of error in the soil testing process is with collecting the soil sample. The test results can only be as accurate as the sample, in terms of representing the nutrient needs of the field. There are many facets of the soil sampling process, and each should be carefully managed.
• Time of soil sampling. Both fall and spring are great times to sample soil. Field access is easy after harvest or before planting, and soil conditions are often appropriate for sampling. Do not sample shortly after fertilizer or manure applications, or when the soil is excessively wet or dry. Once you decide on a fall or spring sampling time for a field, future sampling should occur at that same time of year and after the same crop each time to reduce the temporal variability of test results.
• Number of acres represented by one soil sample. Each soil sample should represent an area of the field under similar conditions, such as soil type, slope, drainage, crop history, manure application and GPS yield maps if you have them. By following this guideline, you will likely average a separate soil sample for about every 5 acres. If you grid-sample, you basically achieve the same result. In either case, for soil sample areas adjacent to lime-rock gravel roads, even if the larger area is uniform, sample separately from within 100 feet of the road so as to not bias the soil sample pH results.
• Number of soil cores per sample. A proper soil sample consists of at least 10 soil cores from a relatively uniform area, and as many as 20 soil cores if the site has more variability. Common situations that increase variability include banding commercial fertilizer, applying manure and grazing livestock.
• Sample depth. The soil cores should be taken 6 inches deep. Research has shown that is the best and most cost-effective depth for Iowa conditions. Use this sample depth in all tillage systems when sampling for phosphorus (P), potassium (K), zinc (Zn) and organic matter.
For soil pH and limestone recommendations, a depth of 2 to 3 inches can be used for no-till fields and pastures because limestone application to the surface seldom changes pH below 3 inches. However, a trick of the trade for no-till and pastures is to just collect all of your soil samples at a 6-inch depth, and then use one-half of the limestone recommendation provided for the 6-inch depth sample.
Collect the soil cores in a bucket, then mix the 10 to 20 cores together and fill the plastic-lined soil sample bag about two-thirds full. Include whatever identification information you need on the bag to maintain your records.
• How often to sample soil. For most crops, soil samples should be taken every two to four years. Develop a map of your sampling pattern for each field so that future re-sampling can follow the same pattern. You could also sample just representative portions of a field, or any problem areas once every two to four years as a check on the fertilization and liming program.
• Use a certified lab. Collected soil samples should be sent to a certified soil testing lab, one that is certified by the Iowa Department of Agriculture and Land Stewardship. IDALS conducts a soil-testing proficiency program with soil-testing laboratories to earn their certification with the state. The list of certified labs is maintained on the IDALS Commercial Feed and Fertilizer web page. Once you decide which certified lab you will use, contact the lab for soil sample bags and submission forms.
For more information, refer to ISU Extension publication CROP 3108, "Take a good soil sample to help make good fertilizer decisions." It's available to down load from the ISU Extension online store.
Lang is a field agronomist for Iowa State University Extension.
Subscribe to receive top agriculture news
Be informed daily with these free e-newsletters
You May Also Like
---