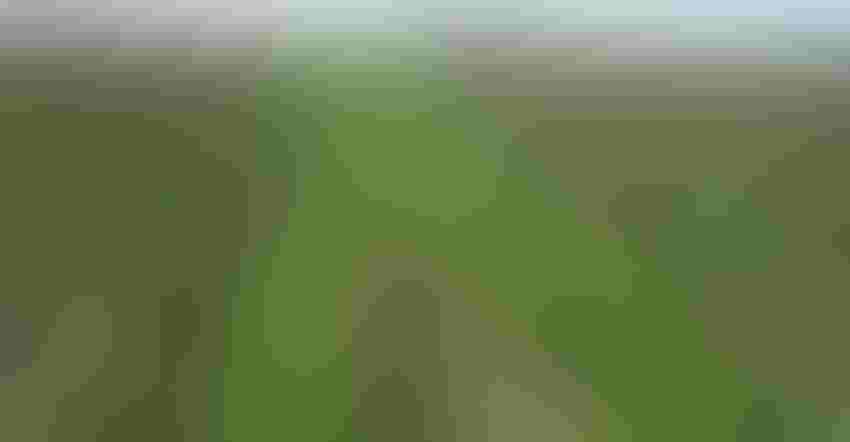 STEP ONE: Armoring the soil means protecting it from erosion and reducing evaporative losses.
Tyler Harris
In previous Resilient Ag Landscapes columns, we've covered organic matter — and the amount of time it takes to build organic matter in a given soil type and climate. Although, to be fair, we could probably fill a Nebraska Farmer issue with articles on organic matter and still leave readers with unanswered questions.
At a recent Southeast Nebraska Soil Health Conference, Ray Ward, soil scientist and founder of Kearney-based Ward Labs, discussed building organic matter — or, perhaps more appropriately, building soil. Ward notes he's been no-tilling since 1994 on his own farm, and he has added about 1.5 to 2 inches of soil on his farm in that time. How? It starts with soil biology and organic carbon.
At the conference, Ward outlined five key principles to building soil in Nebraska, based on the five principles of building soil coined by Jay Fuhrer of Bismarck, N.D.:
1. Armoring the soil. This means protecting it from erosion, reducing evaporative losses and improving soil water infiltration. Ward estimates a cover crop in eastern Nebraska can retain 3 inches of additional moisture.
"How many bushels of corn do you get for an inch of moisture?" Ward asks. "Paul [Jasa, Nebraska Extension engineer] said 12 bushels. I'll say 8. That's 24 bushels of corn that moisture is saving. At $3 per bushel, that's $70 to $80 per acre that you could gain by having that cover on there."
2. Minimizing soil disturbance. This means keeping residue intact.
"Anytime you take anything off the field, you're taking nutrients off," Ward says. "It doesn't matter if it's corn stubble, wheat stubble or soybean stubble."
For example, Ward says, corn residue is worth about 680 pounds of carbon, 18 pounds of nitrogen, 3.9 pounds of phosphorus, 30 pounds of potassium, and 2.9 pounds of sulfur per ton. Meanwhile, soybean stubble is worth 680 pounds of carbon, 14.6 pounds of nitrogen, 2.4 pounds of phosphorus, 11.8 pounds of potassium and 4.6 pounds of sulfur per ton.
3. Diversify cropping systems. Go beyond the two-year crop rotation. This may include winter wheat, grain sorghum, or field peas or another pulse crop.
This provides a way to suppress weeds at times of year when other crops aren't growing.
"Weeds got my attention on why it's important to diversify," Ward says. "Weeds are getting resistant to all of our herbicides, and we're going to have to figure out some way to compete. Mother Nature doesn't have weeds growing in a well-managed native grass pasture."
"If we have a different crop each year, insects usually aren't a problem," he adds. "It used to be in continuous corn, rootworms could be a problem, but if you rotated out a year, that wasn't a problem. The corn-soybean rotation that a lot of Nebraska farmers are doing is kind of like a monoculture now — if you keep doing the same thing year after year, Mother Nature knows what's going to be there, so she lets opportunists come in and take advantage of it."
4. Keeping a living root in the soil. While a diversified crop rotation helps, keeping a living root in the soil for a longer period takes a cover crop. Plants release exudates through their root systems, including organic carbon and other compounds,
"The carbon that leaks out through the root system, the microbes eat those compounds, get energy out of it, then stabilize that carbon into organic matter," Ward says. "As they're consuming the energy, it makes the carbon more stable. The carbon laying on top of the ground is the kind that microbes will decompose, and they let it go off as CO2."
These microbe populations include mycorrhizal fungi, which work symbiotically with plants to increase the nutrient adsorption zone to deliver more nutrients to plants. These fungi also produce glomalin, which serves as a glue that holds the soil together in granular form.
"Every plant exudes different kinds of compounds," Ward says. "With 20 different crops growing, you get a bigger variety of microbial populations to do more good for you."
5. Grazing livestock. Grazing livestock redistributes nutrients on the field. This cuts back on the nutrients removed, compared to harvesting for hay or silage, while also redistributing carbon.
"Livestock will retain maybe 10% of nutrients or a little more, and 90% of nutrients are excreted out on the field, and there are more microbes in the manure that go to the soil," Ward says, "plus the carbon in the manure, and the nutrients. So you aren't removing as many nutrients from the land."
"Some people call them carbon-based fertilizers — manure or biosolids," Ward adds. "We're getting a lot more animals in this part of Nebraska, so it's natural to be able to use some of these things and make soil sequester carbon a lot faster. But the carbon that's leaked out by plant roots is what really builds carbon in the soil."
Subscribe to receive top agriculture news
Be informed daily with these free e-newsletters
You May Also Like
---