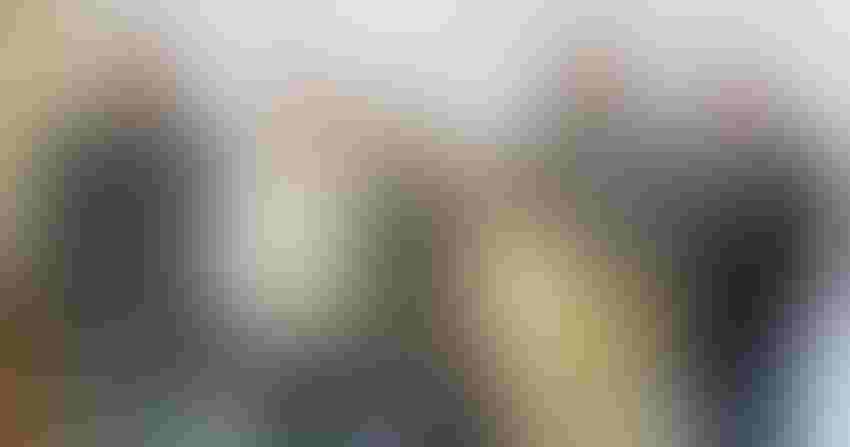 USA Rice honored the nation's top growers and researchers at the recent Rice Outlook Conference. Pictured are owners and operators of Isbell Farms, winners of the Distinguished Conservation Achievement Award. L-r, Leo LaGrande, chair of USA Rice Conservation Committee, Chris and Judy Isbell, Whitney and Jeremy Jones, Mark Isbell.
Ginger Rowsey
Top rice growers and researchers were honored at the 2022 USA Rice Outlook Conference in December. Here are the winners:
Distinguished Conservation Achievement Award
Isbell Farms of Lonoke, Ark., won the 2022 Distinguished Conservation Achievement Award.
"The Isbells are leaders for USA Rice as well as their community with adoption of cutting-edge conservation technologies on land they've farmed for nearly 100 years," said Leo LaGrande, chair of the USA Rice Conservation Committee.
Isbell Farms has a gold ranking on the Sustainable Agriculture Initiative Platform – a global certification tool for farmers to assess their sustainability performance.  They were the proud recipients of the 2016 Commitment to Quality Award from the American Carbon Registry for their efforts in sustainable rice production, and they were an integral part of the group that sold the first-ever voluntary carbon credits generated from U.S. rice farmers.
Chris Isbell, accepting the award on behalf of his family farm, credited his family as well as research partners such as University of Arkansas Division of Agriculture and USDA NRCS with developing methods to improve conservation on the farm.
"I think every farmer is a conservationist," Isbell said. "We try to do the best we can, and if something better comes along, we do it. To me, that's the simple definition of sustainability and describes how American farmers will continue to feed the world."
Rice Sustainability Award
Kennedy Rice received the 2022 USA Rice Sustainability Award in recognition of the Louisiana-based company's goal to take a little grain and make a big difference in the world.
The USA Rice Sustainability Award was created in 2016 to recognize the efforts of all segments of the industry to not only conserve natural resources, but to find innovative ways to address all three pillars of sustainability:  environmental, economic, and social sustainability.  A subcommittee of the USA Rice Sustainability Committee chooses the winner based on several criteria, including leadership in the industry and broader sustainability community, and a history of promoting and advancing sustainability through innovative practices. 
"We see it as our responsibility to better the lives of our community, customers, employees, and future markets," said Kennedy Rice CEO Meryl Kennedy Farr.  "A commitment to humanity and nature is at the core of our beliefs, and we accomplish that by working with local suppliers and family farmers who share our vision of growing select rice varieties, with full traceability from farm to table, while also improving the environment."
Rice has been part of the Kennedy family legacy since 1964 with the founding of the farm and rice mill by Meryl's father, Elton Kennedy.  Today, Elton's four daughters market their own retail rice brand, 4Sisters Rice, that uses methods and practices that support sustainability through people, land, water, energy, and the climate. 
Farmer of the Year
Paul Johnson of Welsh, La., was named the 2022 Rice Farmer of the Year. Johnson began farming rice in the mid-90s and is one of Louisiana's top producers of jasmine rice. He currently farms close to 2,000 acres of rice. He typically will produce a ratoon (second) crop on 90% of his rice acreage each year.
After harvest his concentration shifts to creating high quality wildlife habitat for duck and goose hunting. Johnson has guided duck and goose hunters for years but has recently retired from guiding to be able to concentrate on working on the farm to improve the wildlife habitat. He has worked with Ducks Unlimited and the USA Rice Federation in the Rice Stewardship Partnership. Johnson is active in organizations that focus on conservation and sustainability.          
Rice Industry Award
Yeshi Wamishe, Extension rice pathologist with University of Arkansas, received the Rice Industry Award.
Wamishe's research, education and outreach to the growers of Arkansas have helped the state's and region's rice producers better manage rice diseases.
Wamishe completed her Ph.D. at the University of Arkansas in 2002. She is based at the Rice Research and Extension Center at Stuttgart, Ark.   
Rice Lifetime Achievement Award
Karen Moldenhauer, retired professor and rice breeder with the University of Arkansas was honored with the Lifetime Achievement Award.
During her 38-year tenure at the Division of Agriculture, 38 rice cultivars have been released to producers which have been grown on 21 million acres.
Moldenhauer's primary research focused on improving grain yield, cooking quality characteristics and disease resistance. Her releases Drew, Kaybonnet, and Katy were the first commercially available cultivars with resistance to all common blast races in the southern U.S. growing region. They provided a source of rice blast resistance to the rice breeding groups in Louisiana, Mississippi and Texas.
Cultivars released under her direction helped state average rice yields increase from 95 bushels per acre in 1982 to as high as 168 bushels per acre in 2013 and 2014. These varieties averaged between 50-60% of the rice acreage in any given year from 1982 until 2009, when the hybrids became popular.
Another Arkansas winner
Cole Skelley, a high school senior from Braynt, Ark., took home a $5,000 scholarship for winning the National Rice Month video competition.
Skelley's video, "This is Basically Rice," which beat out 87 other entries in the scholarship contest, tells the story of rice in Skelley's home state. He is the first winner of the National Rice Month scholarship from Arkanasas.
Skelley said he plans to apply his scholarship toward a degree at Ouchita Baptist University.
About the Author(s)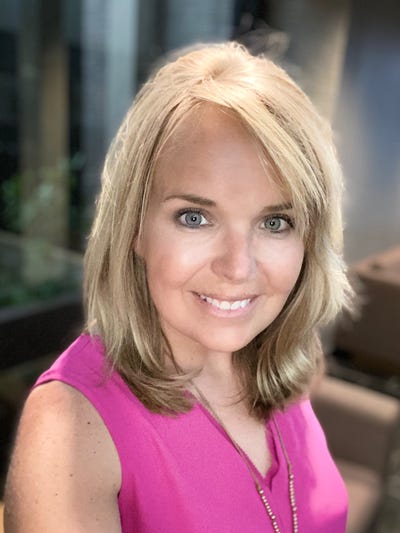 Ginger Rowsey joined Farm Press in 2020, bringing more than a decade of experience in agricultural communications. Her previous experiences include working in marketing and communications with the University of Tennessee Institute of Agriculture. She also worked as a local television news anchor with the ABC affiliate in Jackson, Tennessee.
Rowsey grew up on a small beef cattle farm in Lebanon, Tennessee. She holds a degree in Communications from Middle Tennessee State University and an MBA from the University of Tennessee at Martin. She now resides in West Tennessee with her husband and two daughters.
Subscribe to receive top agriculture news
Be informed daily with these free e-newsletters
You May Also Like
---