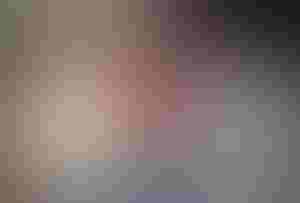 Barbara Mandrell sings of being country when country wasn't cool.
Wine grape grower Phil LaRocca of Forest Ranch, Calif., almond producer Chris Baugher of Orland, Calif., and the rice growing Lundberg family of Richvale, Calif., were organic farmers long before they knew they were trendy.
Between the three, they have more than 100 years of experience in farming organically. That does not mean they leave production to happenstance. They manage the environments of their vineyards, orchards and fields differently than most. They use products and practices organically approved, from beneficial insects to organically sanctioned pesticides like Bt. They use compost and cover crops for crop nutrients and beneficial insect habitat.
While they shun so-called conventional farming, they don't scorn it. They simply choose to do it differently than the majority.
"Farming is hard" anyway it's done, conventionally or organically, said Baugher, one of three commercial farmers on a producer panel at an organic production conference in Chico, Calif.
Sponsored by the Organic Fertilizer Association of California (OFAC) and the California Association of Pest Control Advisers (CAPCA), more than 100 attended the all-day session in the Sierra Nevada Brewing Co. conference theater.
Steve Beckley is the executive director of OFAC. He is former president of both the Western Plant Health Association (WPHA) and the California Fertilizer Association. He helped form WPHA from a merger of CFA and the Western Agricultural Chemical Association (WACA).
He has spearheaded workshops like the one in Chico to address the agronomic challenges facing organic agriculture. Small trade shows for key organic farming suppliers are set up at these workshops.
Organic food production represents just 5 percent of total agricultural production. However, since the 1990s it has increased at a rate estimated as high as 20 percent per year. Many large farming operations have organic segments to meet with a niche, yet potentially lucrative consumer market.
Baugher farms and markets organic almonds from his 350 acres of Sacramento Valley orchards. He is by far the largest organic grower and marketer in California. Besides what he produces, he also buys from about 15 other certified organic producers. "I buy two-thirds of what we sell from other growers," he noted. This year he expects to market 3 million pounds of organic almonds, half of California's total organic almond output. He also operates his own huller/sheller.
He ships worldwide and is the only California almond grower certified organic by Switzerland. He was also the first producer to ship organic almonds into South Korea.
He started in 1985. He farmed conventionally with his father for many years, but longed to farm organically.
"I started farming organically because I did not have any money to farm the 120 acres any other way when I started," he laughed.
Beneficial pest predators
Organic farming can be more challenging with lower yields than conventional, especially in almonds where there is a sweep net of potentially damaging pests from spider mites to worms.
Baugher meets those challenges with what he calls "biodiversity of the orchard floor. We want to keep it full of beneficials like preying mantis, lacewing and ladybird beetles," he said.
"People who come to watch the harvest are amazed at the number of preying mantis … they are everywhere."
The introduction of beneficial pest predators is common in California agriculture, both conventional and organically. There are a number of insectaries which supply beneficials.
Baugher has been successful fending off navel orangeworm (NOW), one of the most challenging insects in almonds because it can attack at hull-split and cause major nutmeat rejects. Baugher said he has never had rejects above 2.4 percent. He does not remove mummies, either.
Fertility is the biggest challenge in organic farming since many of California's soils are low in organic matter. Baugher makes 1,000 tons of compost each year from hulls and shells, leaves and grass clippings collected by the city of Orland and manure left behind from livestock events held at the local fairgrounds.
"The heart and soul of organic farming is compost," he said.
LaRocca uses 300 to 350 tons of compost each year for soil nutrients in three different vineyards. He splits the compost between winter and fall applications. He farms about 200 acres of varietals he ferments and bottles at the family's winery. He bottles the wine without sulfites.
Cover crops are permanent and mostly legumes, said LaRocca. Sour clover is one of his favorite cover crops, but it is expensive and often difficult to find. He disks down cover crops before frost season. He takes soil samples every three years to evaluate nutrients.
He foliar feeds his vines and uses kelp when he applies sulfur for powdery mildew control. Foliar calcium, he said, enhances the grape set. Sulfur, one of the most widely used products for powdery mildew control, is organically approved.
So far he has not faced major pest issues besides occasional armyworms he knocks down with organically approved Bt insecticides. He uses kaolin (the main ingredient in Surround) to knock down leafhoppers. It coats leaves and prevents feeding.
"Leafhoppers are tough to deal with, but I have never been wiped out by them" LaRocca said.
Predator mites keep spider mites under control.
Organic rice growers
The Lundberg family of Richvale is probably the most well-known organic farm in the state. Albert Lundberg was a Nebraska corn farmer who lived through the Dust Bowl era. He abandoned the Midwest farm and moved his family to Richvale in the 1930s where he bought a 300-acre rice farm. Richvale is just north of Chico.
He adopted conservation farming practices in the wake of what he had seen happen in the Midwest with short-sighted farming practices. He was the first to incorporate rather than burn rice stubble. In the late 1960s, the Lundberg family started farming organically.
Marc Breckenridge manages the 3,000-acre Pacific Farms, part of the 12,000 acre family farm where the fourth generation of Lundbergs is involved.
"We call ourselves the experimental farm because we are always trying new things and learning," he said.
The major issue in water-seeded rice is weeds. Breckenridge said weed control is tackled with deep water, eight to 12 inches in depth. This also drowns out rice, and the family is looking at dry seeding rice.
The other organically challenging issue is algae control. This year he said the weather was a perfect storm for algae. Copper sulfate is used for algae control.
Nutrients come from chicken litter fertilizer and a purple vetch cover crop. "The cover crop came back as fast as you could mow it down with the rain we had this year."
Weed control is perhaps the biggest challenge in organic farming, even though there are some new organic herbicides available today.
When Baugher started farming, there were only mowers and weed eaters to organically control orchard floor vegetation. He whacked away at it as best he could before the custom harvester arrived to shake and sweep his first organic almond harvest.
It was a long harvest as the equipment kept plugging. The custom harvester eventually finished the job, but told Baugher he was not returning to harvest the next crop.
Baugher said he struggled for a year, trying to come up with an economical and practical method to harvest his almonds. Driving beside a pasture one day, he spotted a pair of grazing draft horses.
Remembering that his grandfather once harvested almonds with mallets to knock the almonds into tarps spread beneath the trees and used horses to haul the nuts out of orchards, he wheeled into the stranger's driveway for a bizarre visit.
When he told the horse owner he would like to rent the horses to harvest his almonds, the owner was surprisingly thrilled.
"The guy laughed and said he had gone to a cattle auction earlier where his wife had bought the draft horses he did not want," explained Baugher.
Take the horses, the owner said: "Feed them; don't talk to my wife and forget where you got them." Baugher took him up on his offer. Someone spied the big horses in the orchard and asked if he could snap photographs. The pictures showed up on the front page of the San Francisco Chronicle. That brought more coverage from other publications and television networks.
"With all the publicity, all of a sudden I was getting phone calls from people wanting to buy organic almonds. Things happen for a reason," he laughed.
Baugher has been using horses ever since. They continue to draw people to his orchard. A three-man crew harvested 180-acres of Baugher's almonds in 22 days last season, poling and manually knocking almonds off the trees. He now uses Percheron horses he raises to haul almond laden tarps out of the field. "We shovel them into carts and haul them to the huller/sheller."
Everything LaRocca, Baugher and Breckenridge do on their farms is to abide by their organic farming philosophy, as well as keep them in business. However, it is obvious that they are dedicated farmers and marketers on a very large commercial scale. There is little doubt they would be successful, regardless of how they farm. However, they choose to do it organically.
Subscribe to receive top agriculture news
Be informed daily with these free e-newsletters
You May Also Like
---